A Brief History
Come with us as we explore the origins of an award-winning publication, and what lies ahead.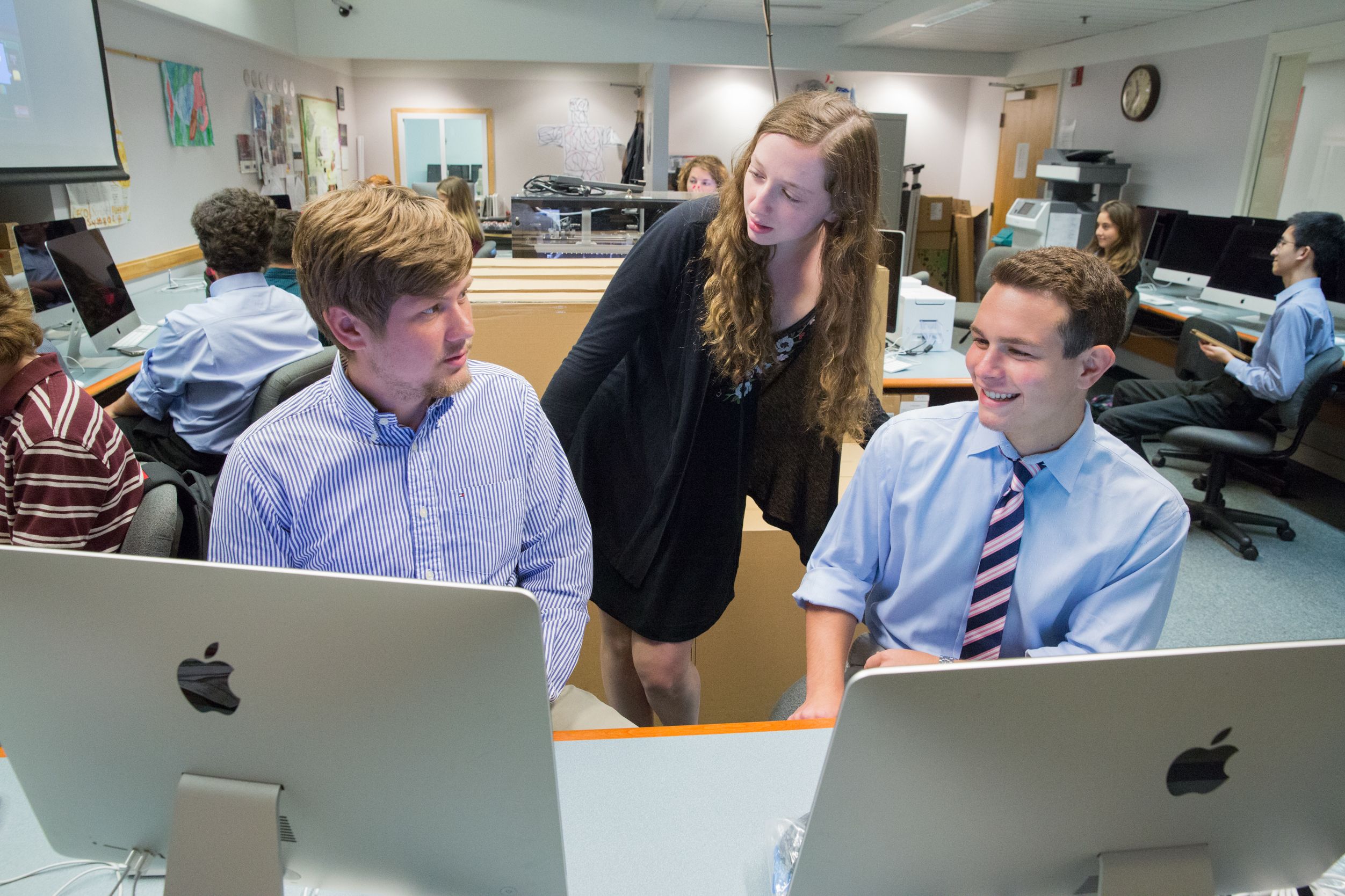 AJ Naddaff '14 Takes the Helm
During the fall of 2014, AJ Naddaff '15 served as The Gator's first editor-in-chief. Under his leadership, along with David Cutler as adviser, students spent the first several months learning about the fundamentals of journalism, with each week dedicated to a different type of reporting.
In an early version of what would (four years later) become Gator Nation News, Naddaff interviewed Cutler about his love of journalism—as well as why he decided to come back to teach at his alma mater.
During that first semester, students also brainstormed The Gator's overall design, and how best to promote the site. They created a preview to pump up the community, though students ended up making significant changes.
For one of his first posts, Naddaff interviewed Head of School Judith Guild about her goals for the year, and her thoughts about the online publication's launch.
In March of 2015, The Gator earned outside recognition, winning for "General Excellence in Online Journalism" in Suffolk University's 45th Annual Greater Boston High School Newspaper Contest.
In writing about the award, Naddaff expressed how tirelessly the staff worked to not only get The Gator off the ground, "a huge task unto itself," but also to mold it into a "credible and accurate source of information."
"It's incredible to think about where I was eight months ago when I first started to lay out The Gator with Mr. Cutler. And the most inspiring part is, we're far from done. What makes The Gator a success is it's constant desire to improve. We don't settle with just being good."
Currently enrolled at Davidson College in North Carolina, Naddaff recently won a coveted student fellowship through the Pulitzer Center to cover combatting militant Islam in Kosovo.
"I couldn't be prouder of AJ, who has accomplished more as a college student than I ever have," Cutler said. "I would like to think I had at least something to do with his current success, and I couldn't be prouder of him."
After Naddaff's tenure, The Gator continued to reach new heights under the leadership of Sam Ravina '17, who served as editor-in-chief for two years.
Sam Ravina '17 Takes the Helm
During the the 2015-16 academic year, with Sam Ravina '17 as the next editor-in-chief, The Gator won additional outside recognition, including from the New England Scholastic Press Association (NESPA) for "Highest Achievement in Scholastic Editing and Publishing."
The Gator also entered nationwide competitions, receiving a Second Class rating from the National Scholastic Press Association (NSPA) for overall excellence, along with a Silver Medal from the Columbia Scholastic Press Association (CSPA).
At the end of his first year as editor, Ravina wrote a summary of the publication's accomplishments.
"I can report to the Brimmer community that the The Gator has reached a new tier of success this semester. Nowhere is this more evident than our gains in traditional journalism; we are publishing twenty articles a month, more than twice last year's average—and of an even higher quality.  We have greatly expanded our coverage of local and national events while maintaining a focus on Brimmer coverage only we can provide. And, we are writing more opinion pieces without compromising the hard-news coverage that puts it in perspective.
In the fall of 2016, Liam Johansson '17 served as the publication's first managing editor—a top position dedicated to helping new writers succeed, while also overseeing the overall vitality of the publication. With Ravina and Johansson at the helm, The Gator reached more than 25 students enrolled in the newsroom.
"Sam and Liam had a terrific working relationship, which set the bar high for incoming top editors," Cutler said. "Regardless of who sits at the top of the masthead, good leadership demands effective communication and mutual respect. Sam and Liam understood that point extremely well, and the newsroom grew tremendously under their oversight."
Shani Breiman '18 Makes a Splash
The success of The Gator flourished even more under the leadership of Shani Breiman '18. As editor-in-chief, she has overseen a remarkable period of growth, including the addition of a new "briefs" section, as well as Gator Nation News, a biweekly television broadcast.
The addition of the Hastings Center, especially the new Media Lab, has made digital production significantly easier, while also enhancing production value.
This inaugural Gator Nation News team consisted of anchors James Yfantopulos '18 and Dylan Rigol '18, corespondents Hannah Ahearn '20 and Angeline Nur Dervisevic '21, sound engineer Kitty Huang '21, and producers Michelle Levinger '19 and Michael Hastings '18.
In the fall, Ahearn and Nur Dervisevic will be promoted to anchors, with Levinger serving as an executive producer. Huang will also be promoted to producer.
The launch of Gator Nation News helped the publication earn a First Place award in overall scholastic excellence from NSPA, as well as a Gold Medal from CSPA, placing the publication among the most elite in the nation.
"I couldn't be prouder of the newsroom for this magnificent recognition. This is truly something special, and everybody involved in The Gator should be beaming. I know I am, and I'm just so proud of everyone who made this possible. It was a true team effort, of which I'm glad to be part of."
This spring, with 33 students enrolled in The Gator, Breiman has played a pivotal role in not only bringing the publication to the next level, but also ensuring its success for many years to come.
Gator Wins NSPA 'First Class' Prize
By Gator Staff
On the eve of the 13th Annual Kenyon Bissell Grogan Humanities Symposium, titled, "The Future and Function of News," The Gator received a coveted 2017 "First Class" distinction from the National Scholastic Press Association (NSPA)—one of the most prestigious award bodies in high school journalism.
This marks the highest honor yet bestowed on the newsroom, under the leadership of Editor-in-Chief Shani Breiman '18.
The Gator has previously earned two "Second Class" ratings from NSPA.
According to Gator adviser David Cutler '02, the critique is "the most detailed and helpful" yet received, and he agreed with its praise and criticism.
The critique highlighted numerous strengths, praising "coverage of all areas of academic life as well as school policy."
The Gator aims to be "inclusive of all students, and reporters appear to be striving to meet [the] interest of a diverse audience," the critique stated, also commending how students embrace strong journalistic style, writing, and structure.
The critique also praised what it called the newsroom's "exemplary" nose for hard news, and its focus on covering policy and school events. Still, NSPA offered a helpful critique with respect to including other types of coverage.
"Consider how you can incorporate more features in your coverage to supplement hard news," the critique stated. "It's just shifting an angle. Instead of timely, what are some evergreen features you could work on that would engage an even wider audience? Consider technology, health, pop culture."
The critique encouraged The Gator to include more in-depth feature coverage, including profiles and human-interest pieces. NSPA offered special praise of Breiman's recent article,  Community Mourns Loss of Safi Aziz '17, as well as  Gator Nation News.
However, NSPA also suggested that the newsroom write more shorter pieces.
"Especially online, readers are scanning, so chunking long stories into more manageable parts, inserting lists or, better yet, determining what you can pull out into a supplemental infographic would be helpful," the critique stated.
NSPA noted that while coverage is "generally unbiased and balanced," in a few instances, the organization cautioned against the news section "cheerleading" the School, which should be reserved for editorials.
Still, the critique praised The Gator's editorials, though NSPA would like to see them appear more frequently.
"Be a true leader in your school and advocate change where you see it needs to happen and commend others in your school and community for the good they do," the critique stated.
In September, The Gator also earned an "International Second Place Award" from the Quill and Scroll, a prestigious international honorary society for high schools journalism.
In November, Cutler encouraged the newsroom to  appeal a "Silver Medal" ranking from the Columbia Scholastic Press Association, another prestigious award body. 
This story appeared live on The Gator Jan. 16, 2018.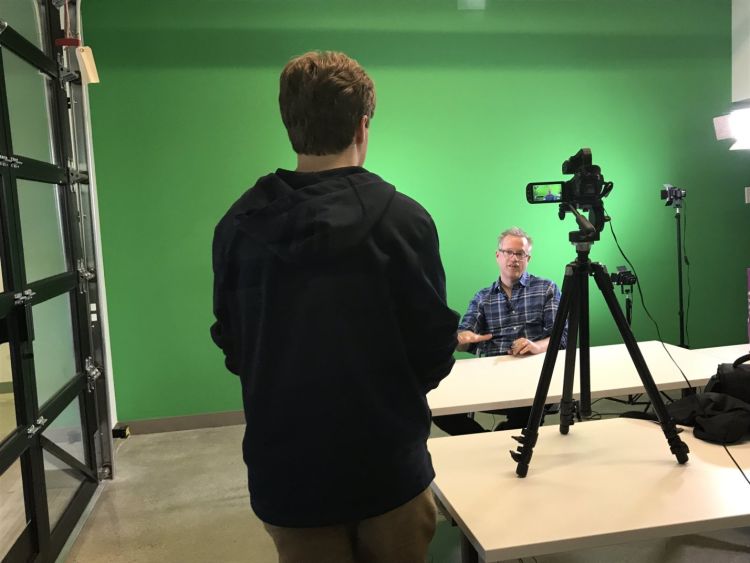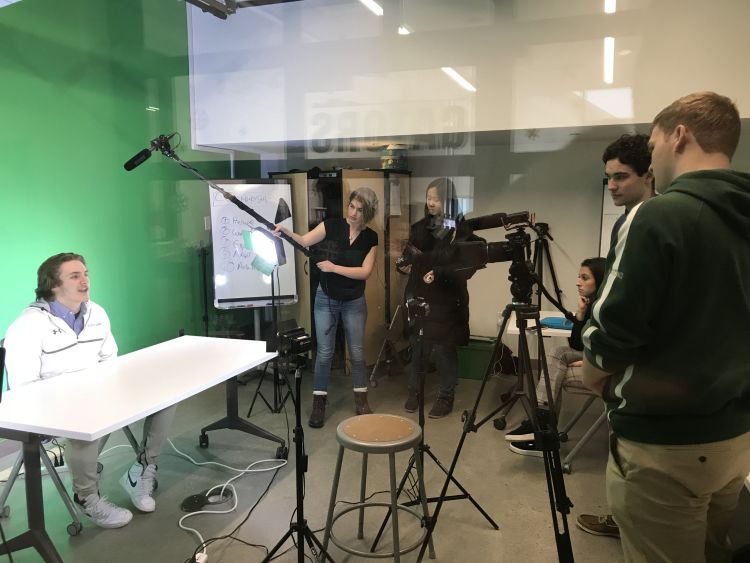 The Gator also benefited from Breiman's inclusive leadership style, with her demonstrating genuine interest in what others thought before making final editorial decisions.
According to Journalism Advisor David Cutler '02, Breiman took an already successful student publication and brought it to a new level.
This year, Breiman also had the extremely difficult task of writing about the tragic passing of Safi Aziz '17, which she handled with the care and attention of a seasoned professional.
"Shani is a top-notch writer and reporter, but she is an even better leader of the newsroom," Cutler said. "Each day, she showed just how much she cared for everybody's success. Without question, I think her experience as a team captain in soccer helped her succeed in the top position. She will be sorely missed, and I hope she continues with journalism in college. I'm sure we will all be seeing her byline again in the near future."
With Appeal, Gator Wins NSPA Gold
By Gator Staff
Responding to an appeal from The Gator, earlier today, the Columbia Scholastic Press Association (CSPA) changed its previous ruling and awarded the online publication a Gold Medal ranking.
According to the CSPA website, "Gold Medalists are given four total scores from 800 to 1,000 points; Silver Medalists, from 600 through 799 points; and Bronze Medalists, 599 points and below."
In November, CSPA had awarded The Gator a Silver Medal with 720 total points, but the publication appealed for a higher score, citing that it was unfairly marked down for not covering football, which the School does not offer.
Cutler also cited that Gator reporters are required to participate in after school sports, unlike most public schools in the area.
In a Nov. 21  article, Cutler called it "unfortunate" that the newsroom would be penalized for operating within the confines of the the School's mission, which encourages students to devote time to exploring diverse interests.
With the revised critique, though, The Gator earned 884 points, the highest possible rank for overall journalistic excellence—and placing it among the best student publications in the country.
"I couldn't be prouder of the newsroom for this magnificent recognition," said Editor-in-Chief Shani Breiman '18. "This is truly something special, and everybody involved in The Gator should be beaming. I know I am, and I'm just so proud of everyone who made this possible. What a terrific team effort."
This story appeared live on The Gator Jan. 22, 2018.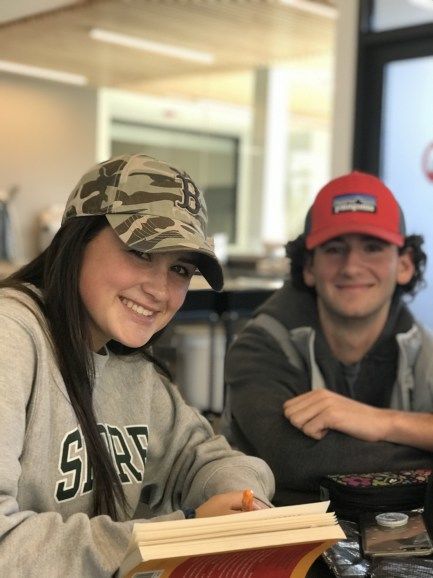 For 'Hats Off for Kindness Day,' GNN Correspondent Hannah Ahearn '20 poses with Managing Editor Jared Heller '19. Next year, Ahearn will be promoted to GNN co-anchor, and Heller will become the newsroom's first executive editor.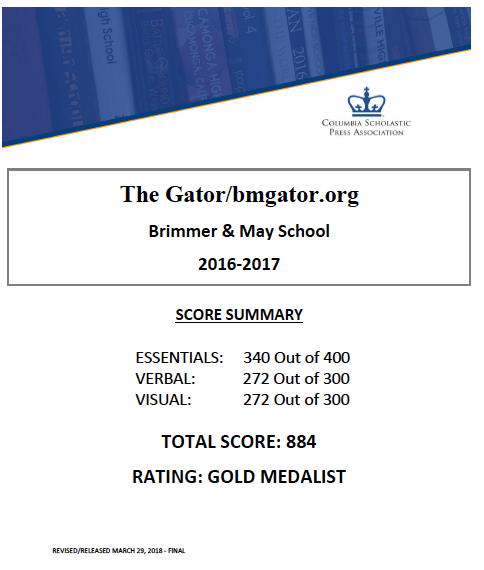 Abigail Mynahan '19 Takes the Reigns
With Breiman graduating, The Gator is proud to announce that Co-Managing Editor Abigail Mynahan '19 will assume the top position of editor-in-chief. Starting Friday, April 27, she will be the person most responsible for any and all content published onto the site.
Mynahan joined the newsroom this fall as a powerhouse reporter, writing and co-writing a number of impactful stories of the year—including coverage of the new Hastings Center, the student walk-out, and the use of e-ciggerates on campus.
Moreover, she has played a major role in improving the writing and editing of the newsroom, meeting with writers one-on-one to lend a helping hand.
"Abigail is one of the most impressive student-journalists I've worked with," said Cutler. "At the same time, a lot of The Gator's more recent success also stems from her working just as hard to help others improve their craft. The Gator is a learning newsroom, and Abigail is excited about teaching and guiding the next generation of staffers. I couldn't be happier, and I know that the newsroom will continue to prosper under her leadership."
For her part, Mynahan said that she has learned a tremendous deal from Breiman.
"It will be a tough act to follow," Mynahan said. "I hope to help continue producing content in areas that we already excel in, while also expanding our coverage. Next year, I want to continue to find new ways to present content. I'm also looking forward to welcoming new writers to the newsroom, and helping them develop their journalistic skills."
Before the fall, The Gator will decide on rounding out the rest of its 2018-19 editorial board.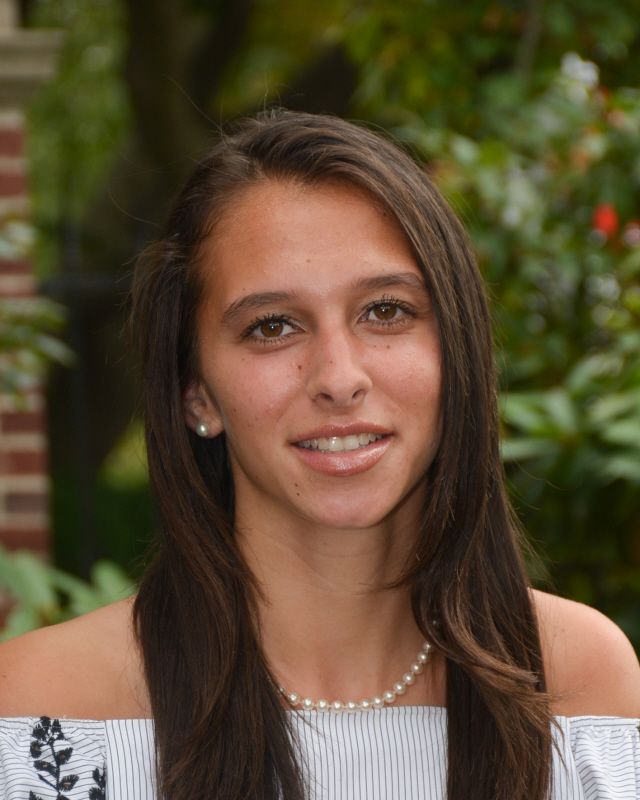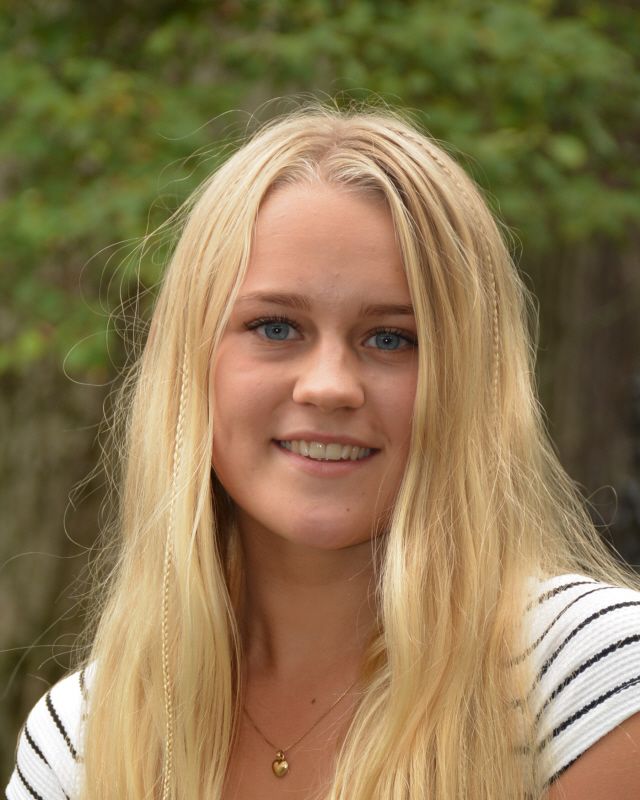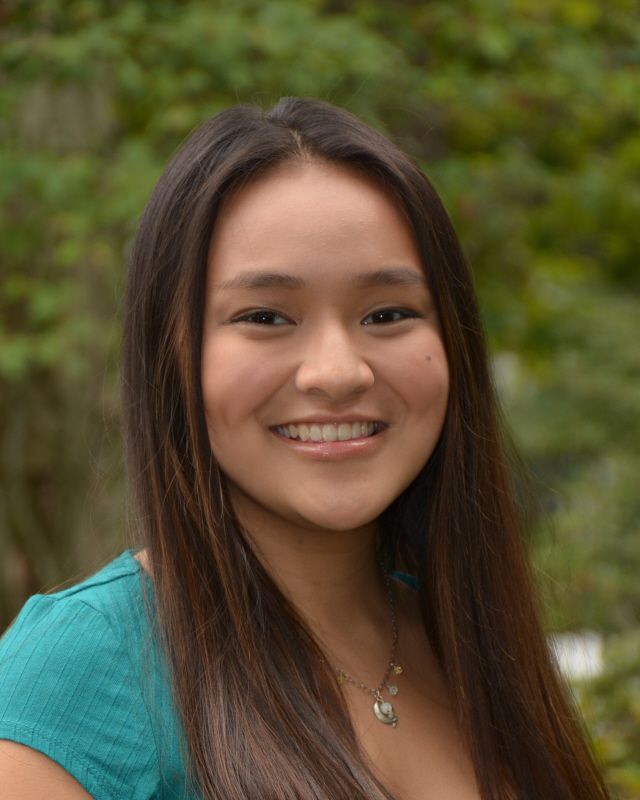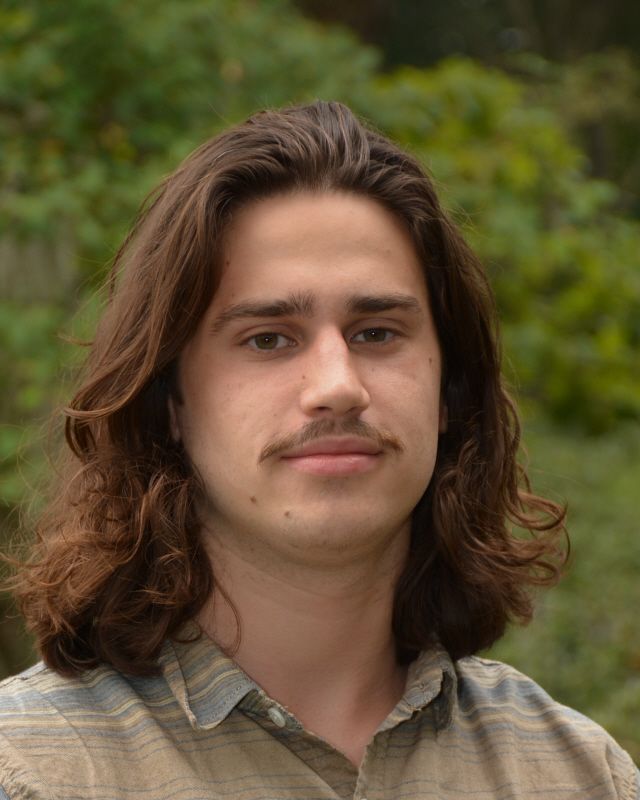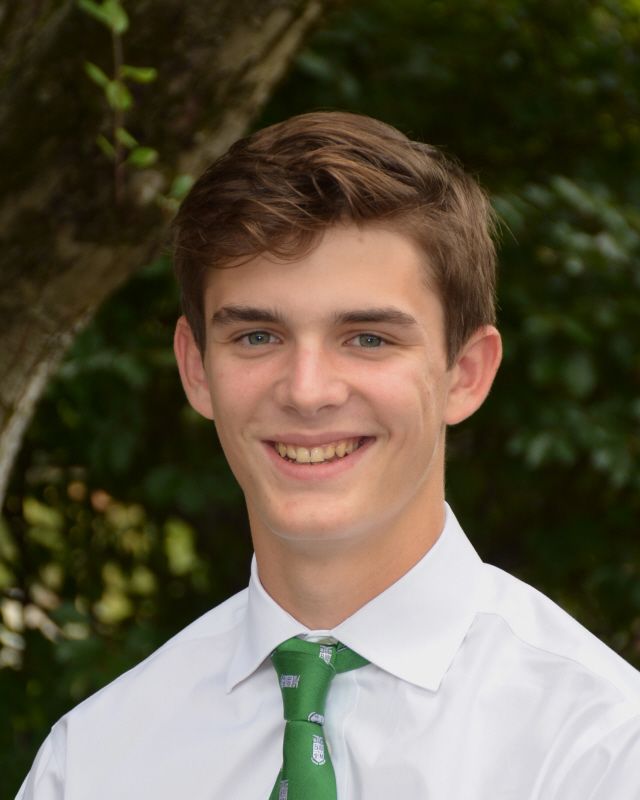 Saying Farewell to our Senior Staffers
Starting this year, The Gator is introducing a new tradition to honor the contributions of graduation seniors. We can't thank these students enough for all that they have done to help the publication reach new heights. They are always welcome to visit the newsroom, and we know that they are destined for great things.
For four years, Shani Breiman dedicated herself to honing her journalistic abilities. A gifted writer with an uncanny ability to lead, The Gator will not be the same next year without her presence. However, Breiman should take comport in knowing that she is leaving the publication in an even better place than she found it in. For that, we are eternally grateful. We know that she will do great at Connecticut College.
For several years, Caroline Ellervik graced The Gator with her gorgeous photography—elevating the look and quality of the overall publication. She set a high bar for other Gator photographers, who benefited from her insight. Without fail, Ellervik always had a camera around her neck, ready to cover events and work with writers to enhance their content. We know that Caroline is headed for great things. We wish her the best of luck at Northeastern University.
A terrific writer, photographer, and artist, for two years, Sadie Goodman offered her talents to the newsroom. One of The Gator's most flexible and trusted writers, Goodman tackled her stories with passion and confidence. Through her steadfast concern for accuracy, Goodman played a pivotal role in elevating the overall credibility of The Gator. Even as Sadie is busy with her blossoming acting and singing career, we hope that she keeps one foot in the newsroom. We wish her the best of luck at Montclair State University.
A longtime member of the newsroom, Ethan Eastwood covered everything from sports, news, to outdoor education. Always willing to lend a hand, Eastwood also took photographs and helped new writers feel welcome. He also took it upon himself to help fellow writers get a missing quote or information to round out their stories. A true team player, we will miss Eastwood next year when he attends St. Lawrence University.
A bedrock of journalistic integrity, over his long tenure in the newsroom, Matthew Hastings elevated the opinion pages to the next level. Fair and levelheaded, Hastings demonstrated how to agree or disagree while makimg one's voice be heard with clarity, conviction, and politeness. He also brought focus and balance to objective news coverage, modeling professionalism for future reporters. We wish him the best of luck at Denison University.
With the constructions of the new Media Lab, Michael Hastings jumped at the chance to be a part of Gator Nation News. Though he worked behind the camera (quite literally), the broadcast would not have functioned without his dedicated work, creative eye, and passion to get things done right, but also quickly. Between filming takes, helping to manage the rest of the production crew, and editing footage, Hastings leaves big shoes to fill. We wish him the best of luck at Elon University.
As the first co-anchor of Gator Nation News, Dylan Rigol has left a lasting mark on the future of the newsroom. His wit, poise and genuine enthusiasm for broadcast journalism ushered in a new era for scholastic journalism here. His natural charm grabbed the attention of his peers and viewers alike, and it's clear that Rigol felt right at home in the anchor's chair. It was a true joy seeing him take ownership of the broadcast, and we wish him the best of luck at High Point University.
Alongside Rigol, James Yfantopulos served as the first co-anchor of Gator Nation News. In fact, he goes down in newsroom history as the first to anchor a broadcast alone, as Rigol was out sick during the inaugural episode. A risk-taker who never shied from introducing new segments, Yfantopulos played a key role in establishing and growing the broadcast. We will miss his signature sign-off phrase, but we also know that he will go on to accomplish great things at Colgate University.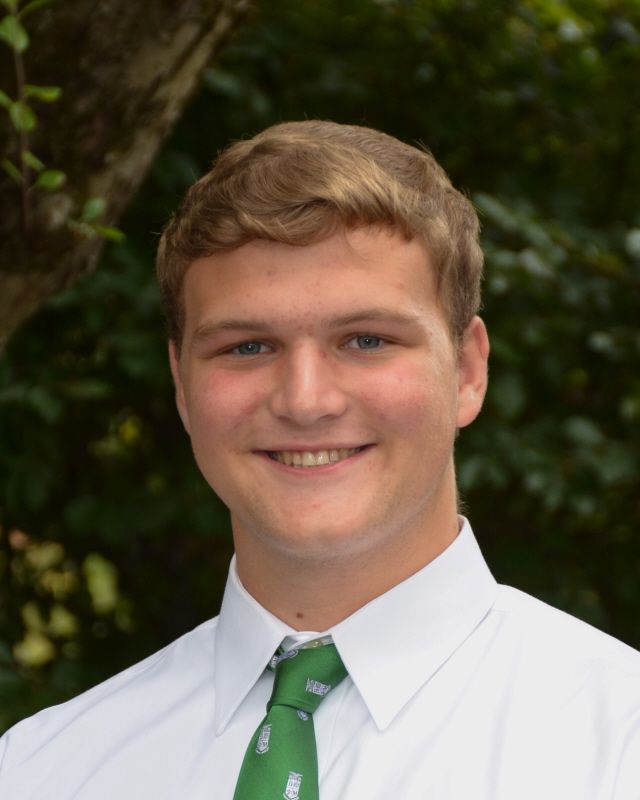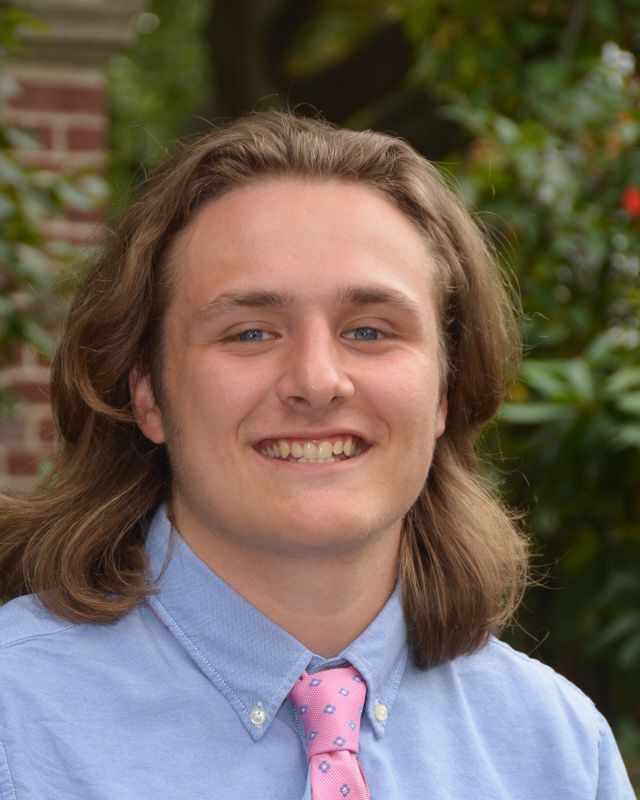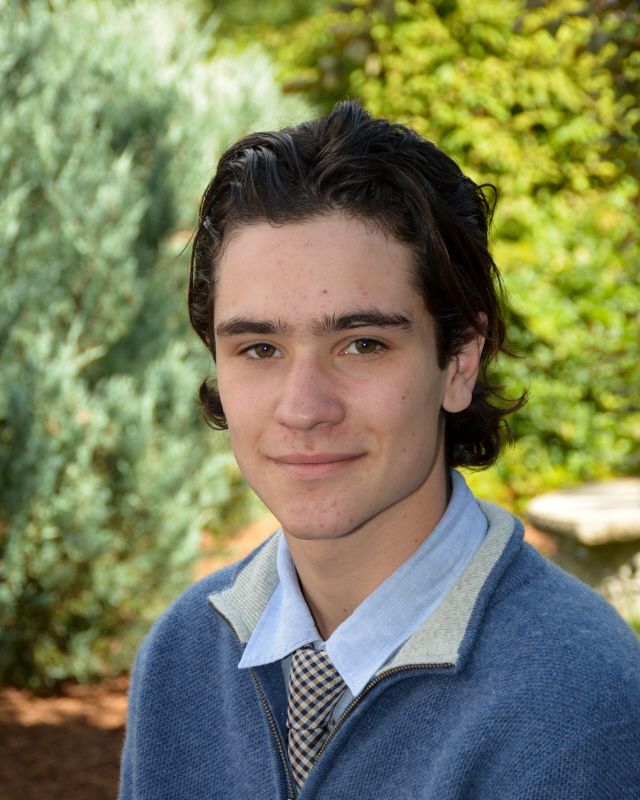 The Gator
Help Write Our School's Next Chapter
All high schoolers are welcome to sign up for Journalism, which produces the online publication, and anybody belonging to the community can contribute. For additional information, please contact Editor-in-Chief Abigail Mynahan '19.