Fall 2019: A Semester to Remember
Olivier Khorasani '20 scores the winning goal against Boston Trinity Academy, clinching the MBIL championship.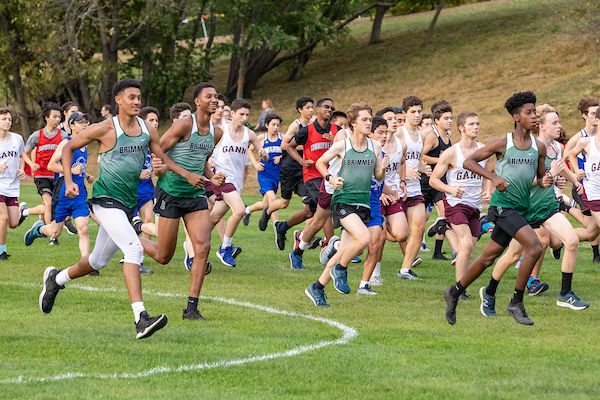 V. Boys Cross Country Dominates
Brian Gamble '23 completed the Nov. 6 MBIL Cross Country championship 3.1-mile race at Gann Academy in 17:21, a course record, leading the boys' team to a first-place victory.
The girls' team earned runner-up, despite two of its top three runners being unable to compete at the championship.
Gamble also beat Connor Reif's '19 course record last year by 30 seconds, besting 110 runners.
---
"It was really difficult, but by the end, it was all worth it," Gamble said of his win.
Gamble was followed by Gator scoring runners Richard O'Keefe '20 (18:07), Clayton McLaren '21 (19:18), Edan Zinn '23 (19:49), and Kyrell Luc '21 (20:16), earning the team 32 overall points, its lowest overall championship score and its first league victory since 2016, when the team finished with 33 overall points.
Boys Head Coach Paul Brauchle said the win was a team effort, noting that often, it comes down to the fourth and fifth finishers.
"Edan and Kyrell ran strong tactical races by not going out too fast and running even splits throughout,"Brauchle said. "Both passed upwards of 20 opposing runners within the last two miles of the race."
The boys' success at the MBIL championship race bodes well for the NEPSTA race on Saturday, Nov. 9 at Hebron Academy in Maine
"If we run as well at NEPSTA as we did yesterday, the boys should be the best performing Brimmer and May team to place at the race," Brauchle said.
As for the girls, Co-Captain Anja Westhues '20 finished first for her team, crossing the finish at 23:39.
"I've had my own share of injuries this year, and the fact that I could still finish where I did despite all of the setbacks made me very proud of myself," Westhues said. "It was definitely a great last MBIL cross country race for my high school career."
The Gators top-five runners tied Gann Academy, but Karly Hamilton '21, who came in sixth place for the team, bested Gann's next finisher by just one second, securing the team's second-place score.
"It was a very exciting moment when I found out my score had gotten us second place," Hamilton said. "Our coaches drilled into us the whole season that everybody mattered, and this race made me realize how right they were."
Brauchle said that yesterday's victory is especially encouraging, as only one of the team's scoring finishers, O'Keefe, graduates this year.
"While Richard was a great asset this year, our team next year looks to be even better in 2020," Brauchle said.
Gamble was also unanimously voted MBIL Most Valuable Runner by the league coaches.
V. Boys' Soccer Wins MBIL Championship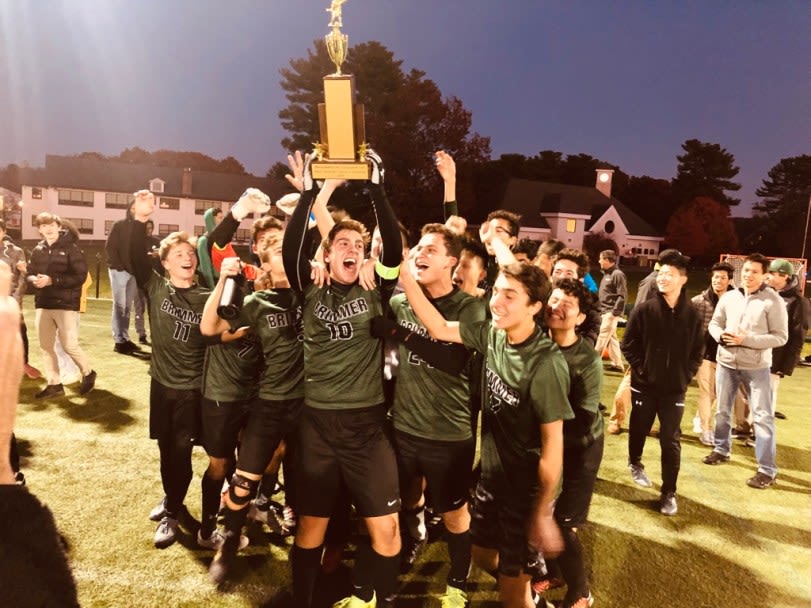 Down 1-0 with less than 10-minutes left on the clock, the Gators scored two goals, defeating Boston Trinity Academy (BTA) for the 2019 MBIL title for the first time since 2012.
"I'm so proud of how even though we were a goal down for most of the game, the team kept battling to the end," Head Coach Chris Hardman said. "They didn't quit, and they knew they could get back in the game. I could see BTA start to get tired, and I saw these guys keeping their efforts level high the whole way through the game."
Late in the second half, Co-Captain Miles Munkacy sent a through ball to Tristan Durocher '21, who beat a defender to get into the box. He brought the ball to his outside left foot, drilling it across his body and hitting the bottom right of the goal.
"It felt absolutely electric," Durocher said. "I knew we had it in us. We were playing well the whole game, and we just needed one chance."
A few minutes later, Durocher dribbled through a defender.
"I knew that I was either going to have to get a shot off, or get fouled to prevent my shot," Durocher said. "I got pushed over inside the 18-yard box, which calls for a penalty kick."
"When I put the ball on the penalty spot, I thought about nothing besides the ball going into the back of the net," Co-Captain Olivier Khorasani '20 said. "I told myself that there was no way I was going to miss this penalty, and sure enough, the net rippled a few seconds after the ball left my foot. We all went crazy, and I was in disbelief, realizing that I had just scored a penalty that could have won us the championship."
"The game was the best example of the teamwork that our team has worked so hard to develop," Munkacy said. "Everyone contributed and used everything they had, even when we were down with less than ten minutes left."
V. Boys' Soccer Wins NEPSAC Runner-Up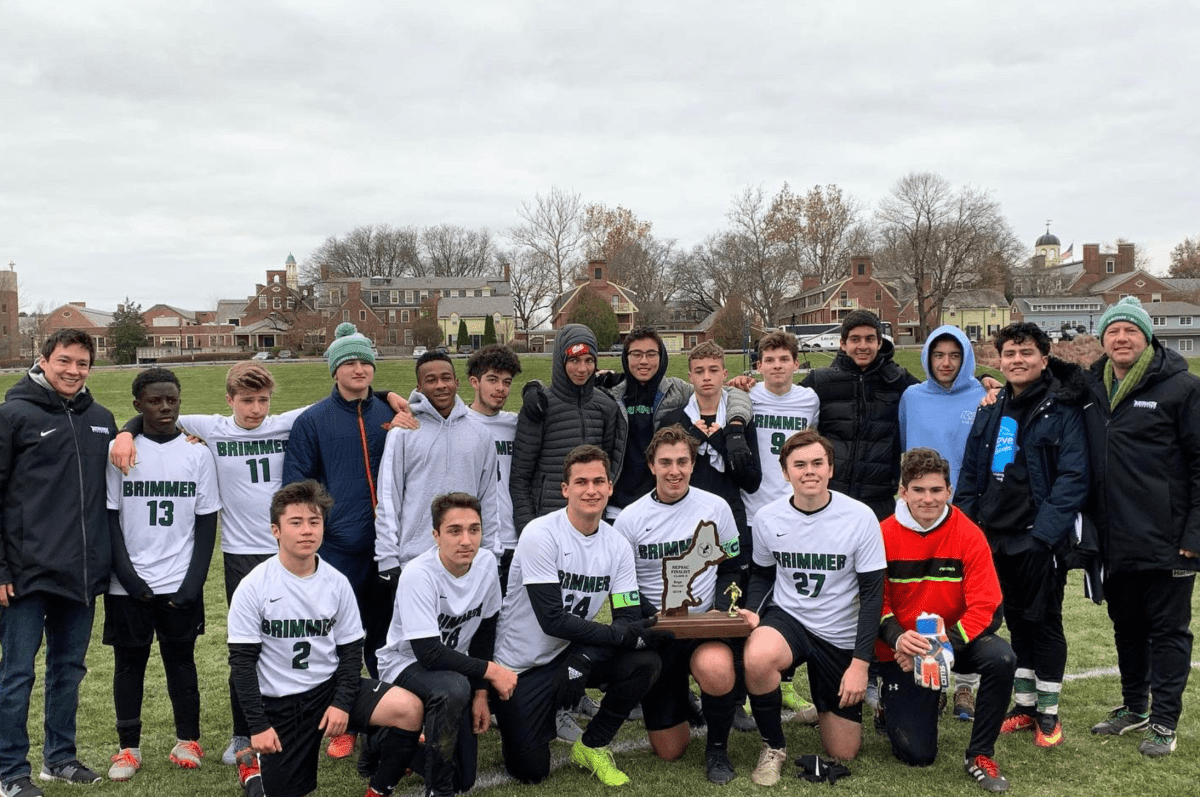 "Once we beat the undefeated former defending league champions, Gann Academy, in a hard-fought 1-0 win, I realized our team could do great things."
So said Captain Miles Munkacy '20, reflecting on his MBIL championship team advancing to the NEPSAC Class-D championship Sunday, losing 2-1 to Rocky Hill Country Day School, but cementing School history by clinching second-place—marking the first time that any varsity soccer team has made it this far in the tournament.
"When the final whistle blew in the NEPSAC championship, I sat there and reflected with my co-captains on what we had just done—advanced further than any Brimmer soccer team in School history," Munkacy said.
Last year, the Gators defeated Stone King School to advance to the semi-finals, marking the first time that the team had ever advanced in the tournament.
Field Hockey Roster Surges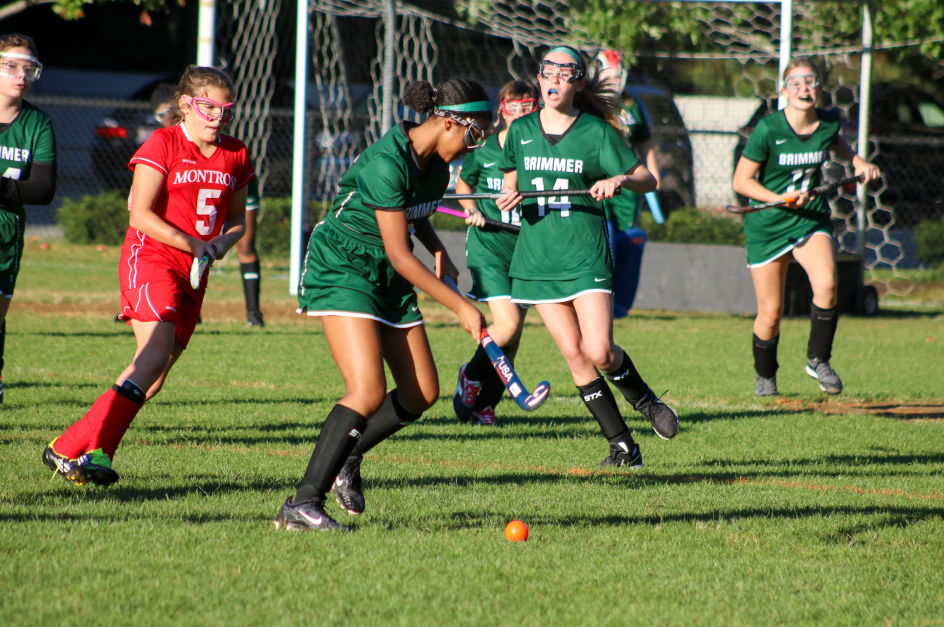 After playing no games last year, this past season, the field hockey had two games on its schedule. Though Brimmer fell to Montrose in both games, the team has improved throughout the season and hopes to have a rematch next fall.
Head Coach Alexandra Morey, who has been with the team for three years, said she is excited about the "exponential growth" of the sport during her tenure.
"I absolutely love the sport, and I love sharing my passion with the girls," Morey said. "I would be ecstatic if the program continued to grow and we were able to schedule more games. It would be my dream if we could have both a middle school and upper school team someday."
According to Gates, the reason that the program has become more successful is in large part because of Morey.
"She knows the game well. She balances practices, teaches skills, and at the same time the girls are having a fun time learning."
Field Hockey is the longest running sport offered at Brimmer and it is celebratory that after short numbers, 17 students joined the team this part season.
Upper School Play Delivers on Action, Thrills
Delivering the most action-packed, swashbuckling sword fights in School history, the Upper School fall play, The Three Musketeers, showcased intense action sequences.
Written by Ken Ludwig and based on Alexandre Dumas's most popular work, the play is set in France in 1625, and follows D'Artagnan, played by Samantha Estrada '20, as the character searches for adventure amidst treachery and royal intrigue.
According to Director Bill Jacob, the precise number of female characters auditioned for the required number of male roles, while the precise number of male characters auditioned for female roles.
"We reversed the roles typically played by male and female actors," Jacob said. "I wanted to see what it would be like to completely switch places. I'm one of the few who liked the female Ghostbusters, and I always liked sci-fi books about multiple universes."
Since mid-September, the cast and crew have been hard at work after school and on weekends, with tech-week consuming even more time. According to Elias Kazin '20, who plays Milord, one of D'Artagnan's enemies, the effort has been worth it.
"There is a lot of action," said Elias Kazin. "This is the most sword-fighting we've had in one show, and there are a lot of funny moments."
Elias Kazin '20 as Melord fights John Eastwood '22, who plays Sebastian, D'Artagnan's brother. Photo by Bill Jacob.
To get a look into the play this year, The Gator spoke with one of the stage managers, Marlo Frank '22, and Zakkai Mares-Van Praag '22, who is playing the role of the King of France (who in Dumas's book is a Queen).
"The production has a lot of great sword fights, which we've been working on since September, so come see it," Frank said.
"We have a really strong cast this year, and we are really giving it our all to make this show great," added Mares-Van Praag.
Play choreographer Ingrid Oslund, who has worked on several previous Upper School productions, introduced actors to a range of fight choreography—from sword fights and duels, to hand-to-hand combat.
"It was definitely a challenge, but one thing I love about working at Brimmer is that students always rise to the occasion," Oslund said. "I was really excited about not only making the violence look realistic, but also learning how to tell a story.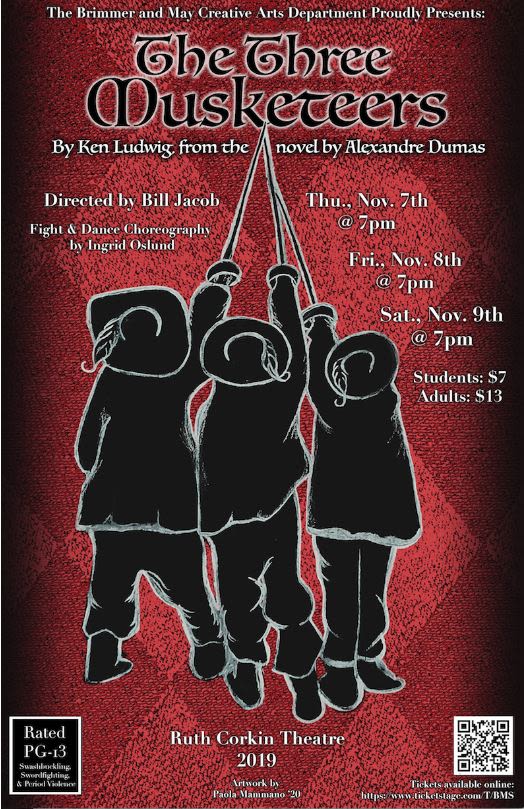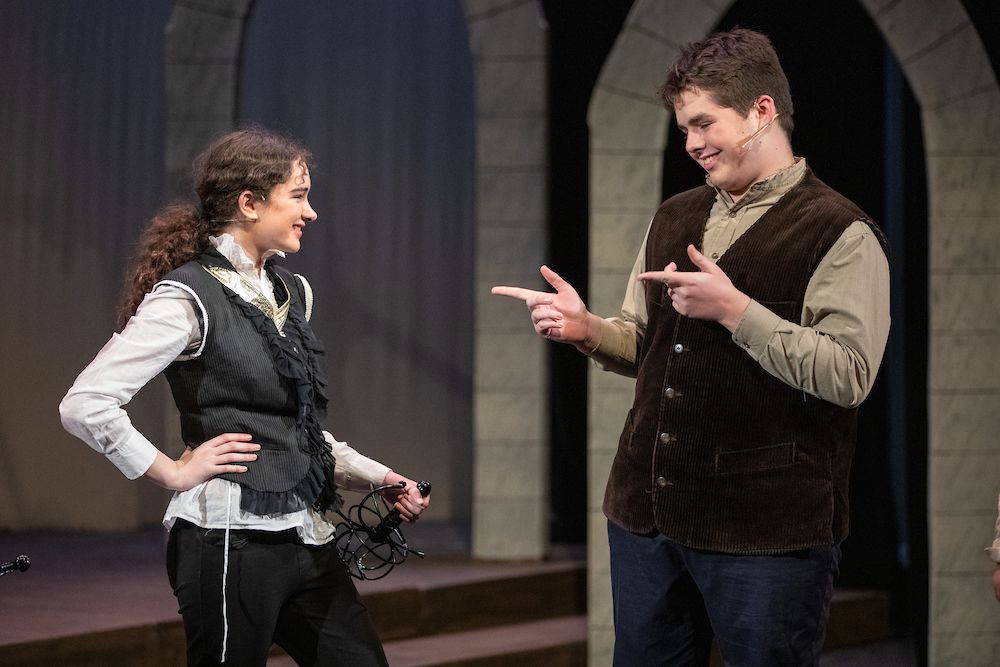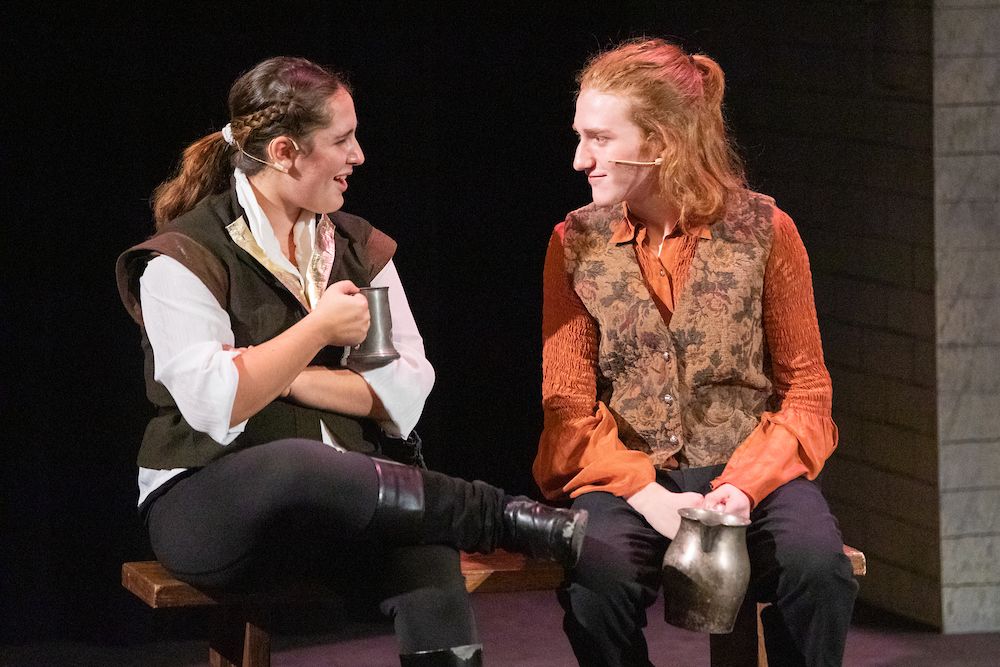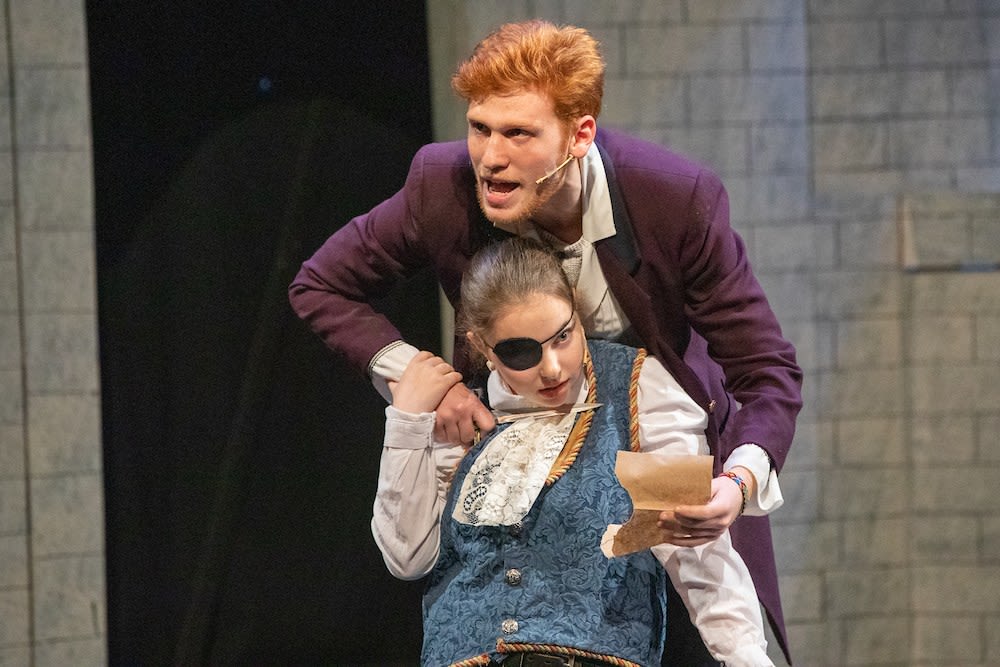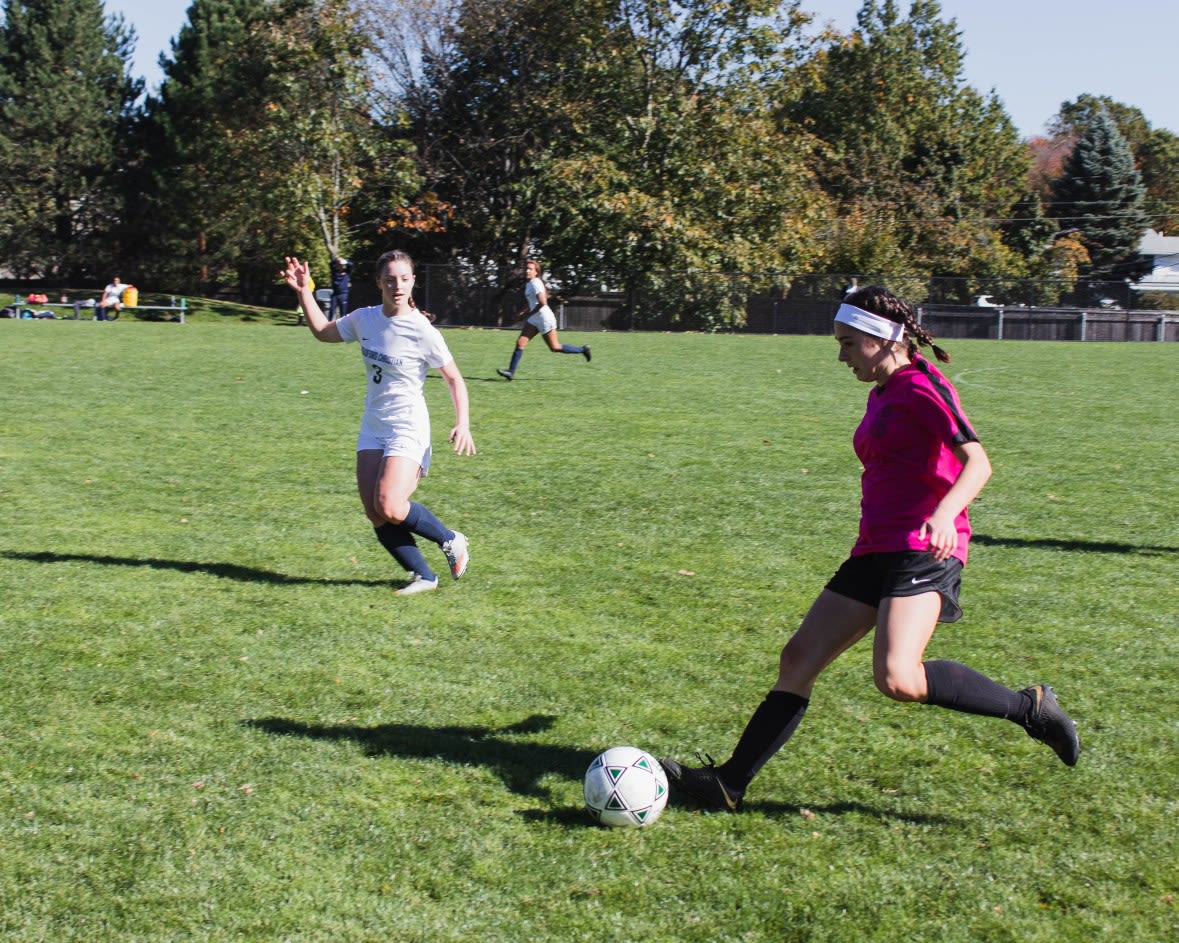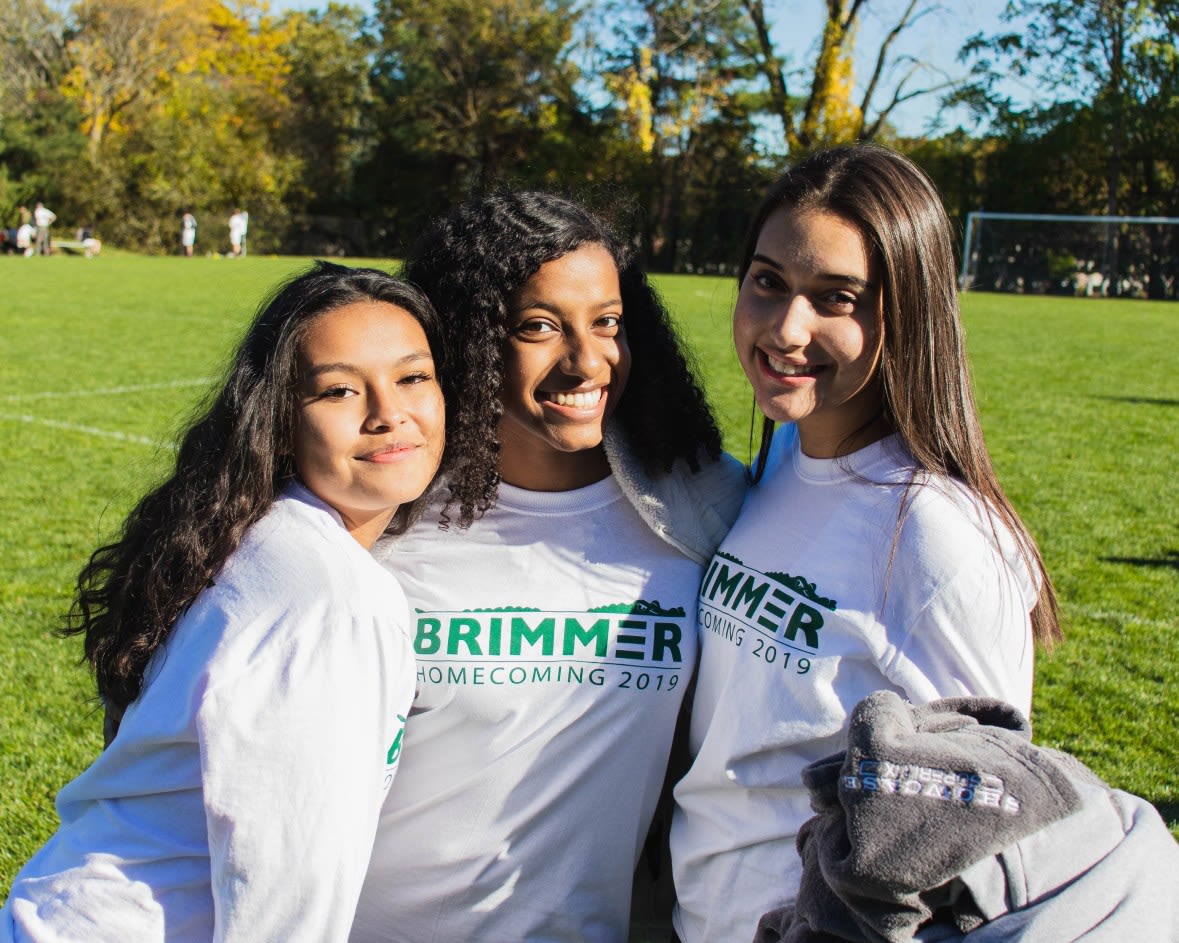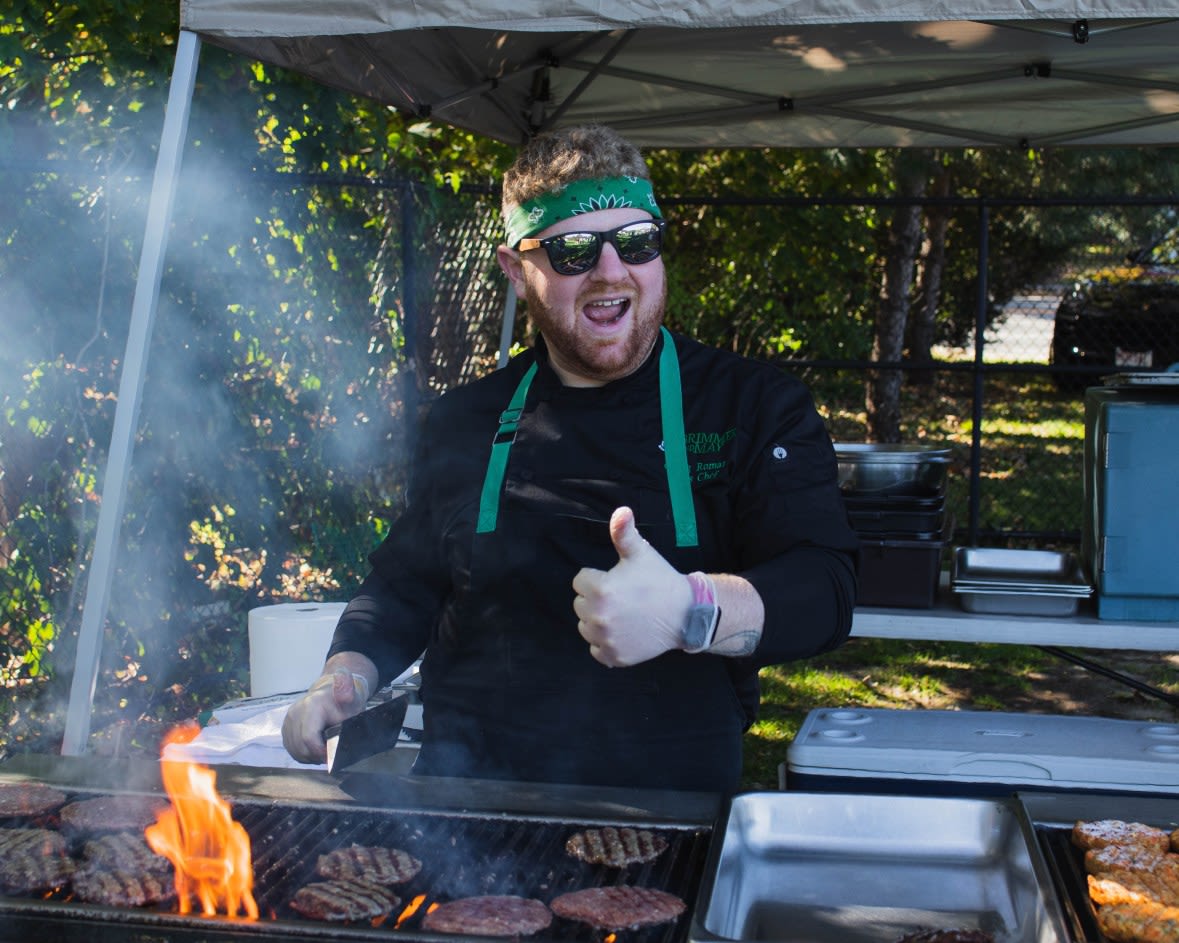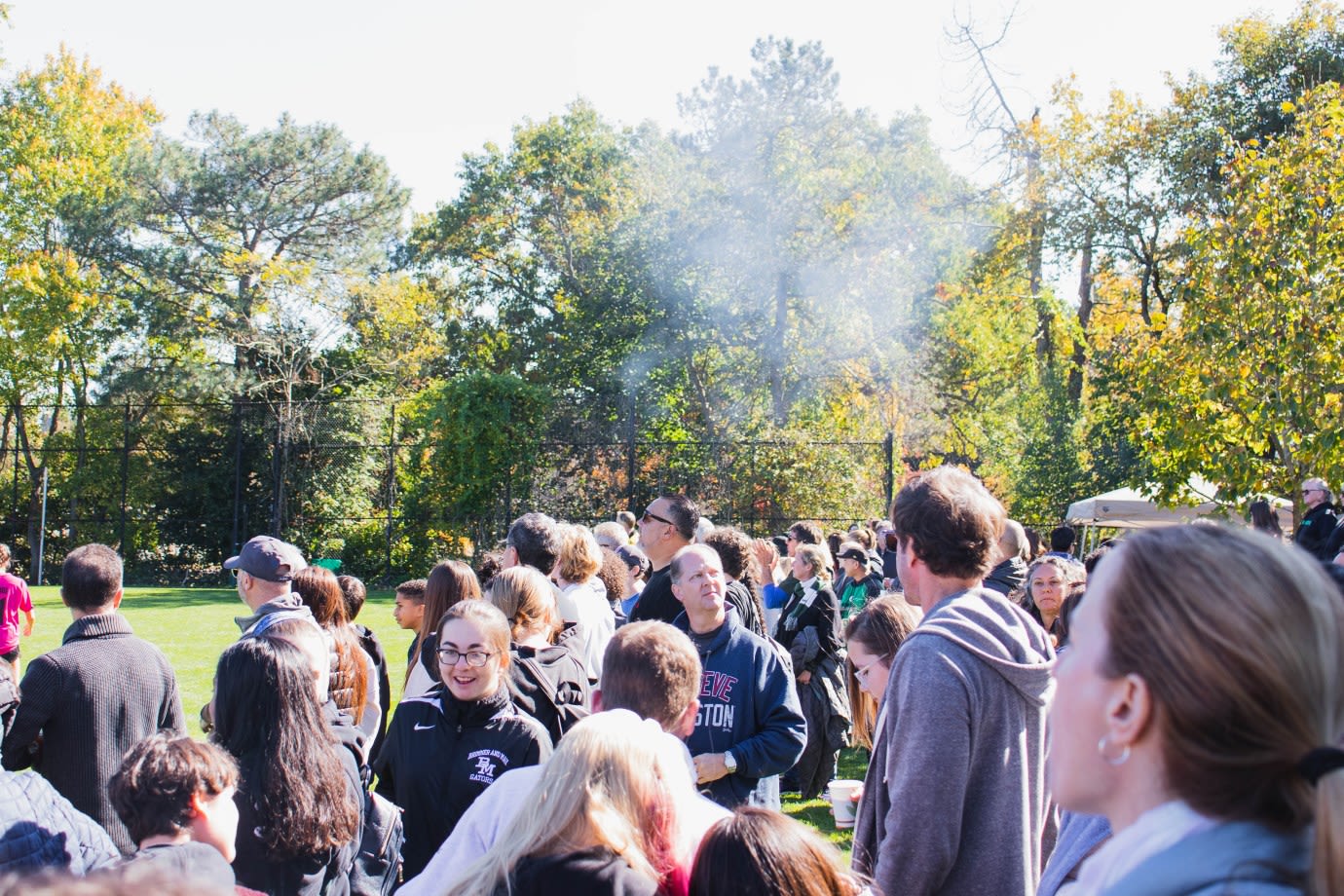 Over 300 Attend Homecoming
Showing off their Brimmer spirit, over 300 community members attended Saturday's homecoming at Orr Field, as both varsity soccer teams faced off against Bradford Christian Academy.
The girls made a strong comeback from being down 0-4 at the half, managing to tie the game with a last-second goal by Angeline Nur Dervisevic '21.
The boys played well and pulled off a 6-0 win.
Before the start of each game, Greenline performed the Star Spangled Banner.
Zakkai Mares-Van Praag '22 reflected on his performance.
"The performance was a great time for Greenline to show what they can do, and it was awesome to be a part of it."
A highlight of homecoming is catching up with alumni, both old and new.
The event is a great opportunity for everyone to come together as a community, and this year, Homecoming certainly did not disappoint.
Marianne Alagos '21 breaks down the girls' game. Video by Leah Bell '22.
Marianne Alagos '21 breaks down the girls' game. Video by Leah Bell '22.