Fall 2018 Recap
Get the highlights of this semester's newsroom coverage.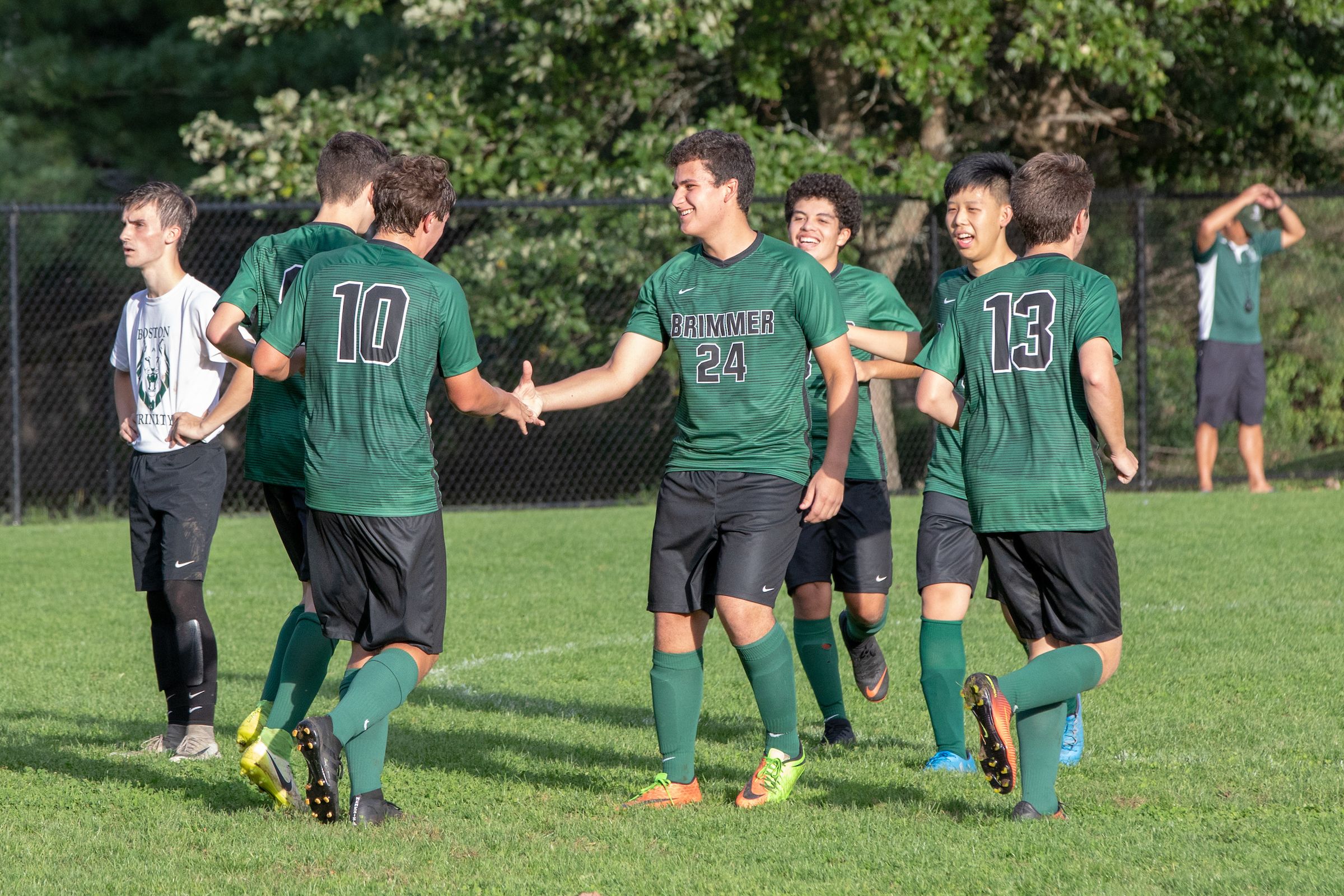 Exploring Empathy and Ethical Thinking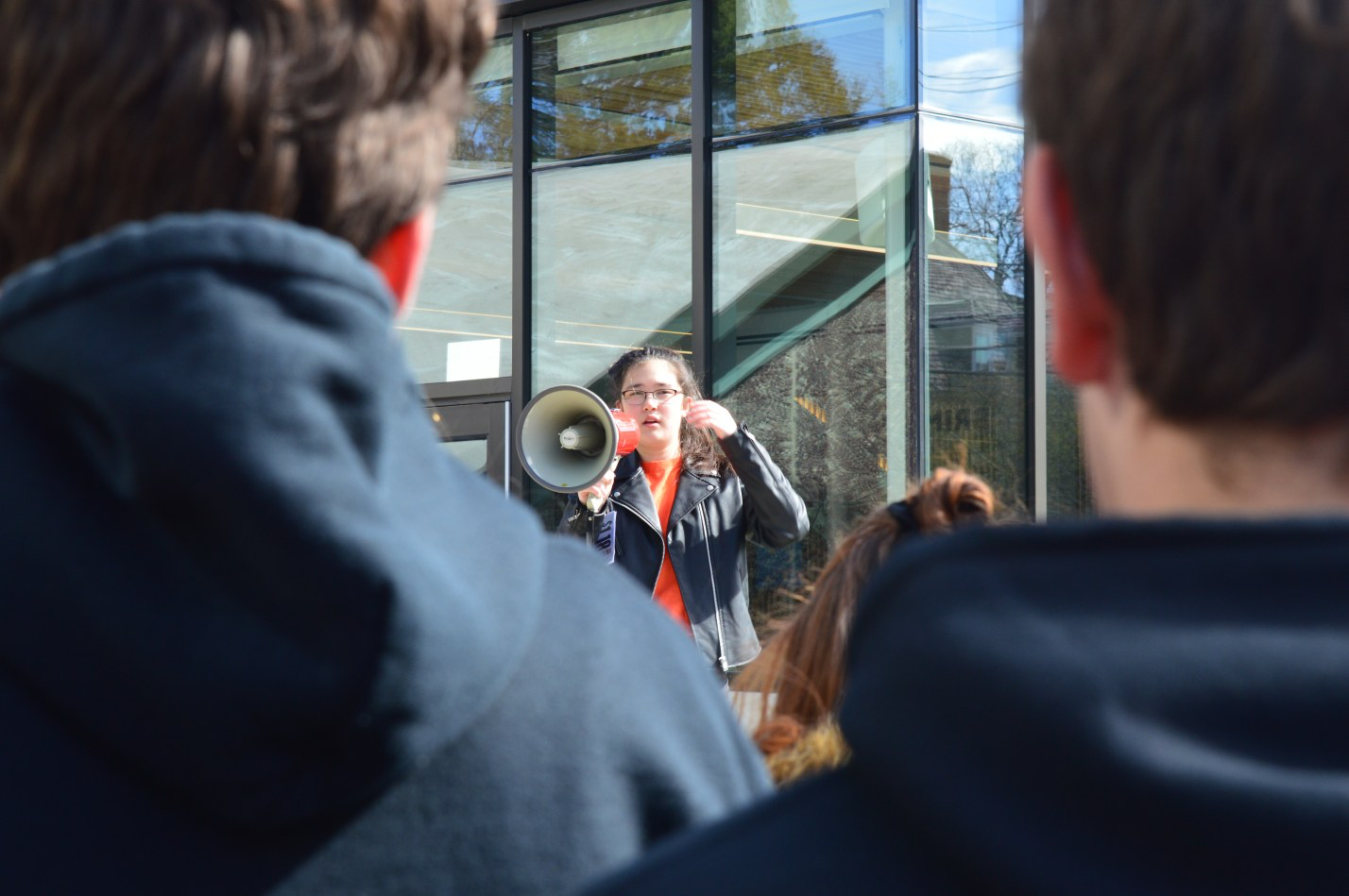 At this year's opening convocation, Head of School Judith Guild announced the theme for the academic year: Empathy and Ethical Thinking.
With increasing numbers of students fighting for social justice and legislative reform, Guild said that the theme arose organically from within the School's community. An important part of political discourse, she emphasized, is empathy, which allows individuals to find common ground while considering other points of view.
"What happens when you're empathetic is you become a better person," Guild said. "You don't just help somebody. You actually end up growing as a person because it requires so much of you."
Last February, to peacefully protest racially insensitive behavior, approximately 16 students of color and several allies walked out during a morning assembly. In April, following the aftermath of the mass shooting at Stoneman Douglas High School in Florida, more than half of the Upper School participated in a walk-out, which, as event co-organizer Chloe Berlin '20 told those who attended, was aimed to "help perpetuate the shared standard of radical compassion."
This October, in light of the confirmation of Judge Brett Kavanaugh to the United States Supreme Court, Upper School students organized an intervention in the Ruth Corkin theatre, aimed to "to facilitate discussions around sexual violence, not to protest against the School," according to co-event organizer Paola Mammano '20.
The theme is intended to help the community avoid divisiveness, uniting faculty, parents, and students. Guild also hopes that students will continue to raise important questions, such as what doing the right thing means in a given situation and how to listen to different views.
"I think that it's a great theme to explore," said Libby Foley '20. "It really promotes good decision-making in our students, and really urges us to be better people who think about our actions.
Empathy is a "learned skill," Guild said, also noting that it is an important part of curriculum, especially in the humanities. In this regard, students can experience empathy in what they read, which requires one to "put themselves in the mind of a character," she said.
"It's one thing to sympathize with somebody, but it's completely different to actually put yourself in another person's shoes, to understand how they are thinking. In our would, we really need to understand that," Cara Rittner '19 said.
In the fall, faculty heard from Dr. Kay Young, an English professor at the University of California, Santa Barbara, who shared how teaching literature is a pathway to learning empathy. She also spoke about how storytelling enhances the delivery of content in all disciplines. During the recent Board of Visitors Day, Dr. Pat Bryne, a philosophy professor at Boston College—and a former parent and Trustee—delivered a talk, "Importance of Philosophy, Empathy, and Ethical Thinking in Education."
School Aquires Access to Mt. Ida Campus Athletic Facilities
In September, Head of School Judith Guild announced a partnership to use the athletic facilities at UMass Amherst's Mt. Ida Campus.
With this deal, student-athletes have additional fields and courts for soccer, field hockey, lacrosse, and tennis.
For the first time, fans enjoyed watching a nighttime game, as the Gators took on Lexington-Christian in the NEPSAC semi-final, falling 2-0.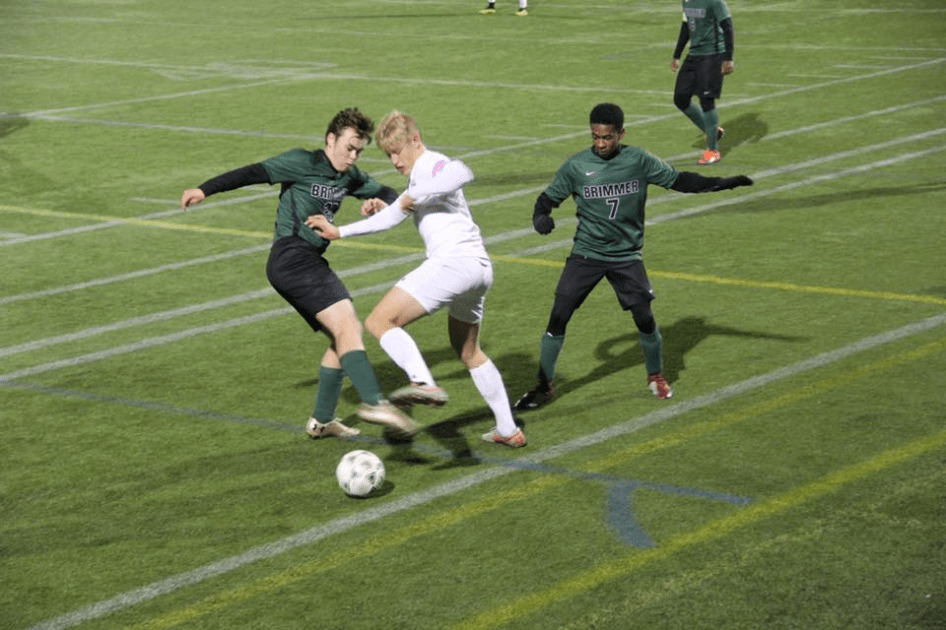 In an editorial, The Gator wrote, "this tremendous effort makes clear just how much the School cares about providing students with a superior athletics experience, as well as its creative thinking to get around space limitations on Middlesex Road."
Guild said that the School remains committed to maintaining its agreement with Pine Manor College and Hellenic College for practice space.
"It's great that we can practice by ourselves without sharing a field," said Varsity girls' soccer player Molly McHugh '21.
Marianne Alagos '21 echoed McHugh, saying, "I love the big soccer field. Our team can really experience what a college field feels like. I also enjoy playing on turf."
Varsity boys' soccer player Tristan Durocher '21 says that his team is also benefiting from the additional space.
"We're able to perform better in games played on turf fields," said Durocher. "We can also practice on the same surface as other teams.
Students Hold Intervention to Discuss Sexual Violence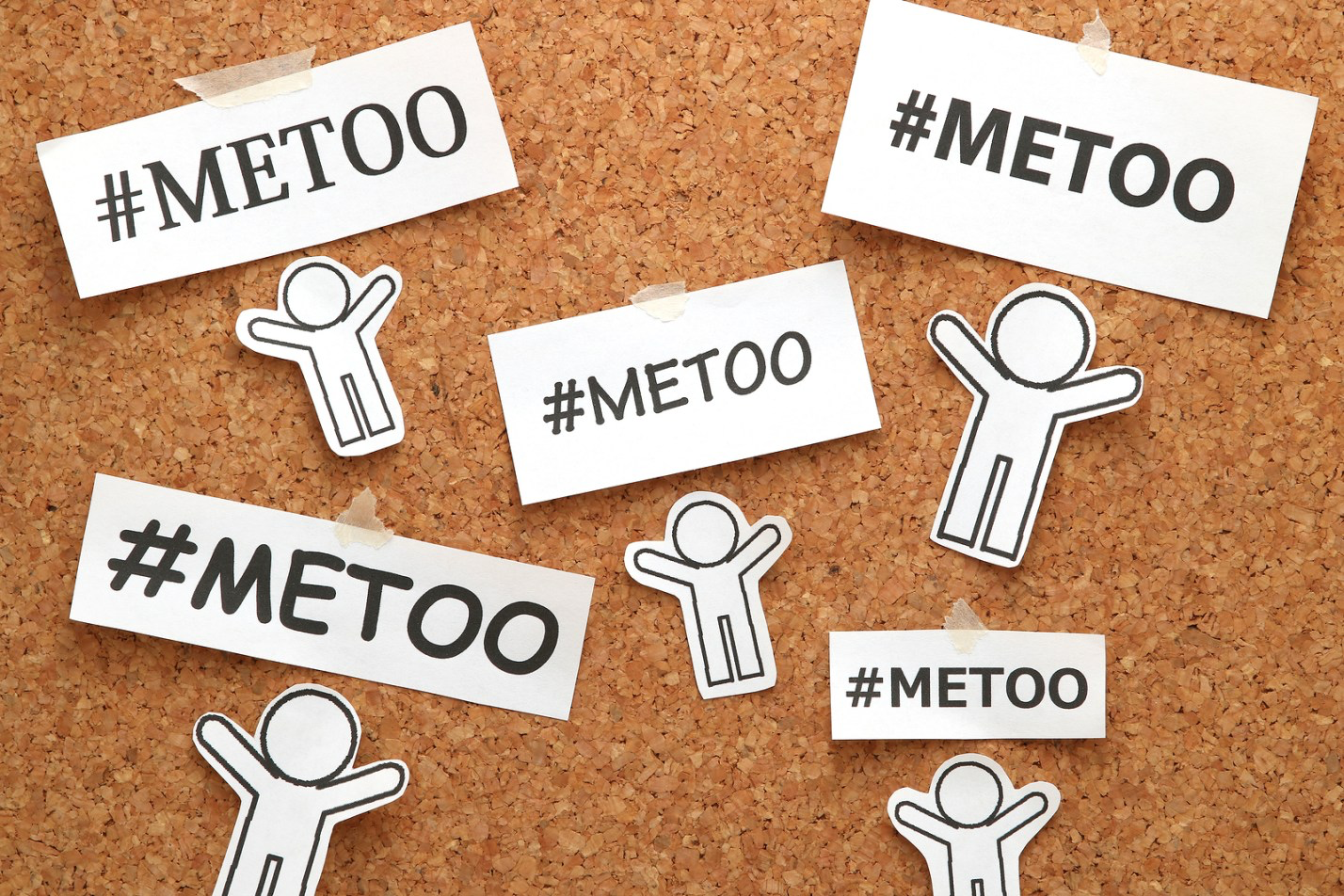 In light of the confirmation of Judge Brett Kavanaugh to the United States Supreme Court, in mid-October, Upper School Students Paola Mammano '20, Stephen Moreno Jimenez '20, and Ella Meranus '20 organized an intervention last Friday in the Ruth Corkin theatre.
The event started during break at 10:00 a.m. and continued into class time.
Mammano emphasized that the event, which was attended by about 20 students, was an "intervention," a discussion-based event, rather than a walkout or a protest. According to Mammano, the goal was "to facilitate discussions around sexual violence, not to protest against the School."
Last Wednesday, Mammano sent an email to the Upper School students regarding the discussion, which read in part, "This is absolutely optional because, yes, it is during class and we know how valuable that time is. This is not a school sanctioned event, if you choose to attend you will not be excused from class. Please come ready to listen and take care of yourself as the subject at hand can be really difficult to discuss."
In a written statement to The Gator about the event, Head of School Judith Guild wrote, "I applaud students for being active thinkers and responsible citizens. However, we all have an obligation to educate and be educated. To quote a recent article from The Economist on the subject: 'It takes a decade or more for patterns of social behavior to change. . .#MeToo is . . .[also] about power – how power is distributed, and how people are held accountable when power is abused.' If our students are to affect change, the work ahead is hard and requires discipline and a commitment to being well informed and ethical people."
The administration offered the opportunity to host a discussion during lunch, but organizers decided to plan an intervention during class time instead.
"I thought an intervention would be more helpful because I thought attendance would be low if it took place during lunch," Moreno Jimenez said. "Also, people are more comfortable talking in a group of just students rather than a group of students and teachers."
Gator Reporters Win Major National Awards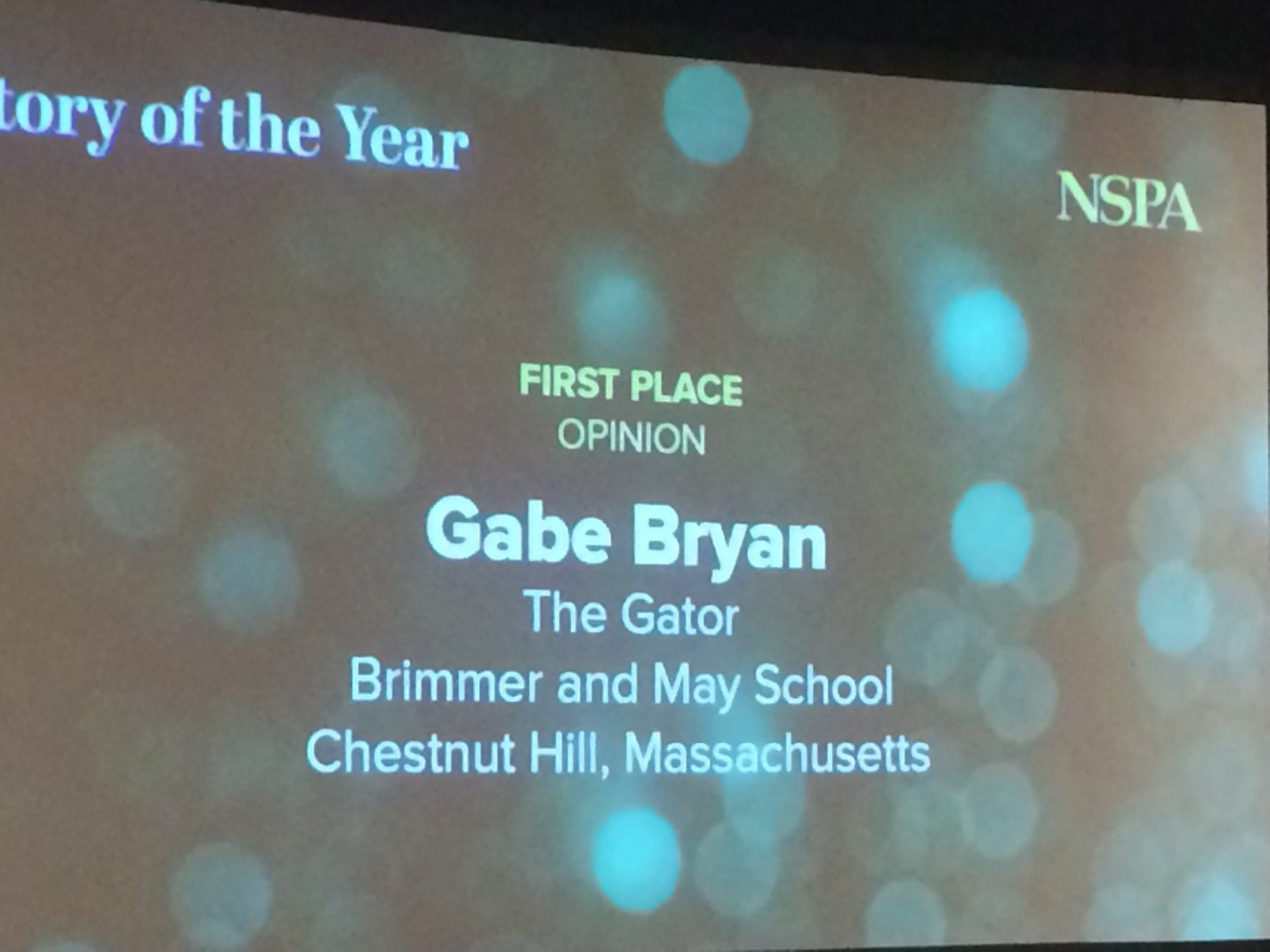 At its annual conference in Chicago Saturday afternoon, the National Scholastic Press Association (NSPA) announced Gabe Bryan '19 as winner of Opinion Story of the Year for Speak Truth to Power Amid Sexual Abuse Claims
Earning a coveted honorable mention as one of the nation's top-10 digital stories of the year, Expressing Ourselves, created by Editor-in-Chief Abigail Mynahan '19 and Executive Editor Jared Heller '10, also saw their names on the big screen at the event, which attracted over 6,000 student journalists from around the nation.
"I am thrilled about tonight's outcomes," Mynahan said. "It's amazing that we received two awards, particularly given that this was our first time submitting for national individual recognition. I am extremely proud to be a part of the Gator, and congratulations to Gabe, Jared and all of the staff and editors of these well-deserved victories."
Byran's article is now officially recognized as the best opinion article written by any student in the nation, from any school. The entry will now compete against first place winners from each Story of the Year category, including News, Feature Story, Sports Story, and Diversity Story for a $1,000 prize.
"This is the highest possible honor for individual recognition," according to Gator Adviser David Cutler. "I'm in complete shock. This is a huge deal, and while the credit certainly goes to Gabe, the entire newsroom also deserves a big congratulations. This would not have been possible without tremendous leadership and mentorship, and it reflects the best virtues of the newsroom. I'm eating my hat."
In the fall, the newsroom also introduced new Gator Nation News anchors, while updating the quality of the broadcast's graphics.
V. Soccer Makes NEPSAC History
The team won its NEPSAC playoff game, defeating Storm King School 2-1 and advancing to the tournament's semi-final match.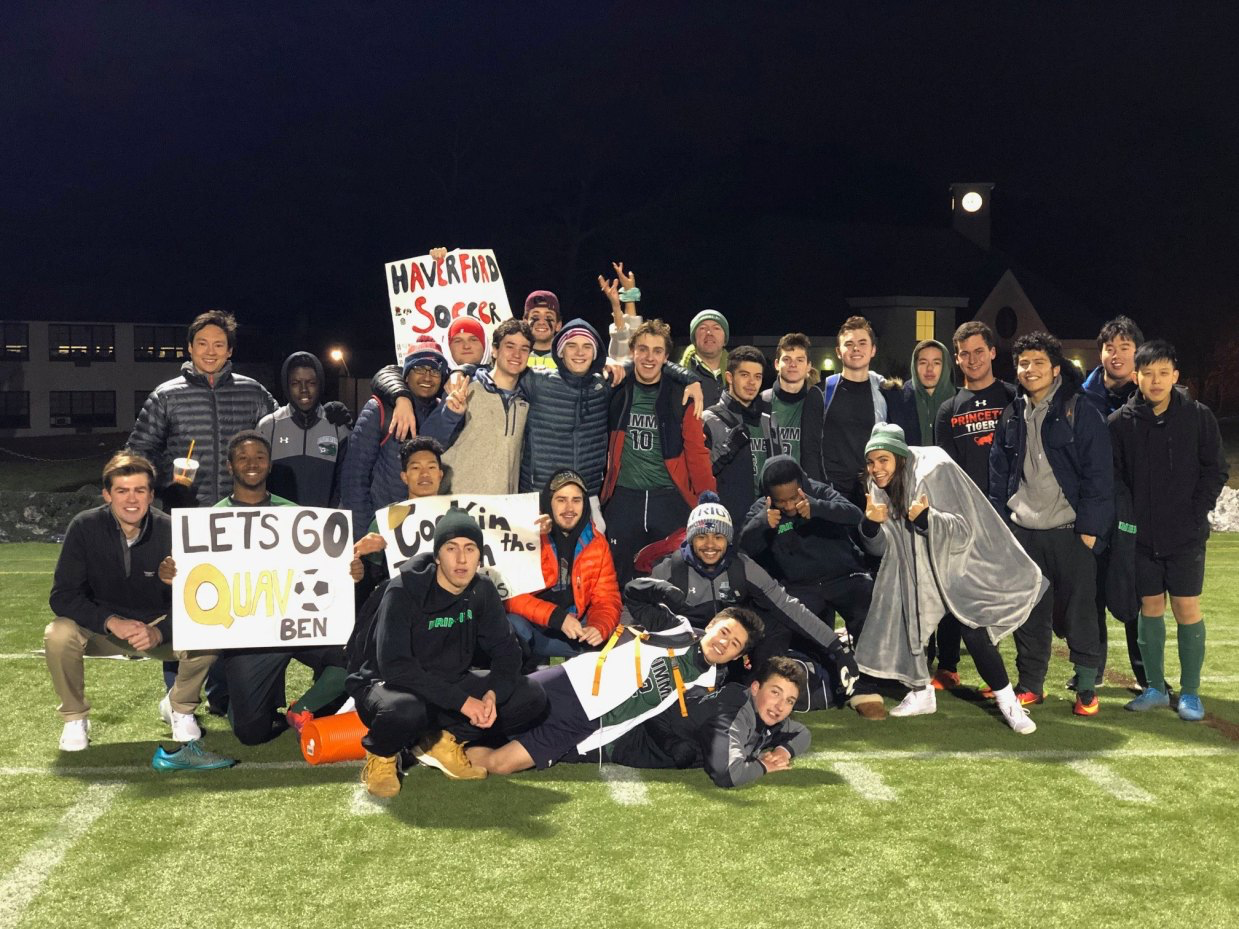 Unfortunately, the Gators fell 2-0 to Lexington Christian Saturday in an exciting NEPSAC semi-final nighttime game at Mt. Ida, ending one of the strongest seasons in recent history. Still, school spirit remained high as over 50 community members, including recent graduates, came out to cheer on the home team.
'Tom Jones' Cast Reflects on Highlights
In November, Upper School students performed an adaptation from The History of Tom Jones, a Foundling, by Henry Fielding, first published in England in 1749.
"The play is the story is a young man trying to find his way in the world, and it has special significance in light of the #MeToo movement, including the treatment of woman and issues of classism that still resonate today," said Director Bill Jacob. "While it's heartening to see how much has changed since the 1700s, there is much that's still the same."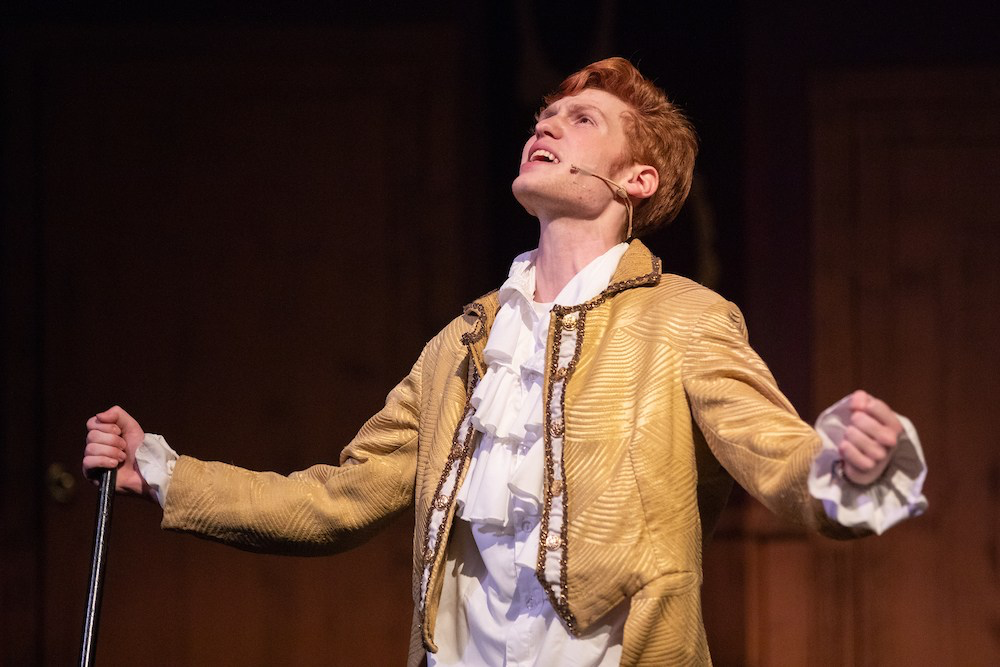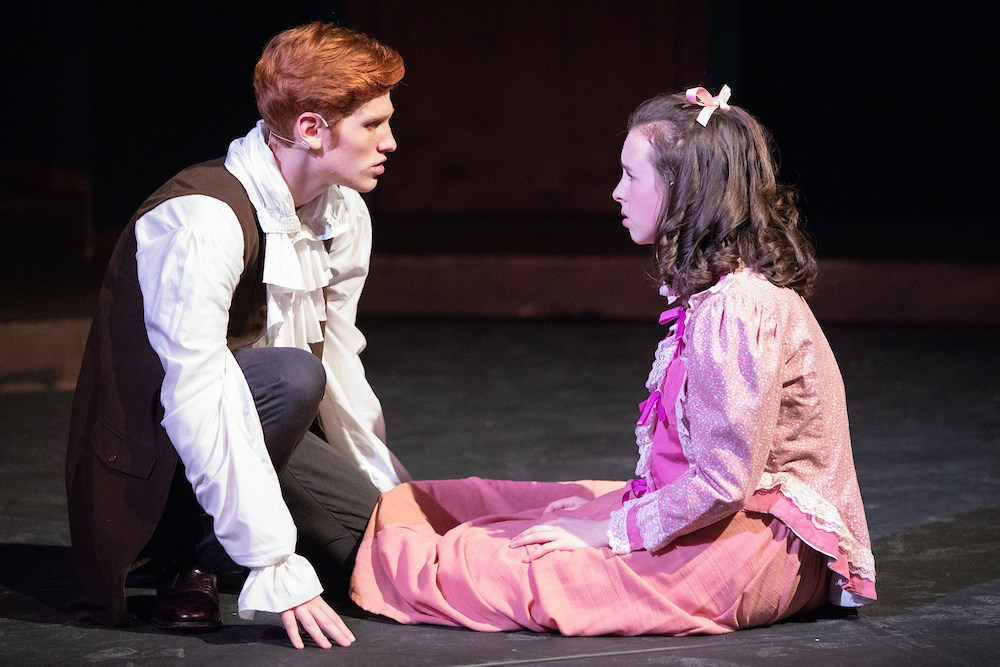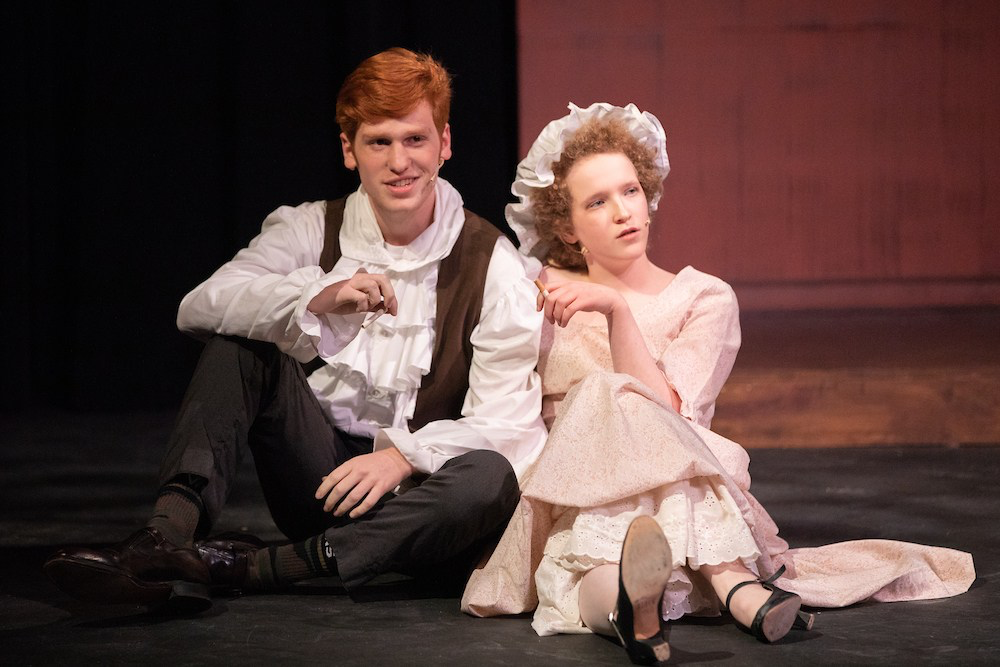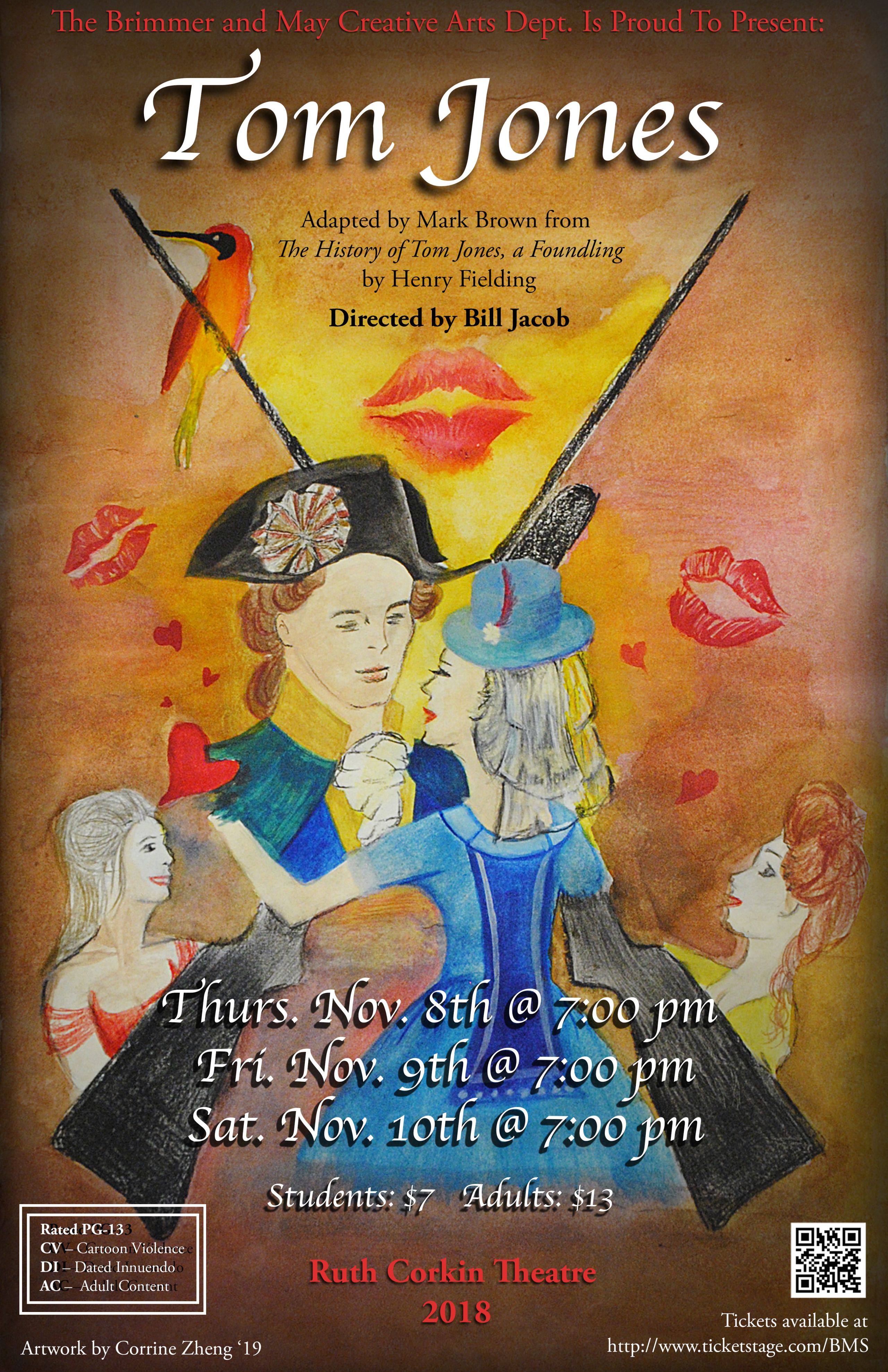 School Holds 14th Annual Humanities Symposium
The Bissell Grogan Humanities Symposium kicked off Monday, June 14, with a keynote presentation by Dr. Rajesh Panjabi, Chief Executive Offer and a Co-Founder of Last Mile Health, which works with governments around the world to provide quality health care.
Panjabi, an Associate Physician in the Division of Global Health Equity at Harvard Medical School, titled his address, "No Condition is Permanent: The Power of Teamwork in Public Service."
"No one should die because they live too far from a doctor," Dr. Panjabi told students.
Dr. Panjabi is also Chief Executive an Associate Physician in the Division of Global Health Equity at Harvard Medical School, Brigham and Women's Hospital. He is a past recipient of the Skoll Award for Social Entrepreneurship, the TED Prize, and the Global Citizen Movement Award. In 2017, he was named one of TIME's "100 Most Influential People."
The symposium was established in honor of Kenyon Bissell Grogan '76, former Chair of the Board of Trustees. The goal of the day is to educate and engage students in relevant topics of today. This year's 14th symposium theme was "The Power and Impact of Teams."