Boston Goes Dark
A city amid a pandemic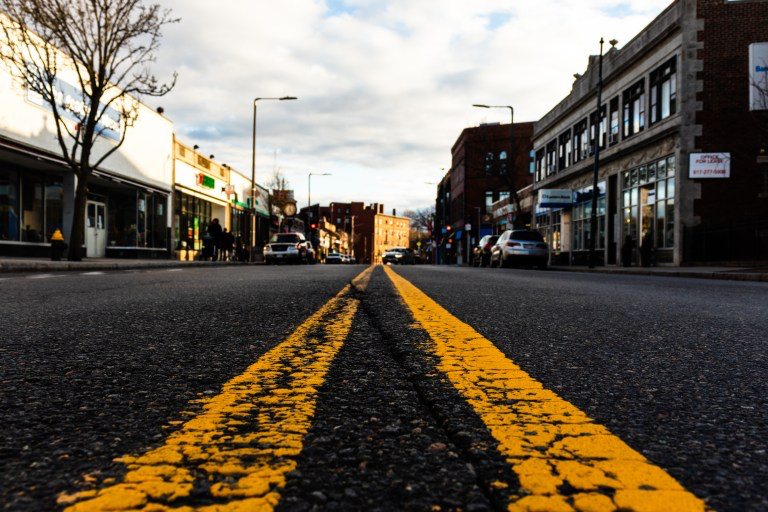 A Boston city street is nearly deserted.
A Boston city street is nearly deserted.
On March 23, Massachusetts Governor Charlie Baker announced a stay-at-home advisory in the interest of public health amid the rapidly escalating COVID-19 pandemic.
"Residents are advised to stay home and avoid unnecessary travel and other unnecessary activities," Baker said in a tweet. In addition, all nonessential businesses were ordered to close beginning March 24.
The City has transformed in just over a week, with the implementation of social distancing measures halting normal traffic in public areas.
The stay-at-home advisory is leaving city streets barren, save for trips for essential items like groceries, gasoline, and pharmaceutical supplies. With the exception of an occasional walk, outside recreational activity is nowhere to be found. Essential service workers are still able to commute to and from their workplaces.
Shoppers flock to grocery stores to stock up on nonperishable items and cleaning supplies. Several shelves are left empty due to hoarding of items like Purell. Store managers attempt to combat hoarding with signage limiting the quantity of high-demand items avialable for purchase.
One Stop & Shop in Mission Hill lacks any form of cleaning supplies, and shelf-stable ingredients like pasta, flour, and cereal are of limited stock.
In the store, most people wear surgical masks and latex gloves to protect themselves. Due to shortages, those who don't have access to these resource use makeshift items like scarves and winter gloves.
Medical researchers are unclear on whether face masks provide any protection against COVID-19, but they seem to be popular in high-traffic grocery stores, pharmacies, and gas stations.
While the intended use of these items is to prevent possible exposure to the virus, not all shoppers dispose of them properly, littering dirty gloves and used masks in parking lots. Medical researchers say this creates a biohazard that could become a breeding ground for diseases, including COVID-19.
The MBTA will continue to run its transportation services on a Saturday schedule, but stations are left virtually empty. In a tweet, MBTA officials urged riders to use public transit only for essential trips, but as of now the service will carry on to provide for those who need it.
City playgrounds are shut down, with infographic posters advising residents to practice social distancing measures. Parks will stay open, allowing dog walkers and residents to get fresh air, but enclosed playgrounds will remain boarded up.
Public schools are abandoned following the superintendent's Twitter announcement that classes would be canceled until April 27. Shortly after, Baker ordered all Massachusetts schools to close until April 6. The district's eerily quiet campuses are now only used for the distribution of free breakfast and lunch meals.
The situation regarding COVID-19 will continue to change by the minute. There is much uncertainty about what path the virus will take next and how the city will respond, but practicing the recommended social distancing measures can help to mitigate further spread of this unpredictable virus.