Winterim 2019
Upper School students traveled to China, India, Croatia, France and Italy, Dominican Republic, Boston, and the Grand Canyon.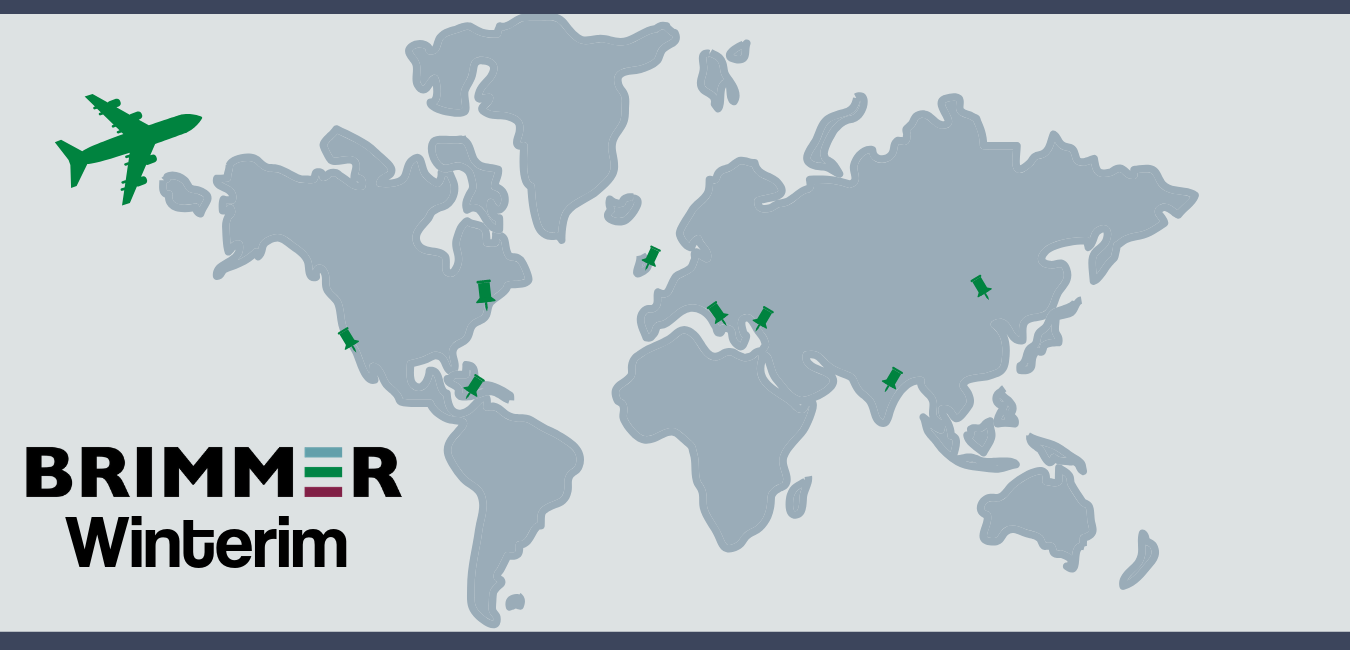 Experiencing Global Education
Winterim is arguably the most unique and treasured part of the educational experience here. Every other year, the entire Upper school travels to differnt parts of the globe.
No other school in Boston, at least that The Gator is aware of, takes its entire Upper School student population to different parts of the world to enhance global education.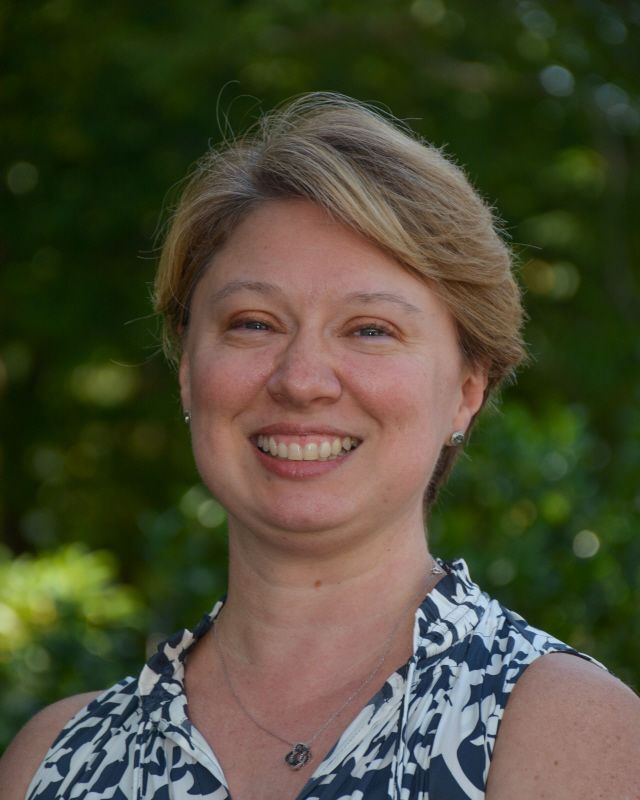 Winterim Director Kelly Neely deserves special praise. In addition to serving as Humanities Co-Chair, Neely also teaches three history courses and leads the Global Studies Program. Somehow, she also managed to find the time, patience, and skill to help trip leaders solidify their itineraries—as well as help students complete paper work and travel documents.
Here, The Gator has assembled travel blogs and photographs, composed by chaperones of each trip, to provide readers a glimpse into what students experienced. In some instances, entries have been edited for clarity and concision. 
CHINA
A group of 19 students and four faculty members traveled to China. Their first stop was to explore the city of Cheng Du, before heading to Beijing.
In Cheng Du, students fed and cared for pandas at a resarch center. In Beijing, the group visited the Great Wall of China.
At the end of each day, Upper School Mandarin teacher Frances Fremont-Smith added to her travel blog, which we include below with cooresponding photos, courtesty of the group.
Day One in Cheng Du
We gathered some photo highlights from day one in Cheng Du, which included the first visit to the Panda Research Center, where students cleaned out the panda enclosures and were rewarded with the treat of hand feeding the pandas. 
Later, the group went to the PuZhao Temple, a very vibrant Buddhist temple with practicing nuns and monks. Afterward, they made a quick stop for food at a noodle restaurant, before heading off the Walmart to buy snacks and head to bed. They're looking forward to much of the same tomorrow, and they will hopefully add dancing in the square with local families if weather permits!
Day Two in Cheng Du
Thursday was their second day at the Panda Research Center. Students did behavioral observations of the pandas and spent more time cleaning pens and cracking bamboo for the pandas to eat.
They also had a chance to try to their hand at Mahjong [a tile-based game]. In the afternoon, students traveled to Jiezi Old Town, which was built during the Ming Dynasty and has a 600-year history. Jet-lag won out after dinner, and students decided to get to bed early over dancing in the square after dinner! Mr. Vaughn reports that the Sichuan cuisine the group enjoys daily is incredibly tasty!
Day Three in Cheng Du
On Thursday, the group traveled to Qingcheng Mountain, where Taoism was founded. They completed an arduous trek to the cable car that then carried them to the top of the mountain to see the Temple. For dinner, they enjoyed the delicacy of Sichuan spicy hot pot!
From Cheng Du to Beijing and the Great Wall
Saturday morning, our group took a quick flight to Beijing for the second half of the program. Upon landing, we headed directly to the spectacular Mutianyu section of the Great Wall. Quick stops at Starbucks and Kentucky Fried Chicken gave the group a little taste of the U.S. They spent the rest of the afternoon exploring the Wall, and spent the night at a family-run hostel that offered students the opportunity to sleep on a traditional kang [a bed heated-by-coals.]
From Mutianyu to Beijing
Sunday, ou adventurers made their way into the city in Beijing. A scavenger hunt gave them a chance to explore Tiananmen Square as they searched for artifacts from a list provided to them. They were treated to a special dinner of Peking Duck hosted by one of our student's parents.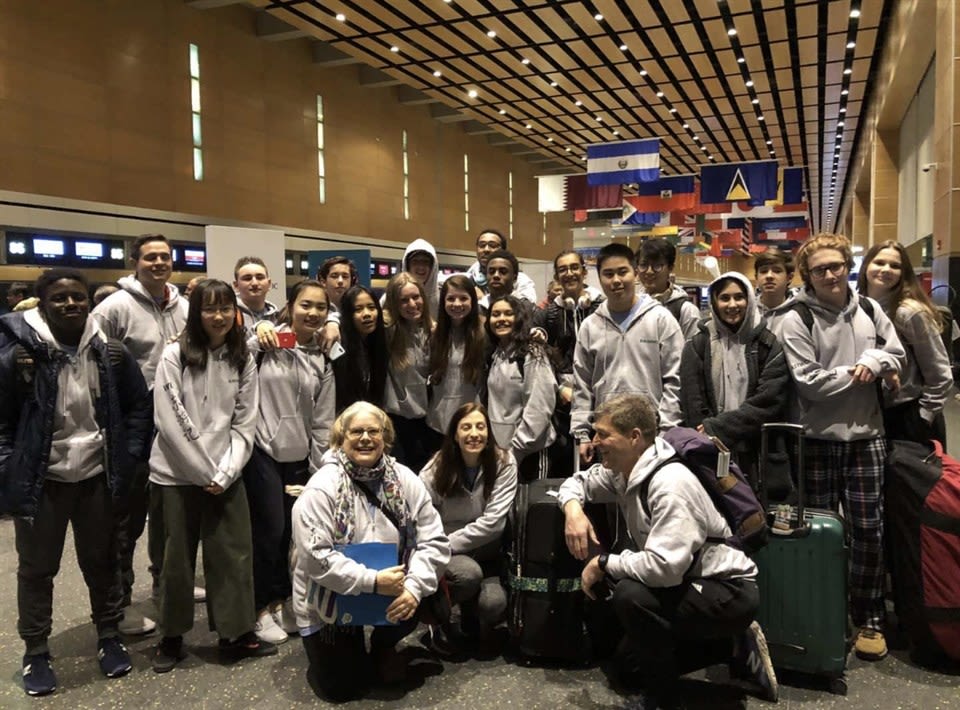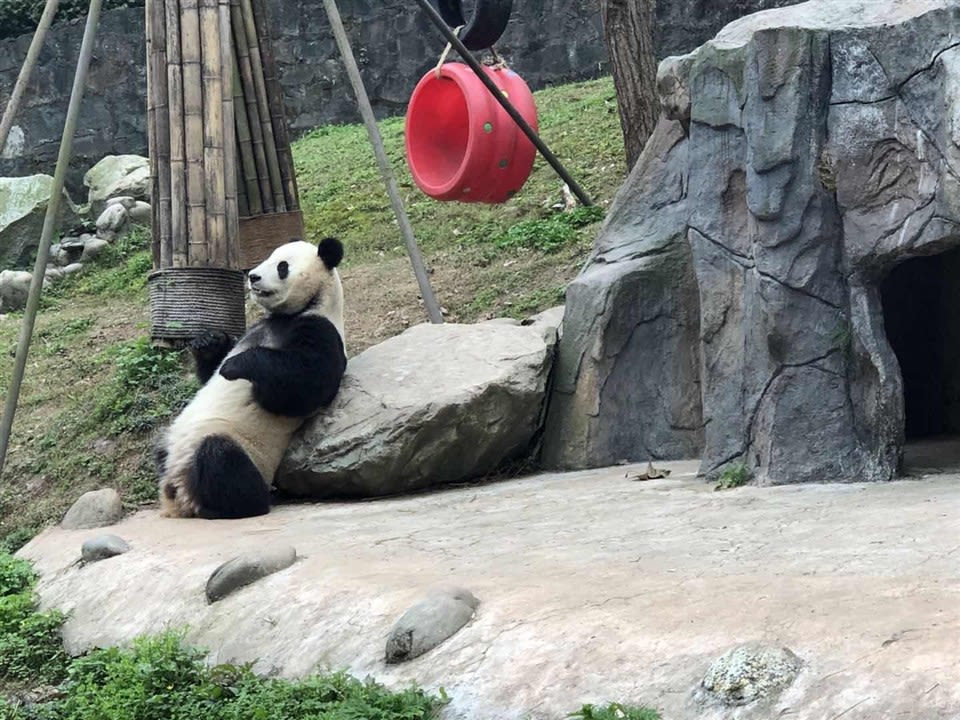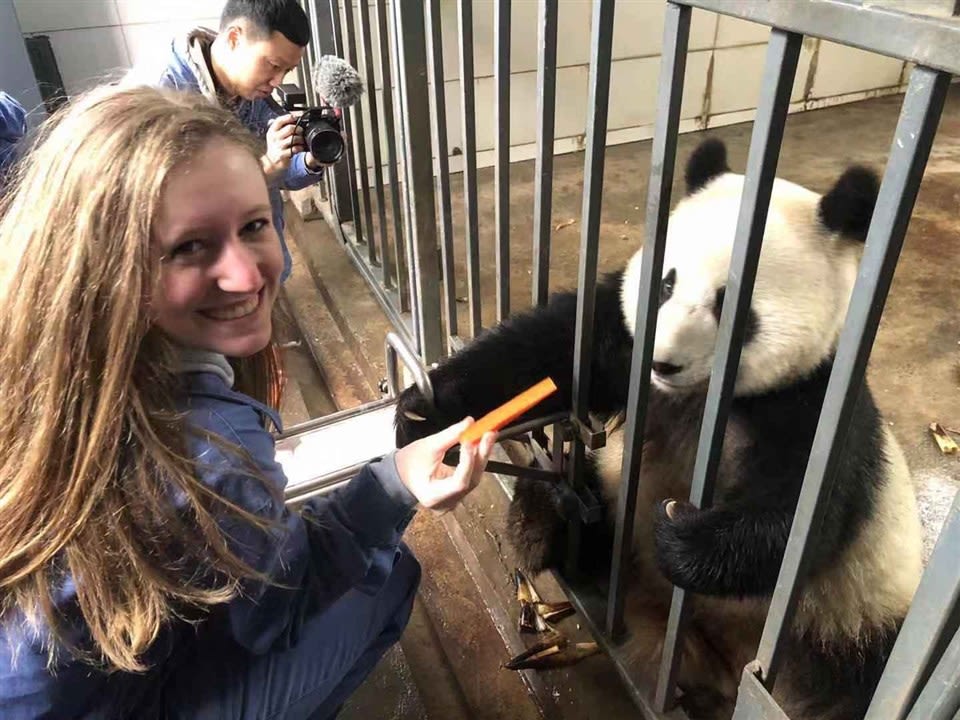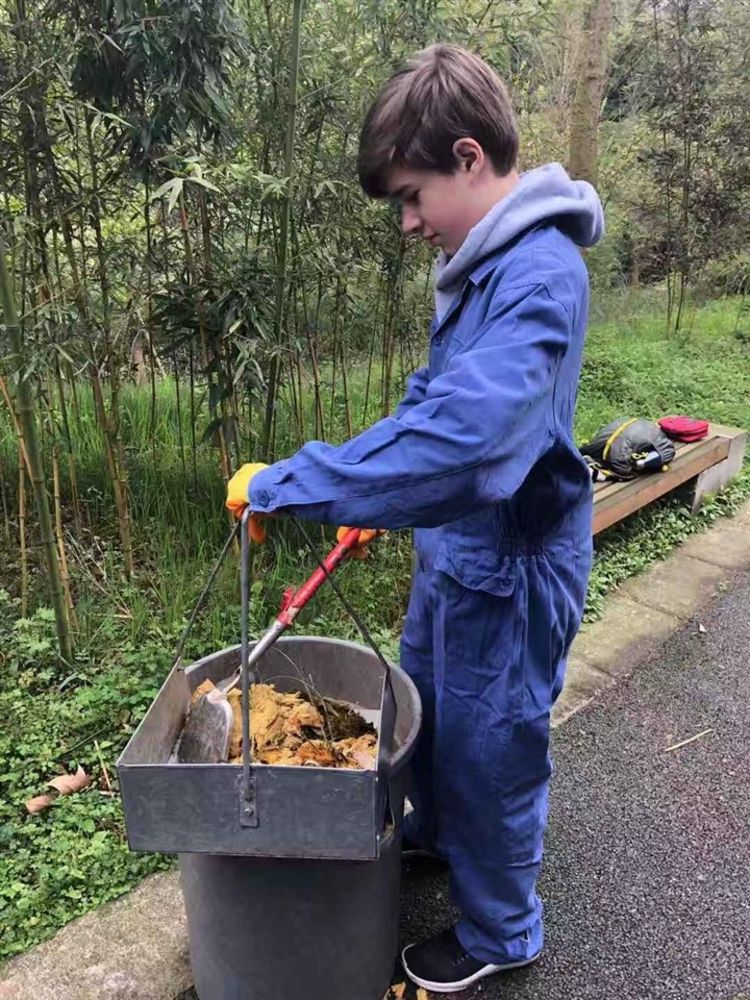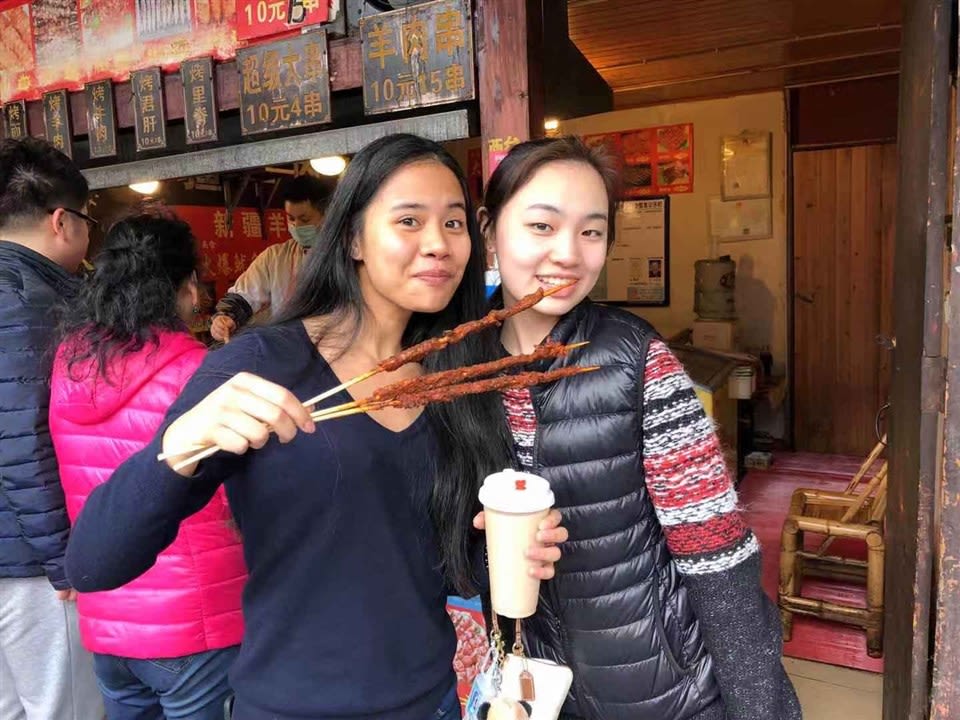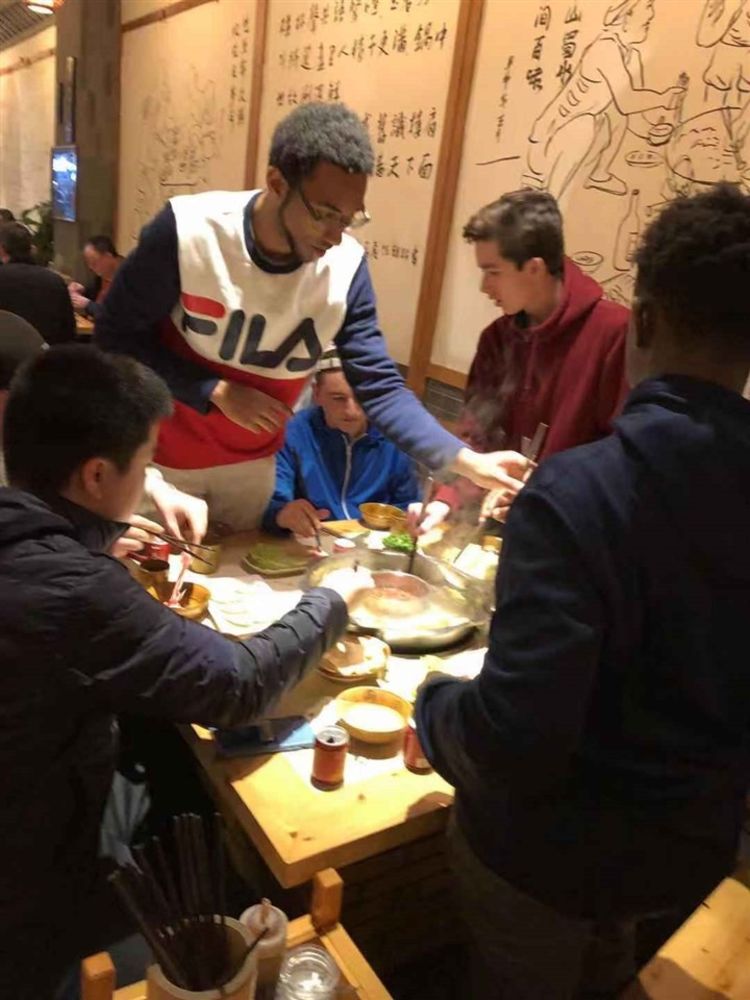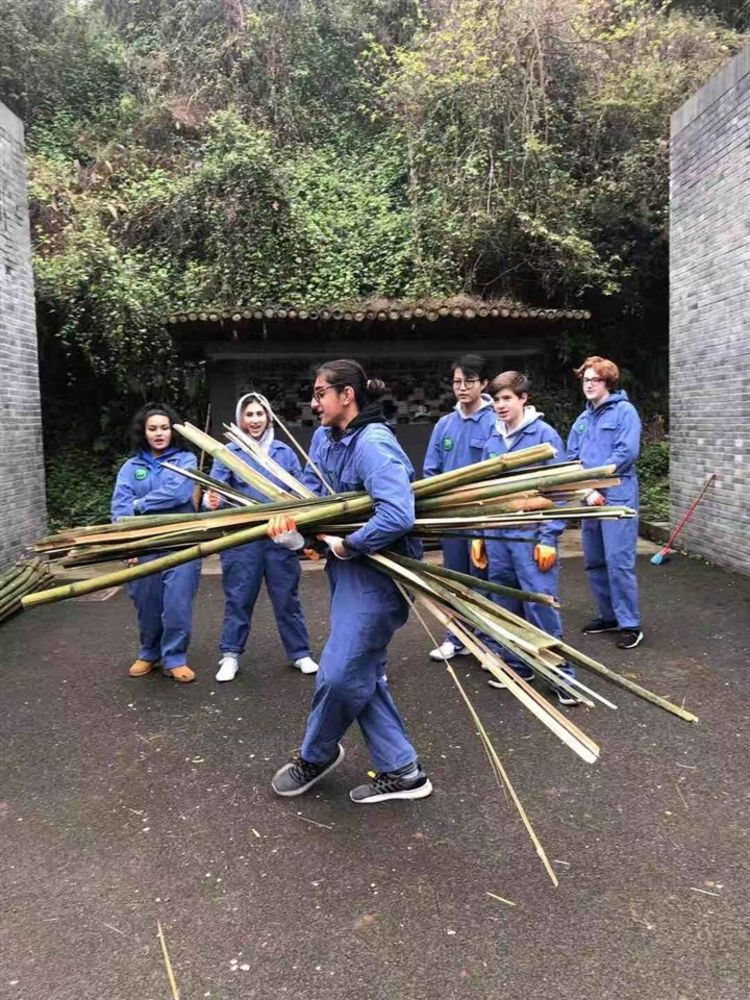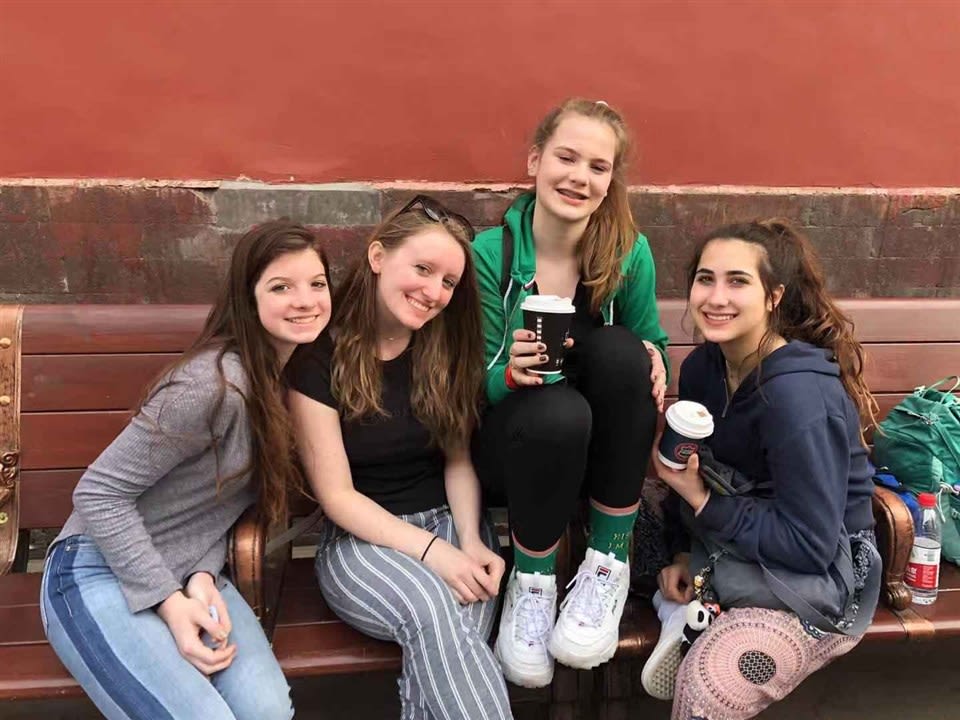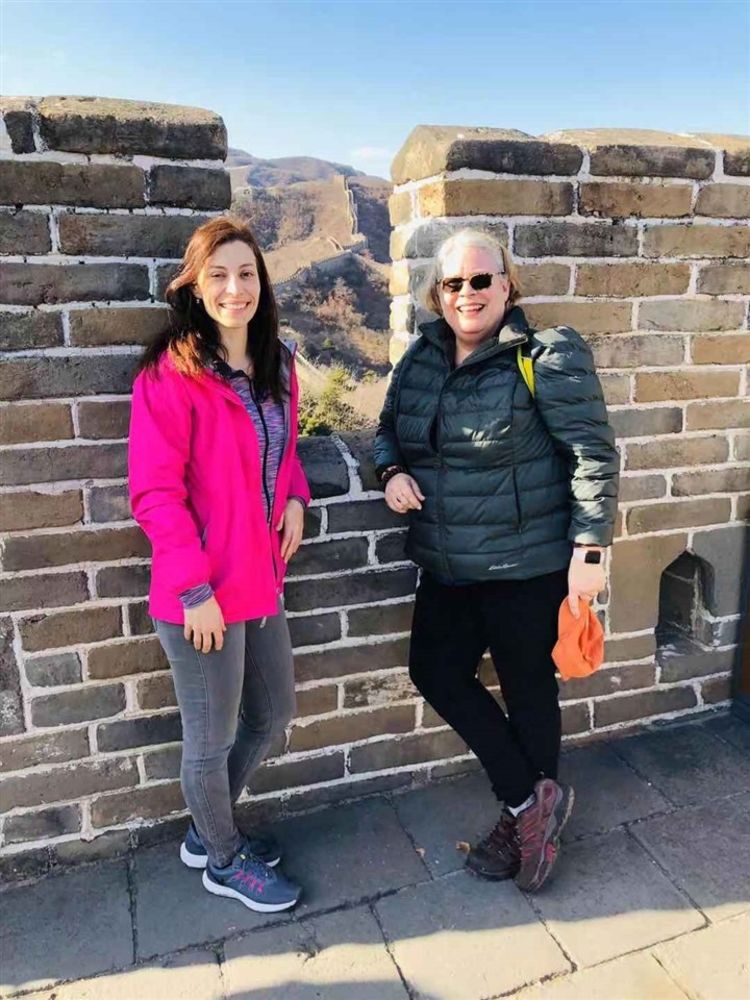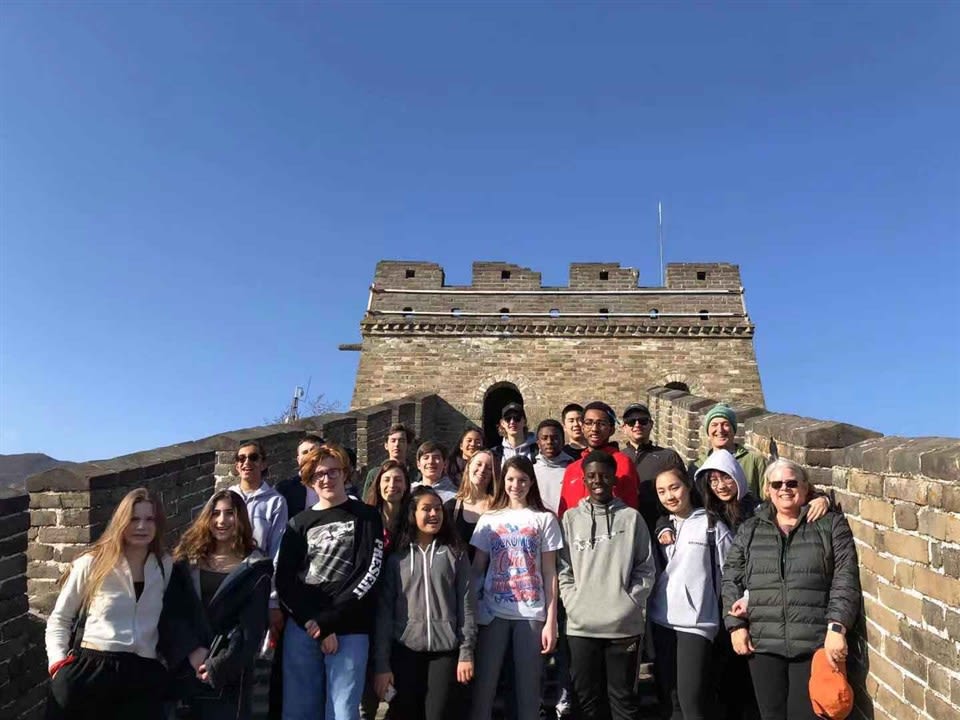 Students pose for a group picture while climbing the Great Wall of China.
Students pose for a group picture while climbing the Great Wall of China.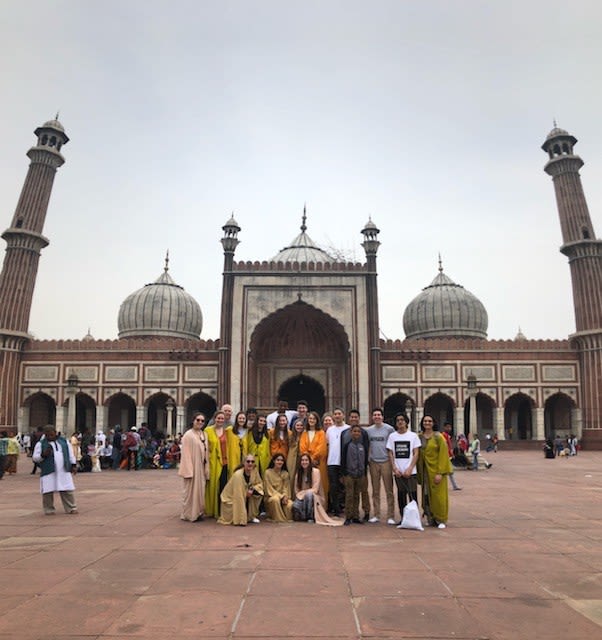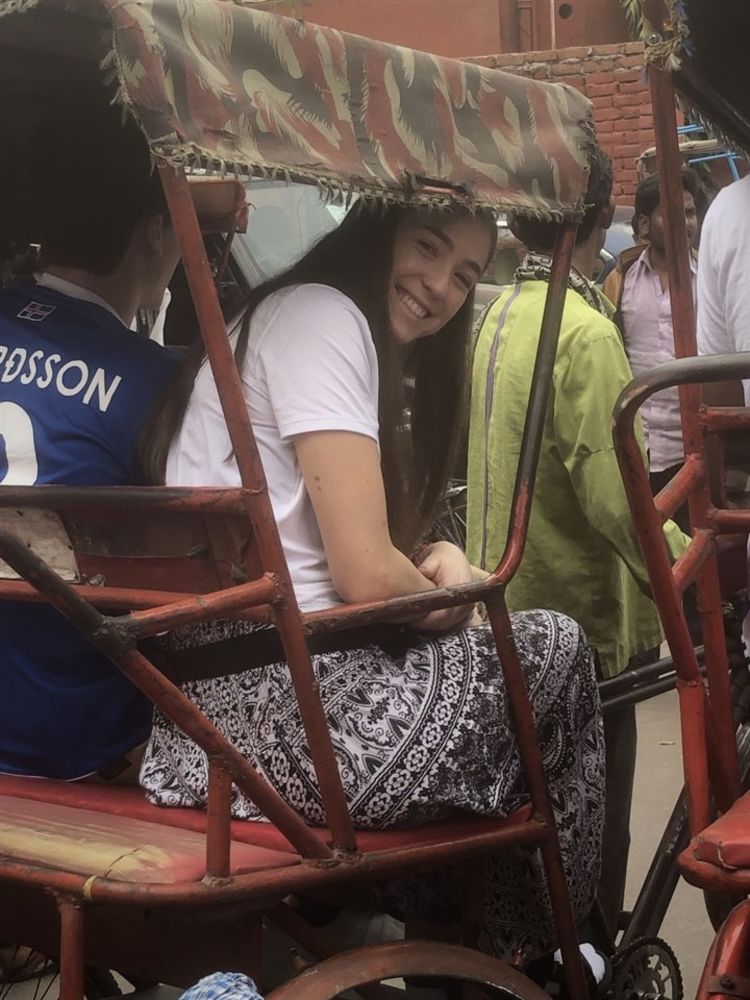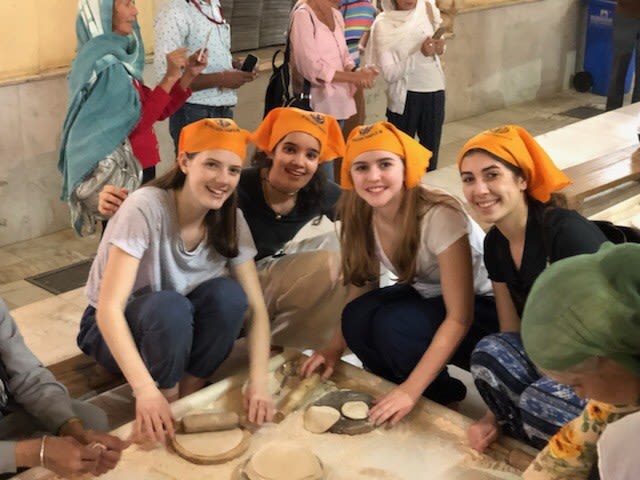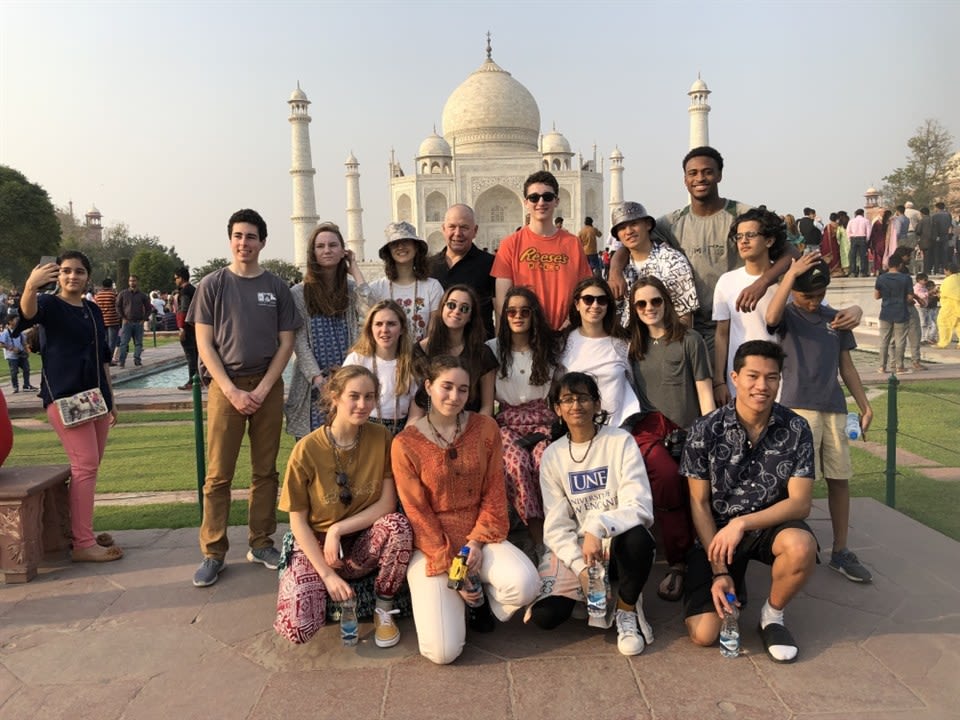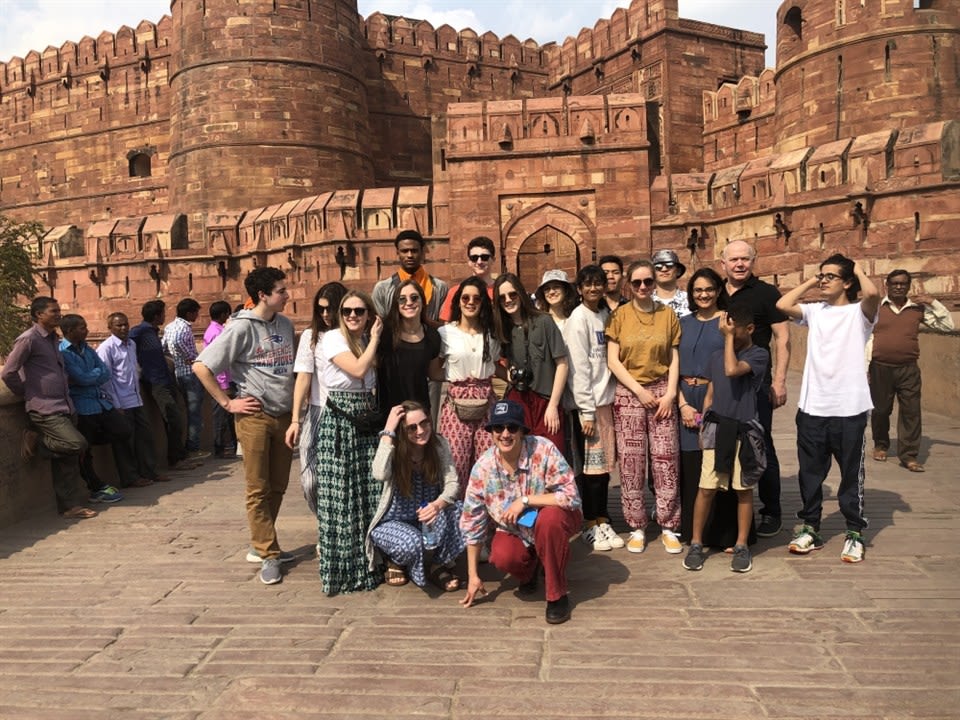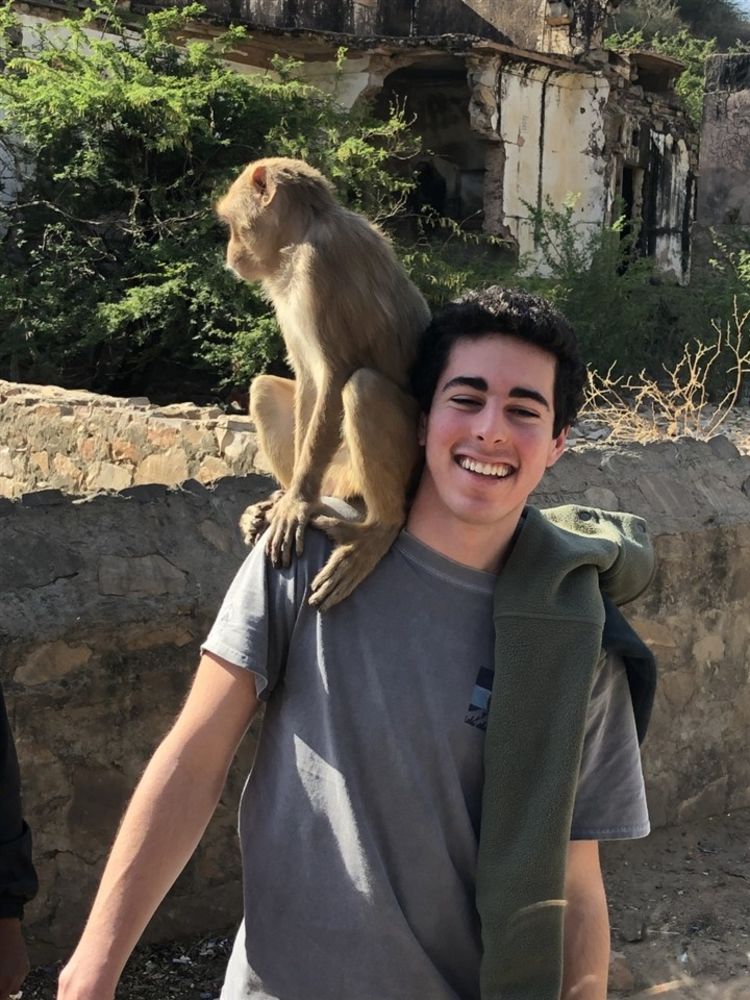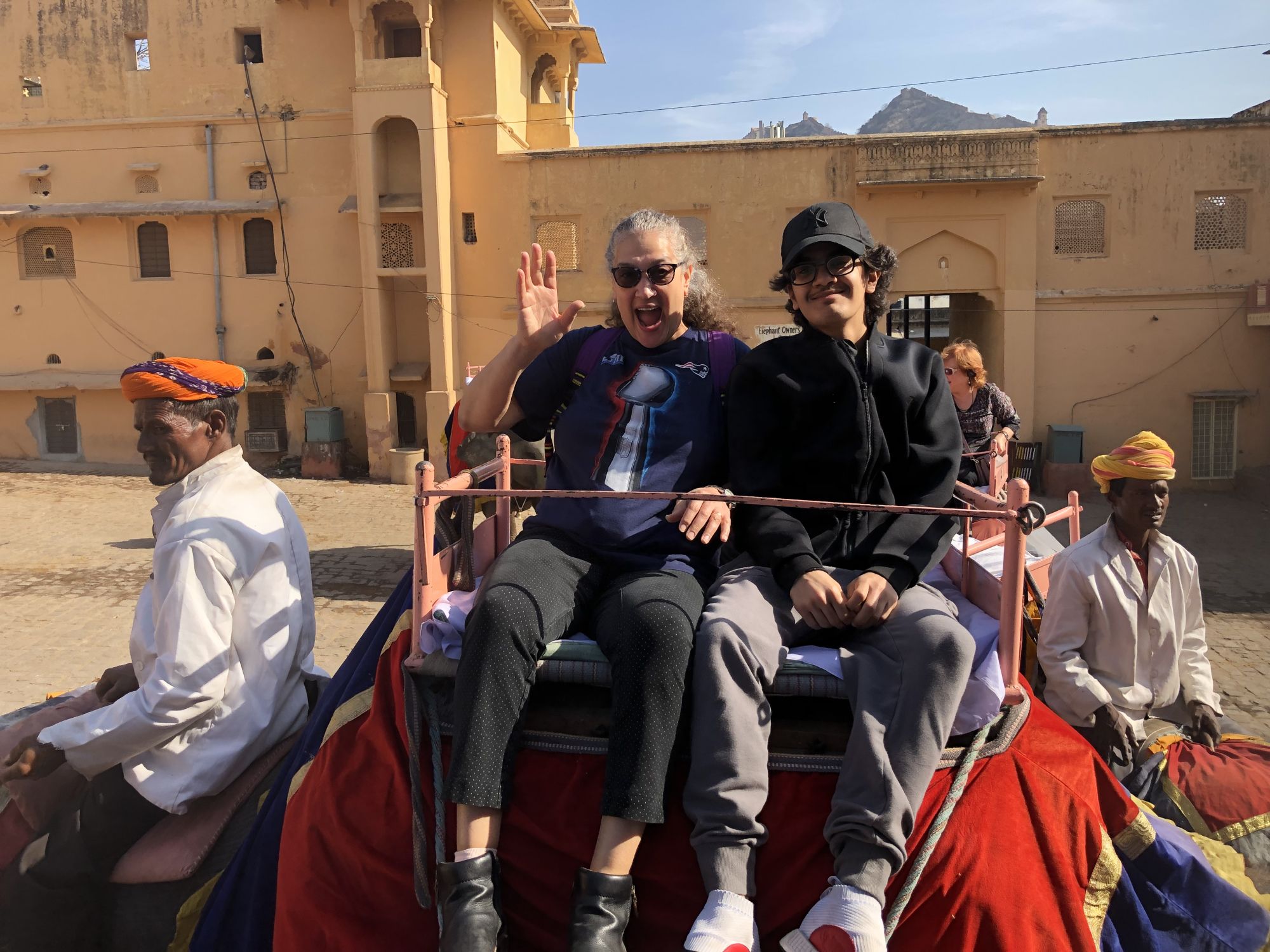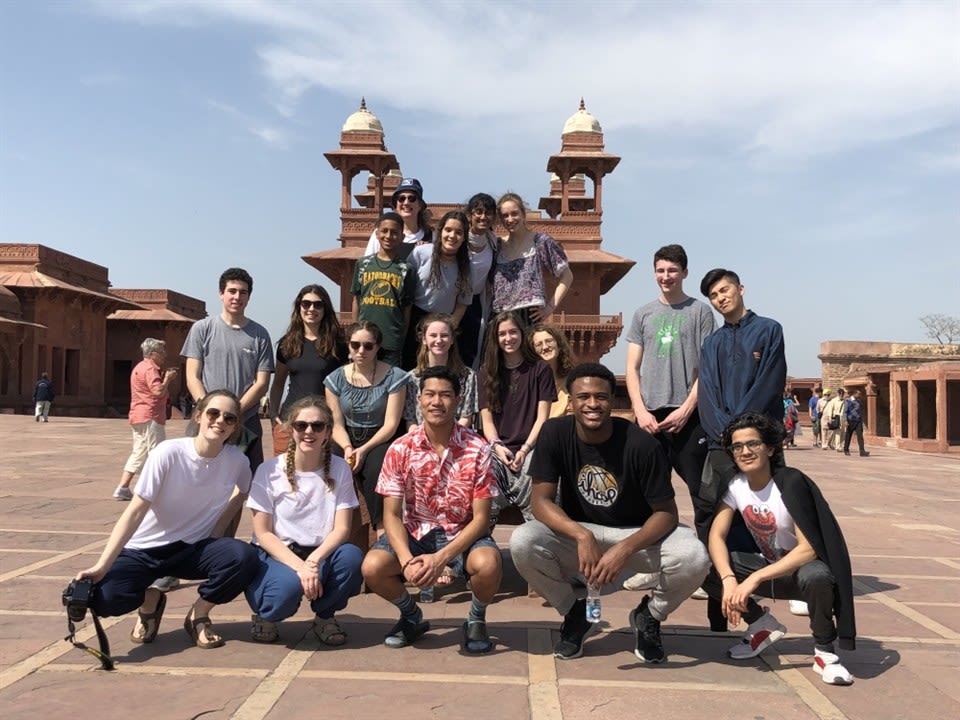 INDIA
Students and faculty shared wonderful experiences in the "The Golden Triangle." The group traveled to Delhi, Agra, and Jaipur, learning history and taking in the exceptional views.
Highlights of the trip included an elephant ride to the Amber Fort Palace of Jaipur, visiting the Taj Mahal, and rickshaw rides through Old Delhi.
Upper school English teacher Kenley Smith kept a blog of their journey, which we include below with cooresponding photos, courtesty of the group.
Delhi: Old and New
Our group arrived in Delhi on Tuesday night, somewhat rumpled but in good spirits. We were incredibly grateful to check into the hotel, and the kids made themselves right at home.After a quick night's sleep, we departed the hotel to experience life in the capital city of India. We began the day, as so many residents of Delhi do, in a tremendous amount of traffic.
There are over nine million registered cars in the city, and we probably saw half of them today. However, the slow pace was a blessing as it allowed us to really look at the people, buildings, and beautiful public parks of the city. We eventually arrived at the ancient and enormous mosque, Jama Masjid, built by the same man, Shah Jahan, who built the Taj Mahal. When he moved the capital of his empire to Delhi, he constructed this mosque so that he and other Muslims would have a place to worship together. Shoes had to come off and robes had to go on (the girls) in order to enter the mosque.
After the mosque, our group climbed aboard a herd of traditional rickshaws and were given a breathless ride through the Old Delhi marketplace. We skimmed past mopeds, pedestrians, tuck-tucks, and vendors. We were also able to observe the unorthodox method of bringing electricity to the various shops and stalls, which consisted of every possible wire holding on to each other for dear life. Some of the wire nests even had inhabitants.
After lunch, we traveled to the cremation site and memorial for Mahatma Gandhi. Fittingly, for a man who called all Indians his brothers and sisters, and who emphasized non-violence as the highest guiding principle, the memorial is a public park, full of flower gardens, an eternal flame, and families who have come to honor his memory.
After starting the day at an Islamic site, and visiting the memorial for a Hindu, we ended the day by experiencing a Jain temple. Here we were able to explore the inside of the temple where people were praying, singing, and meditating, the exterior of the temple, including the healing waters of the adjacent pool, and the kitchens where food is prepared and served to those who come to the temple. Some of our students tried their hands at making chapati.
Today was a beautiful immersion in the diversity of modern India, which is secular and devout, rich and poor, peaceful and chaotic. The iconic American poet Walt Whitman would have approved of this India and seen himself in it, I think: "Do I contradict myself? Very well then I contradict myself; (I am large, I contain multitudes)."
Agra: A Love Story
If Delhi was a journey of the spirit, Agra is a story of the heart. This ancient city has been many things to many people but is now best known for being the location of the Taj Mahal.
Today, on our journey here, we were able to watch a love story of Shakespearean proportions and several centuries unfold in marble and sandstone. We began our day with an early departure and a long bus ride. Some of us slept, some of us watched the scenery change from urban to rural and back to urban again, and one of us detangled the various strings of beads she had purchased the day before.
Our first stop was the Agra Fort, the primary residence of the Mughal emperors until the mid-17th century. Today it is an enormous UNESCO World Heritage Site of 94 acres, a lot of which is still actively used by the Indian military. It's as impressive as it is beautiful, made of red sandstone, white marble, and (rather than painted walls) inlaid floral patterns made of semi-precious gems.
Perhaps the most famous Mughal emperor to live in the fort was Shah Jahan, who resided there with his court, including his three wives. While his first two wives were marriages of duty, his third marriage to Mumtaz Mahal was a romance. They had been in love for years and were finally able to marry when Shah Jahan was at the height of his power, and the richest man in the world. The sweeping views from their bedroom in the fort speak to the power they wielded.
To finish the day, we traveled the short distance from the fort to the Taj Mahal. Here, Shah Jahan created a memorial tomb for the wife he so loved. It is almost impossible to overstate the beauty and ethereal effect of the Taj Mahal, and our students were visibly and vocally moved by seeing it for themselves.Our group moved slowly through the grounds and gardens, and the closer we got, the more perfectly preserved the building appeared.
Although it was built almost 400 years ago, it is still immaculate in its symmetry and finishes. Each line of its dedication in calligraphy is inlaid in the marble in black stone. Against a hazy, white Agra sky, the pale building appeared to float.Like all good Shakespeare plays, this story has a villain: Mumtaz and Shah Jahan's younger son, Aurangzeb. Upon the completion of the very costly Taj Mahal, Aurangzeb seized power, announced his father was unfit to rule, and imprisoned him back in the Agra Fort, where he could see, but never visit, the extravagant mausoleum he had constructed for his wife. Only after his death, eight years later, were the two reunited in the Taj Mahal, side by side.
On the way back to the bus from the Taj Mahal, everyone seemed tired and perhaps a little overwhelmed by seeing one of the seven wonders of the world up close, which was why it was so wonderful that we had the good fortune of running into some very friendly wandering cows. Sacred to Hindus, the cows felt like an auspicious good omen for our new adventures tomorrow in Jaipur.
The Golden Age: Agra to Jairpur
On the third day of our Winterim trip the fluidity of time was all around us as we learned about the beauty of ancient traditions, engaged with the enthusiasm of the young, and travelled to a city of ghosts, whose ideals are still very much present in the modern world.
We began the day by visiting the workshop of several master craftsmen in the art of marble inlay. We had seen the intricate inlay work on the Taj Mahal yesterday, but now we were able to watch how much painstaking effort goes into creating a single plate, table top, or sculpture. The students observed the craftsman drafting and carving the marble to set the shape of the pieces before the tiny sculpted slivers of malachite, turquoise, and mother of pearl are set into it.
Many of the the artisans are descendants of those who worked on the Taj Mahal, and they are practicing their craft the same way their ancestors did. Our students were able to try their hands at this art form by grinding fragments of semi-precious stones against a whetstone. The students were then able to examine finished pieces, some of which will be making their way home with us in our luggage.
Considerably lighter in rupees, but with heavier bags, we traveled the short distance from the workshop to a local school. There our group was able to meet with the students of the school and to make some donations of supplies for the children. We could not have been received more warmly or exuberantly by the school, and the younger children were eager to share their names and practice their English with our students. We all wished that we had been able to extend this part of the day.
In the afternoon we visited Fatehpur Sakri, or the ghost city of the Mughal emperors. In truth, it was never a ghost town, but a palace that was abandoned by later rulers of India. We learned about the emperor Akbar, Shah Jahan's grandfather, who lived there with his ministers, (many) wives, (even more) concubines, and assorted dignitaries. We even had our picture taken at the center of Akbar's enormous Parcheesi board, where he would sit and roll the dice, while the ladies of his court, beautifully dressed and bejeweled, would serve as the game pieces. In many ways, Akbar was a forward thinker, a man who wanted to unite the numerous people of his vast empire and the various faiths they all practiced.
He intentionally married a Muslim woman, a Hindu woman, and a Christian woman and worked to incorporate elements of each religion into his faith and practices, hoping to model a peaceful religion for future generations of India. While his newly- created faith did not long outlive him, one could look at the India of today, with its Hindus, Christians, Muslims, Jains, Buddhists, and Sikhs living together and argue that his ideas won out in the long run. Identifying a particular time as a "golden age" is always reductive, as well as problematic; after all, any age can be a golden age depending upon your point of view.
Touring India's impressive and gorgeous historical sites could possibly give the impression that its golden age was in the past. However, based on the Brimmer student consensus that the best part of the day was meeting the school children of Agra, it seems quite likely that India's real golden age is yet to come, built by the hands and minds of its youngest citizens.
Jaipur: "O let me bathe my soul in colours"
Today, we spent our first full day in Jaipur, which is known as the Pink City because when Queen Victoria and Prince Albert visited in 1876, the whole city was decorated in pink, the color of hospitality. The residents of Jaipur continue this tradition today, making their city, renowned for its gems, textiles, and sculpture, into a parade of color, light, and embellishment.
Our first stop was the Amer Fort and Palace, a sixteenth century home to the Maharajas of Jaipur. The fort is high on the hills surrounding the city, so a conveyance of some sort is helpful to climb to its lofty heights. Fortunately for our group, there were jeeps available as well as a more traditional means of transportation.
Once in the fort, we were able to explore the bedchambers, meeting halls, and even the bathrooms of the palace. Of particular note were the beautiful decorations set into the ceilings and walls, as well as the elegant window structures that were designed to bring cool breezes to the royal family and court. Although it's been warm during our trip, we haven't had a lot of sunny days, and the plazas of the fort were the perfect opportunity for some sunbathing, occasional rests, and taking in the views.
After finishing our tour, we descended the hill in decidedly less grand fashion in jeeps, but this alternate route allowed us to absorb the many sights, sounds, and scents of Jaipur. Some of which could have existed no place but here. We continued to explore Jaipur's long traditions in craftwork by visiting a gem-cutting workshop and a textile workshop where block-printing and rug weaving are still done today as they have been for hundreds of years. A few of our students were given one-on-one lessons in how to tie the tiny knots in a rug, hundreds of which make up one square inch of finished carpet.
After the weaving is complete, the rugs are clipped, burned (to get rid of loose ends), washed, and dried. The final products can take months, or even years to complete, but once finished in wool, cashmere, or silk, they are as comfortable as they are lovely. We finished our day with a quick shopping trip to a local market, led by our intrepid guides Gaurev, DeAnna, and Sunny. The students got to practice their negotiating skills as they bargained for shoes, cloth, jewelry, and art. The market was also an opportunity for all of us to remember that alongside the palaces and monuments live many Indian people in abject poverty. While this experience is not always a comfortable one for us to have, it is one of the truths we should confront as educated world citizens and visitors to another country.
Similarly, an important truth about poverty is that we often imagine it to be drab, grey and dull. And yet, India and her people, be they rich or poor, are draped and wrapped in color. From the fluttering saris of women on motorcycles to the colored tinsel tassels with which truck drivers adorn their vehicles, the subcontinent is completely vivid, wholly dazzling. As the Lebanese-American poet, Kahlil Gibran wrote, "Let me, O let me bathe my soul in colours."
Hello and Goodbye
Our final day in India was a long one. We started in Jaipur and made our way back to Delhi, before settling into a five-hour flight to Doha, a scramble through the airport, and a thirteen-hour flight to Boston. Before flying home we had a final few adventures.
The first was visiting the pilgrimage temple Holy Galta Gaddi, known to us as the monkey temple. This is a Hindu temple built to honor a divine water source, where Hindus come to bathe and offer prayers. Over the years, monkeys, cows, and pigs have made their home here. 
Our students were thrilled to interact with the monkeys, respected representatives of the Hindu god, Hanuman, and the feeling appeared to be returned. After leaving the monkeys to their peanuts and sunbathing, we traveled back to Delhi, stopping in the evening to examine a huge new Hindu temple, the third biggest in the world, on the way.
No cameras or electronics were allowed inside, but we were able to watch a light and water show depicting the roots of Hinduism. It was an odd, rather modern take on the kinds of stories we had learned throughout the trip, rather like a Disney version of Hinduism.We finished the day at the home of a Brimmer family; Neel Kumar's grandmother graciously welcomed us to her home, fed us, and let us debrief the India Winterim.
The students discussed the highs and lows of the trip, and the things for which they are grateful. Now that we have returned, and there is a little time to reflect on our whole experience, I cannot emphasize how wonderful our students were: patient, curious, helpful, and kind to one another. This made the whole excursion even more special for the group.
All throughout our trip, people welcomed us by saying "Namaste." This word is complicated to translate but essentially means that my soul recognizes your soul and that we are the same. The people of India use it to greet you and to send you on your way when you leave.
This repetition, like a chanted prayer, means that we are always in the process of meeting new souls and seeing ourselves in them, always saying hello and goodbye to our own selves as we move through the world, and, if we are lucky, perhaps finding new ways of knowing ourselves.
CROATIA
For the first time in Winterim history, 48 students and eight faculty members traveled to Croatia and learned about why Balkan states and Dalmatia are unique.
In two groups, students and faculty explored different cities in Italy, Slovenia, Croatia, and they even got a glimpse of Bosnia and Herzegovina. Current juniors were able to use their knowledge from European History in 9th grade, when the two groups visited Diocleton Palace.
Check out the groups blog from Jen Kunkel, Assistant Director of Technology, and Joe Iuliano, Head of Academic Affairs, with cooresponding photos, courtesty of the group.
Venice to Slovenia to Croatia: Cars, planes, buses, and water taxis.
Buon Giorno! Perhaps the best way to describe the activities for the first day of our trip is through our modes of transportation we used in this span of time. Cars: a variety of four-wheeled vehicles conveyed the 48 students and 8 chaperones to Logan on Monday afternoon. 
Plane #1: Our first flight left on time, and highlights included the logic puzzle students solved to rearrange their seating preferences for the flight and the 9:30 p.m. lights out. At least one teddy bear and one childhood blanket made an appearance when many attempted to sleep. 
Shuttle bus: Our tight connecting flight didn't leave us with time to take in more than the city lights of Lisbon as we landed. We dashed from our flight, through customs and security, and onto a shuttle which delivered us to board our final flight to Venice.
Plane #2: While a shorter flight, it felt longer, as excitement was building to officially begin the trip. 
Coach bus: Luggage was gathered and we met our guides and drivers. We began a drive to our hotel in comfort, which we enjoyed much longer than planned for our first jaunt: a technological problem would not allow us to pay to enter the city of Venice, and took some time to resolve. 
Train: We were reminded of Boston's MBTA as both groups used the train to move between the hotel, restaurants for dinner, and the completion of our walking tour. 
Water taxi: Enjoying two rides, one by day and one by night, allowed lots of time for architecture gawking, people-watching, and copious picture-taking. This was a satisfying way to wind up the evening.
Feet: Our feet carried us throughout Venice on a walking tour, some free time exploring and shopping in and around San Marcos Square, and reversing our journey to dinner at separate restaurants. Dinner was quick, as we eagerly returned to the hotel for much-deserved rest.
Venice and Croatia
The third day of our Mediterranean journey through culture and history saw us traveling again by bus further down the Istrian peninsula to the town of Bale. Here we stopped at the Grubic olive orchard for a lesson in modern-day olive oil production at a small family-owned orchard.
We gathered around the 400-year-old "Queen-of-the-Orchard" olive tree and learned of the nature of olive cultivation during the four generations the orchard had been run by the family dating back to 1927. Then we went inside the small, brick olive oil plant and saw the machinery that is used to mash the olives into a paste from which the oil is extracted—perhaps a consideration for our Maker Space?
We then moved into a room housing a long narrow table laden with bowls of bread cubes, toothpicks and small bowls for the olive oil—it was tasting time!
Our students eagerly sampled the three varieties of Grubic extra virgin olive oils: the basic variety, the "dessert" olive oil, and the spicy version. All were excellent and enjoyed immensely. Among the two groups, we are sure to be bringing home approximately a 50-gallon drum's worth of last year's vintage of Grubic olive oil.
The vineyard buildings were made of beautiful local stone, the hospitality and provision of information were excellent, and the olive oil delicious—it was a wonderful experience for our students, with Camille Cherney exclaiming, "This is the best part of the trip so far!"
We departed Bale to continue our descent down the Istrian peninsula to its southernmost point in the town of Pula. Here we met our local guide, Rosanna, who took us on tour of the town's 2000-year old Roman building remains. We visited the beautiful Pula amphitheater, the 6th largest remaining structure of this type in the world; it is, essentially, a well-preserved mini-colosseum.
It was a beautiful, warm sunny day and we had the opportunity to explore the structure both above and below ground, where the gladiators would prepare themselves for their battles in the arena. We toured the town further encountering the old Roman city walls and the triumphal arch used by the victorious returning Roman legionnaires who called Pula their home.
We ate lunch in a local restaurant, did some grocery shopping, in the adjacent, small supermarket, and boarded our buses for the summer resort town of Opatija on the northeastern shore of the Istrian peninsula. Opatija was half open, half closed but provided students the opportunity to stretch their legs and take in the views of the seaside walk of the Lungomare, eat some chocolate, some gelato, some pizza, or all of these as they strolled and explored the Main Street and Jardine Angiolina.
The free time in town was followed by a buffet dinner at the hotel, hanging out, talking, a game of Uno, and chatting with the French girls who were on a student trip of their own and were sharing our hotel. Brimmer and May Globalism at its best!
Venice and Croatia: Plitvice Lakes National Park
An early buffet breakfast at the Hotel Grand Adriatic II was followed by our groups' exeunt omnes from the semi-dormant resort town of Opatija to begin our 3-hour drive in-land to Croatia's beautiful Plitvice Lakes National Park.
On our way we crossed mountain ranges and rolling hills, traveled through numerous mountain tunnels including one more than 6 kilometers long, and passed through the small town of Karlovac. This town is noted for its production of a popular Croatian beer, but it is also home to a military museum. As we drove through the town, we passed the war the tanks and trucks positioned on the war museum's territory; and then we passed the war itself.
Though fought more than 20 years in the past, signs of the war with the former Yugoslavian National Army were evident in the several homes we saw that were riddled with bullet holes from the fighting—whole sides of several buildings, mostly homes, remained unrepaired and some uninhabited (as their Serbian residents had fled the town to find refuge in safer parts of the country.
This was an unexpected, halting experience on this part of the journey; an encounter with history that seemed recent, even current. We passed through Karlova not unchanged by witnessing these stark images and continued our journey to the northeast and the park.
The Park includes large swathes of forest and a series of lakes and waterfalls that flow down from the Velebit Mountains and produce pools of light green water beneath descending steps of placid waterfalls. We descended a serpentine path to reach the running water in the gorge then worked our way up stream via a series of paths and low wooden catwalks to view the falls and their lake sources. Once at the endpoint of our ascent, we sat to rest and enjoy a snack while we awaited the return of the ferry that would take us down the lake to the spot where the buses awaited.
We enjoyed an invigorating hike amid the natural beauty of the landscape and were impressed by this awesome UNESCO World Heritage Site. We ate lunch at a restaurant in the middle of nowhere Croatia (or so it seemed)—pork and potatoes and donuts, for dessert. The faculty chaperones also enjoyed a salty lettuce/cabbage salad/slaw with their meal.
After lunch, we saw a brown bear. It was a surprise, as much as being there to be seen as was its sad condition. The bear was perched on a large tree a trunk, which was lying on its side in the bear's enclosure. The bear looked sad, and our excitement to see a live bear was diminished by its condition.
Behind it loomed the mountains it should be roaming, but these were out of reach. We took pictures, gave it our best wishes and once again continued our journey, ironically enough, to the Falkensteiner Funtime Resort and Spa, a much less natural/much more artificial human environment near Zadar on the Adriatic. Good food, beautiful rooms and views, and a respite, for us all, however.
Venice and Croatia: Zadar, Sibenik, and Split
After a bountiful buffet breakfast that included everything from crepe to what we affectionately refer to as "breakfast vegetables," we boarded the buses for the short ride into Zadar proper. There we met our local guide at the recently reconstructed waterfront. The weather was temperate with a slight on-shore breeze as we started our tour in the present and worked our way into the past.
On the waterfront, we visited the Monument to the Sun and the Sea Organ, which played its wave-driven tones for us as we sat and gazed across Zadar's harbor. From these modern manifestations of art and engineering, we walked inside the old town walls and traveled back in time 2000 years to sit among the remains of the Roman Forum and learn the history of the town.
Located nearby was the circular medieval church of St. Donatus and then more of the ancient Roman ruins in the city and a present-day bakery and street side refreshment stand that provided some mid-morning sustenance for all. Zadar, with its history and beautiful harbor on the Adriatic, proved to be a fine first stop on our three town Dalmatian Coast Tour on this day.
Our second stop was in the medieval town of Sibenik located on the Krka River. Igor and Gorgi, our bus drivers, pulled the coaches into the drop off zone along the river, and we were greeted first by two swans paddling aimfully in our direction and then by our local guides, who approached us equally with purpose.
We left the riverside and entered the town, traversing the narrow brick-paved streets passing a number of the 20+ churches and numerous stores, apartments, and houses. It is a beautiful town—one of the few actually built by the Croat people—with another UNESCO World Heritage Site, the Cathedral of St. James, a 15th century Renaissance construction. Instead of taking the inland highway, we drove the coastal road from Sibenik down to Split, a drive replete with drop-dead gorgeous views of the Dalmatian Coast: turquoise waters, waves, houses perched perilously on steep rocky slopes, cypress trees, olive trees, harbors, beaches, and a surfeit of sunshine on this day.
Our last tour location for the day was in the city of Split, where we visited the sprawling remnants of Diocletian's Palace—a monumental building. We started our tour with our guide, VJ, in the basement, of course. A bit dank, the basement was a vast, high-ceiling-ed region not yet fully excavated. VJ told stories and pointed out architectural highlights—he was a wonderful guide and we all appreciated his engagement and knowledge.
We proceeded upstairs and inside and outside the palace and when VJ asked how many in our group had heard of Diocletian and his palace he was pleasantly surprised that the numerous former Grade Niners in Ms. Neely's class had studied him, his rule, and his retirement home (the palace). We had an outstanding tour, learned a lot, and then ate gelato. What could be better? Add in another 30 minutes of shopping, including The Game of Thrones store, the soccer jersey store, the trinkets and t-shirt stores, postcards, more food—and there you had better.
On the way out of Split, VJ told us to look for the 2000-year old Roman aqueduct that still fed the modern city its water. It was just past the Mall of Split and the gas station. We drove, we saw, and it conquered us—graceful arches spanning a lengthy tract of land, in places with only the top exposed and forming the front yard wall of a row of houses, then ascending over a gorge to the next hillside. Simply awesome.
Roman engineering to last for millennia. Then we took the highway to Neum on the Bosnian Riviera. Here we would find our hotel clinging to the side of the shoreline cliffs and newly opened for the season; it was us and no one else. The place was a bit Stanley Hotel-esque with our students noting that the essence of the hotel in The Shining was in the air. No worries, it was Bosnia, not Colorado.
Venice and Croatia: Ston & Dubrovnik
This was the day of walking to the heavens, literally and metaphorically. We departed the Bosnian Stanley Hotel intact, and post-breakfast buffet, we reentered the serpentine coastal road that led to our penultimate and ultimate southerly destinations in Croatia: Ston and Dubrovnik.
Ston is really two towns, a bigger Ston and a littler Ston connected by the longest town walls of any town in Europe. These walls are made from the ubiquitous limestone that is the very ground of the Dalmatian Coast, and they run 5-plus kilometers seemingly heavenward up and over steep mountainsides from town to town.
Shortly, before we arrived in Ston we picked up our local guide, Marina, at a petrol station and drove down to the village. In addition to the town walls, Ston is the home of 2,000+-year-old salt pans and oyster beds.
Salt in ancient times was extremely valuable—therefore the town walls; oysters in all times are just a joy to eat. The bigger town of Ston is quite quaint and hospitable. We first visited the salt pans, which at the time of our visit were filled with sea water.
Hotter weather would have to do its work to evaporate the water and leave behind the piles of salt to be swept and shoveled up, and carted away for processing into various grades. Many bought samples which should make their way home soon.
After we were briefed on the layout of the town and given a time limit for exploration from Marina, we huddled and devised a plan of attack: first, get a cappuccino or an espresso and enjoy it; second, use the caffeine as rocket fuel to launch ourselves up the steep, arduous climb up the walls; third, enjoy the views and the exercise—frankly, the view of Ston and of the salt pans and surrounding countryside from these old fortifications was euphoric; fourth, make a careful descent, still taking photos, back to earth; fifth, eat raw or roasted oysters, get a gelato to go, and grab your seat on the bus.
It was in the sixties and sunny throughout the morning; perfect weather for all of our activities. Our visit to Ston was a little bit of heaven on earth for us all—a trip highlight (post-Venice, post-Piran, post olive oil tasting, post the Pula amphitheater, post-Plitvice Lakes, post, post, post...)!
Then on to Dubrovnik! The buses dropped us off just outside the Old City walls on a small plaza that offered the shores of the Adriatic at the base of the cliff that supported it. Many photos were taken, as they should have been. We followed Marina into the old walled city (once the Republic of Dubrovnik, the first international state to recognize the US following its victory in the Revolutionary War). We went to lunch and ate a Mediterranean meal: fish, rice, bread, and ice cake—a well-prepared meal in a nice, side-alley restaurant.
After lunch we threw down another gelato come: chocolate, strawberry, coffee, vanilla, lemon...then we recommenced our tour visiting medieval-era city chapels—to see art, architecture, items from a medieval pharmacy, and bits and pieces of saints preserved in anatomically reliquaries (arms, legs, heads, etc.), walking the dark and narrow and wide and bright streets of the the Old City, and finally ascending the city walls to circumambulate the city and take in the spectacular views of what lay within its walls and what lay without them.
It was still sunny and warm, we had full bellies from lunch, we had the Mediterranean world at our fingertips and our "head in the clouds." Some of the boys found their way onto Dubrovnik's City Wall Rooftop Court and play some basketball and soccer with the locals. A few of them also kicked around a soccer ball in the streets of Dubrovnik with some local youngsters of the same age as well.
However, upon descending once again from the heavens, we, of course, engaged in 2 earthly delights: eating and shopping. As the sun set on the city and we headed back to our buses, we knew we had just experienced what Winterim was all about: experience the culture and history, meet the people, take in the sights and sounds of another part of the world and gaining some new level of understanding of it. We had filled our bellies and our souls in preparation for the journey home.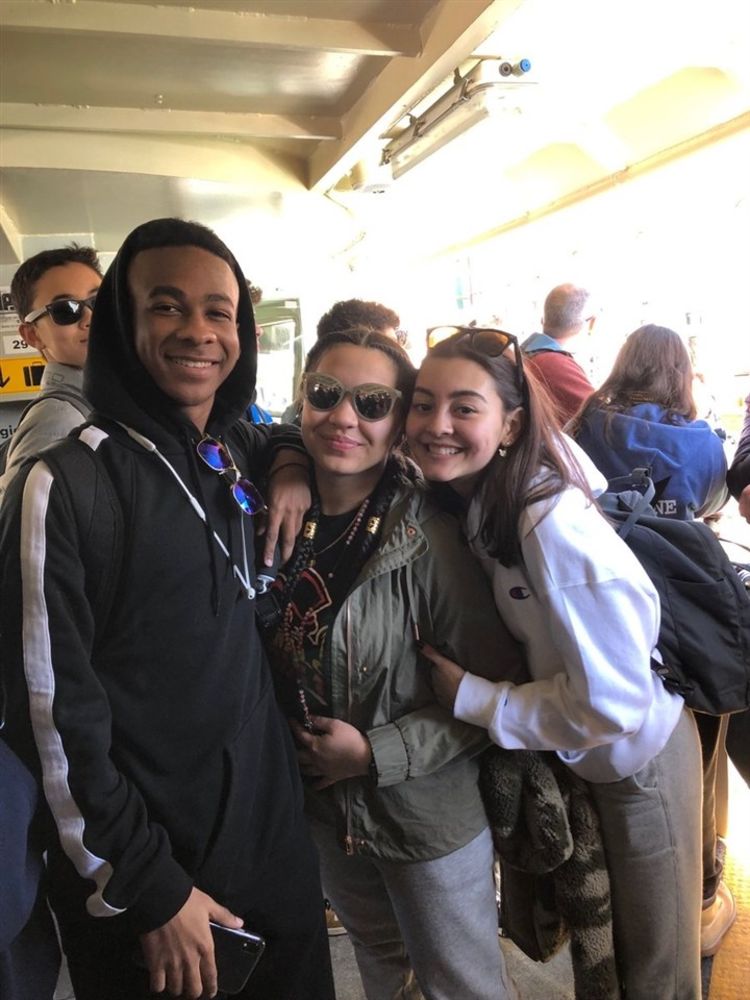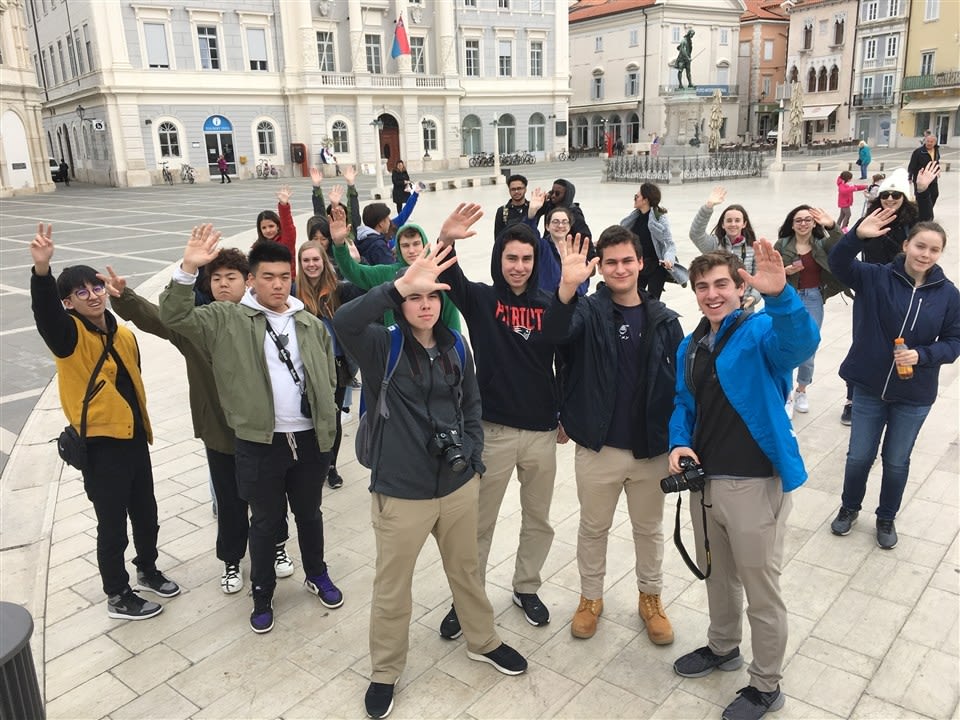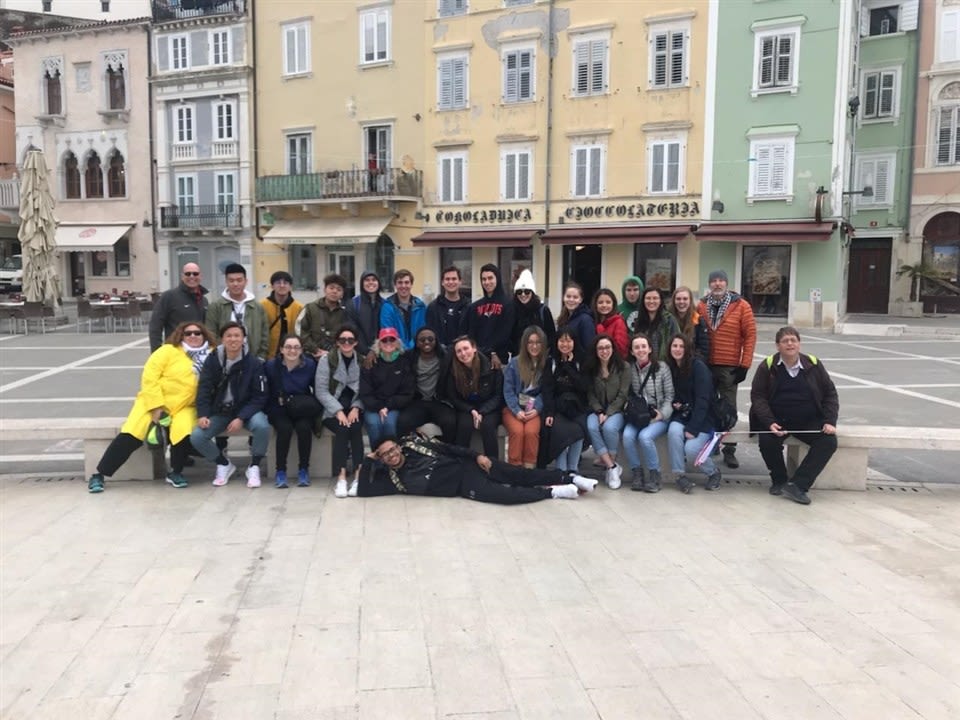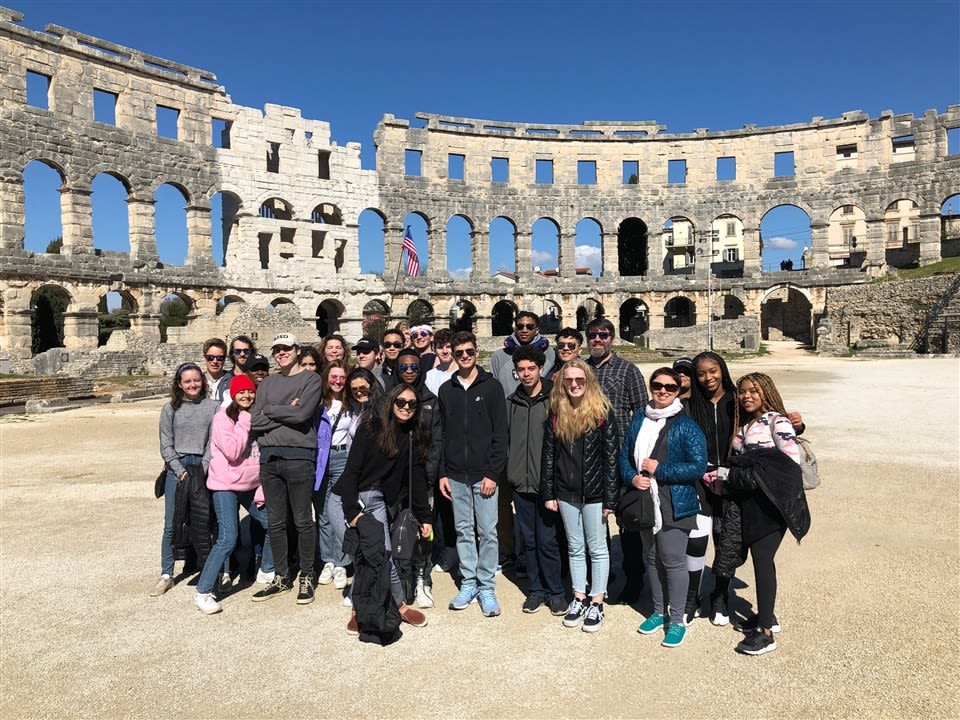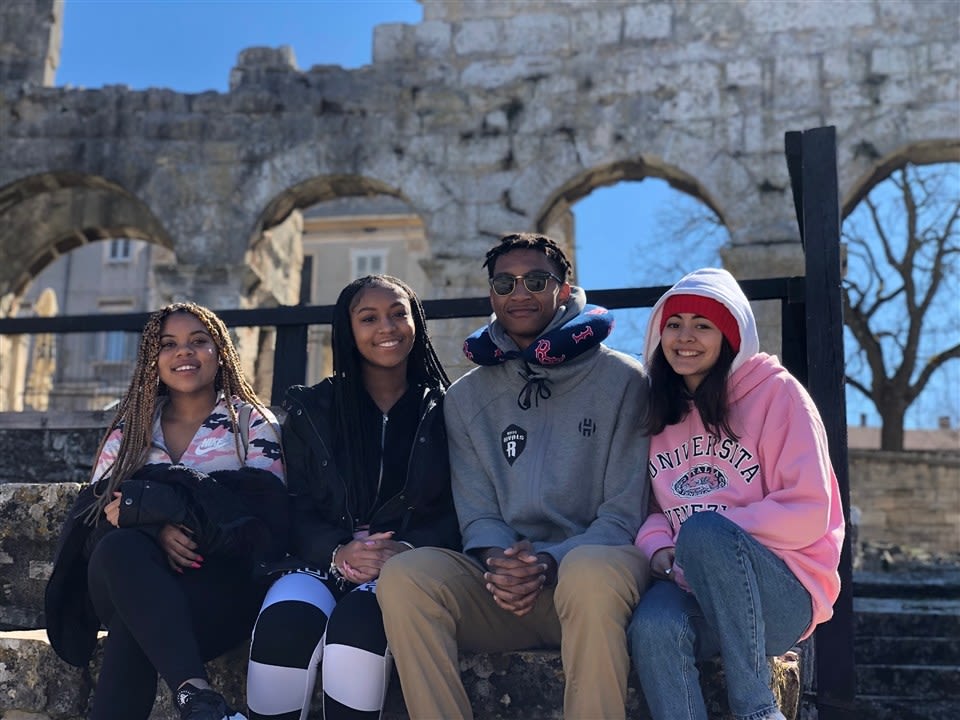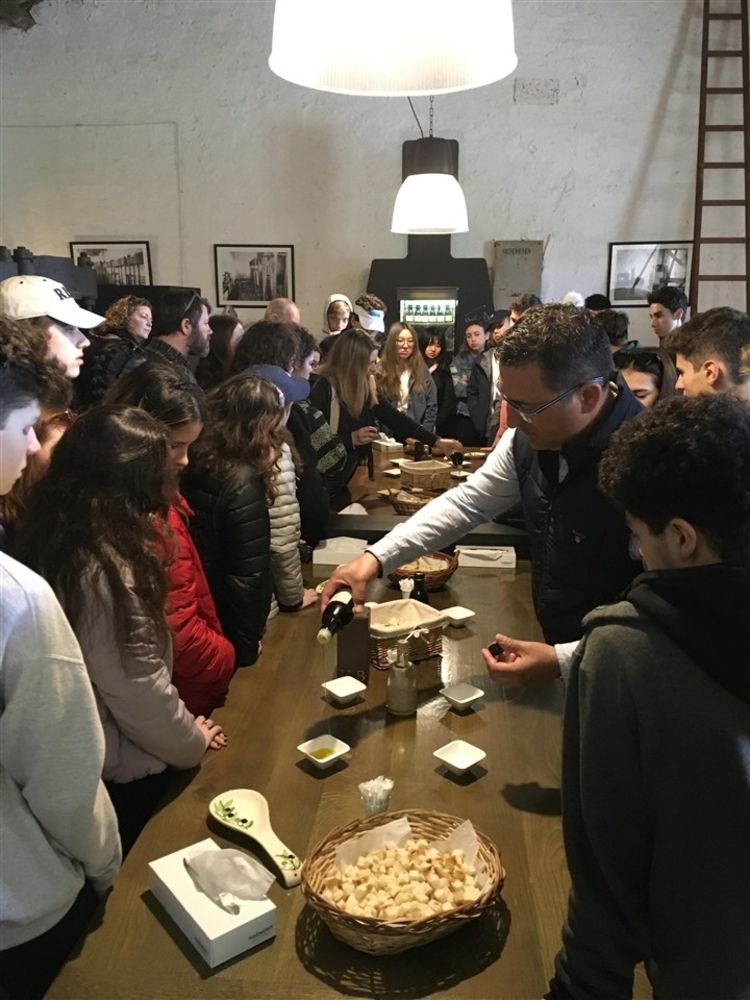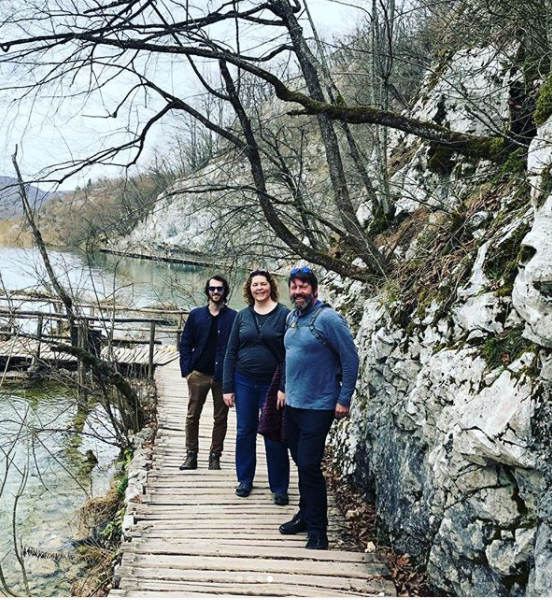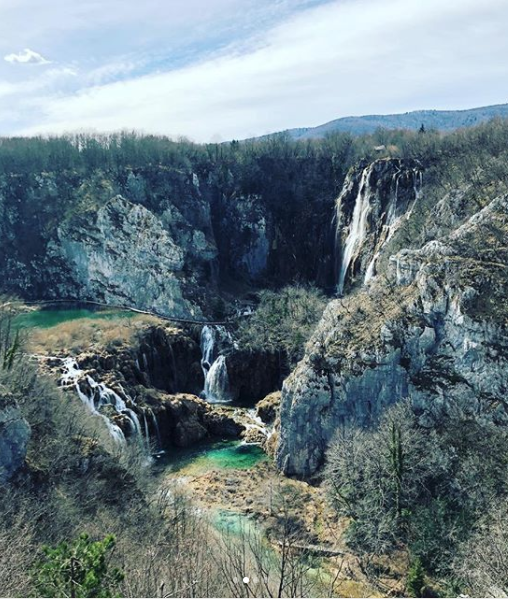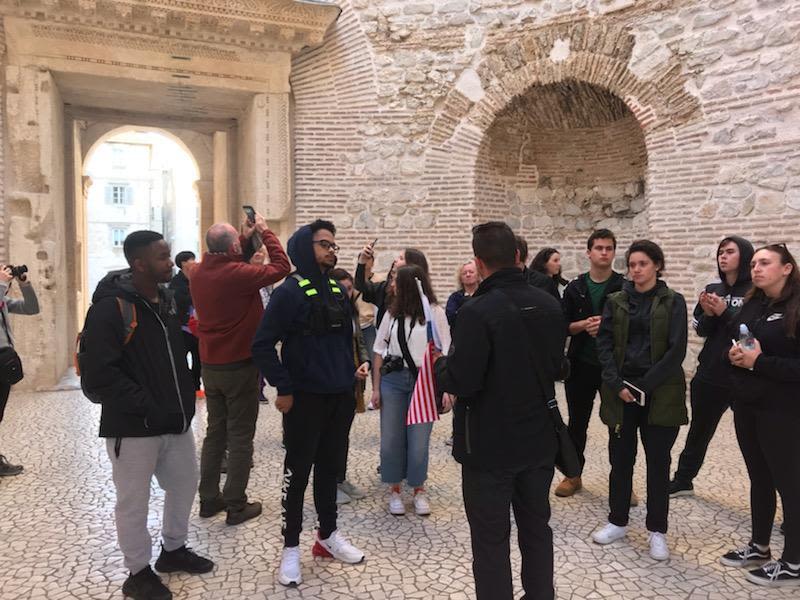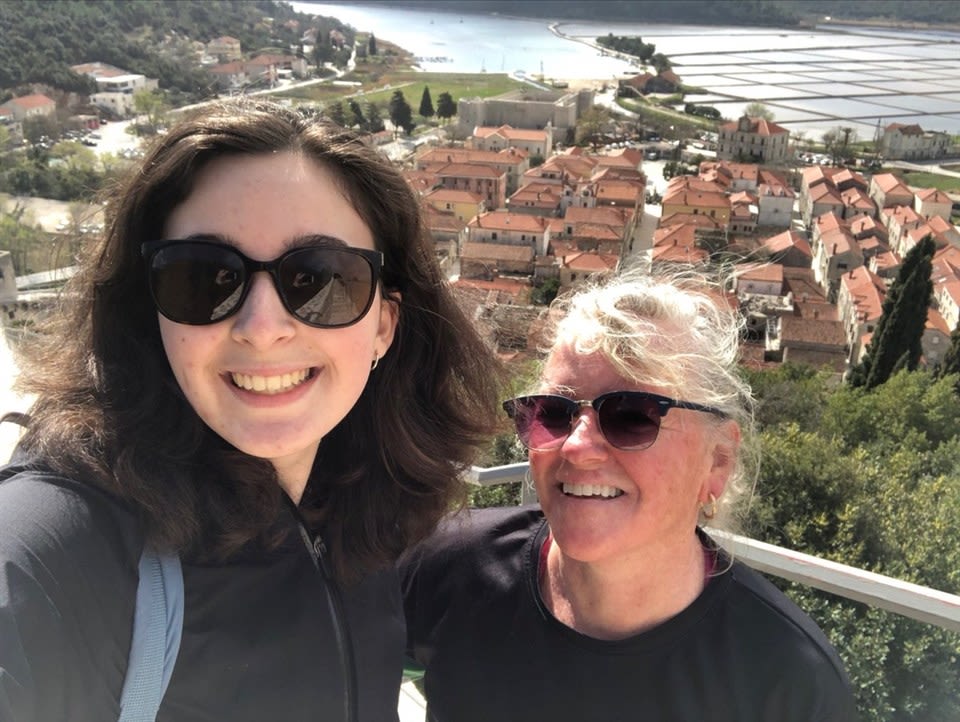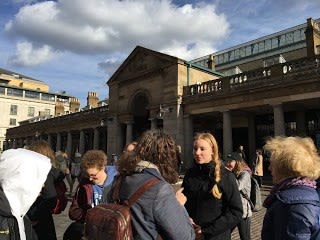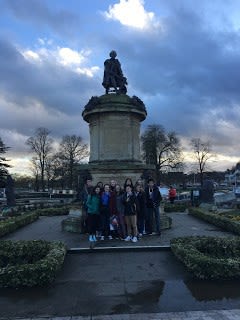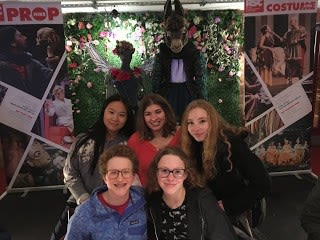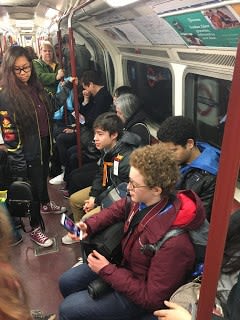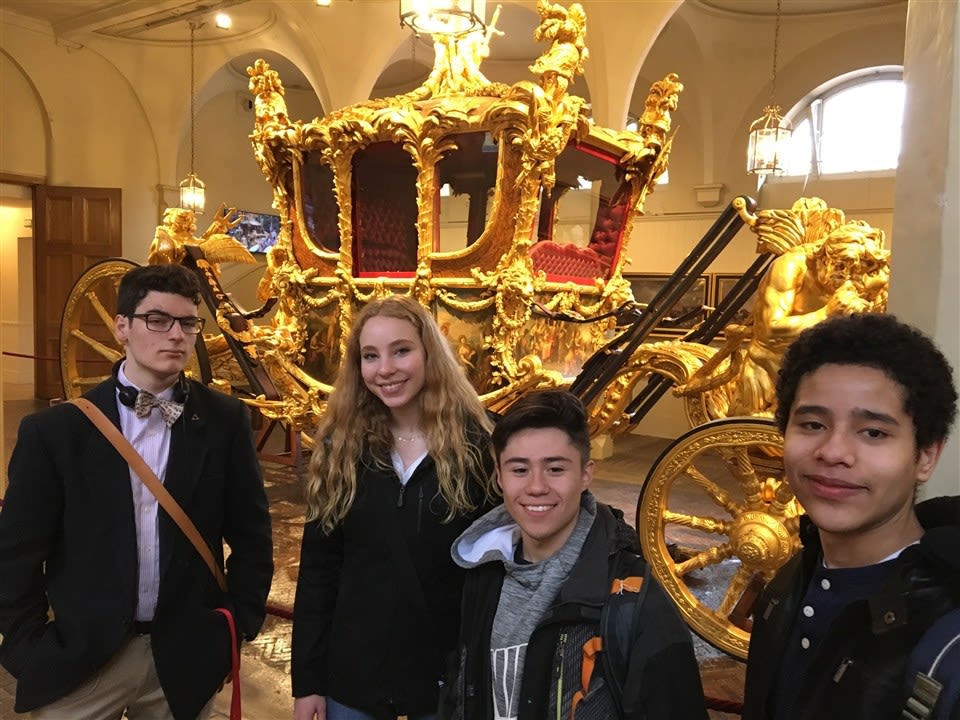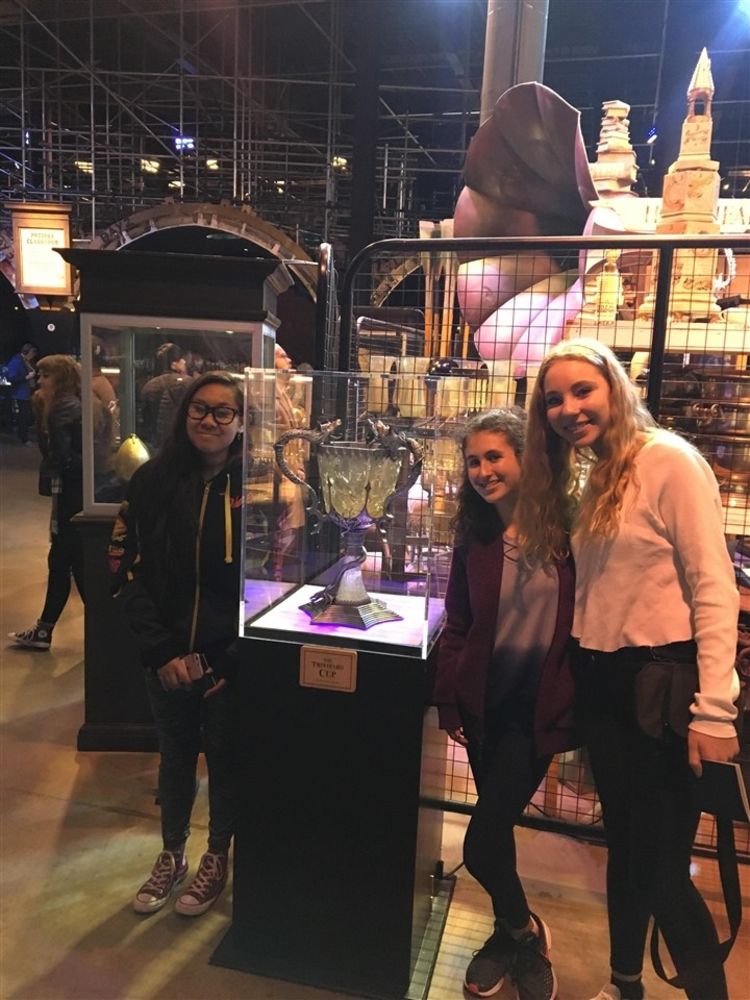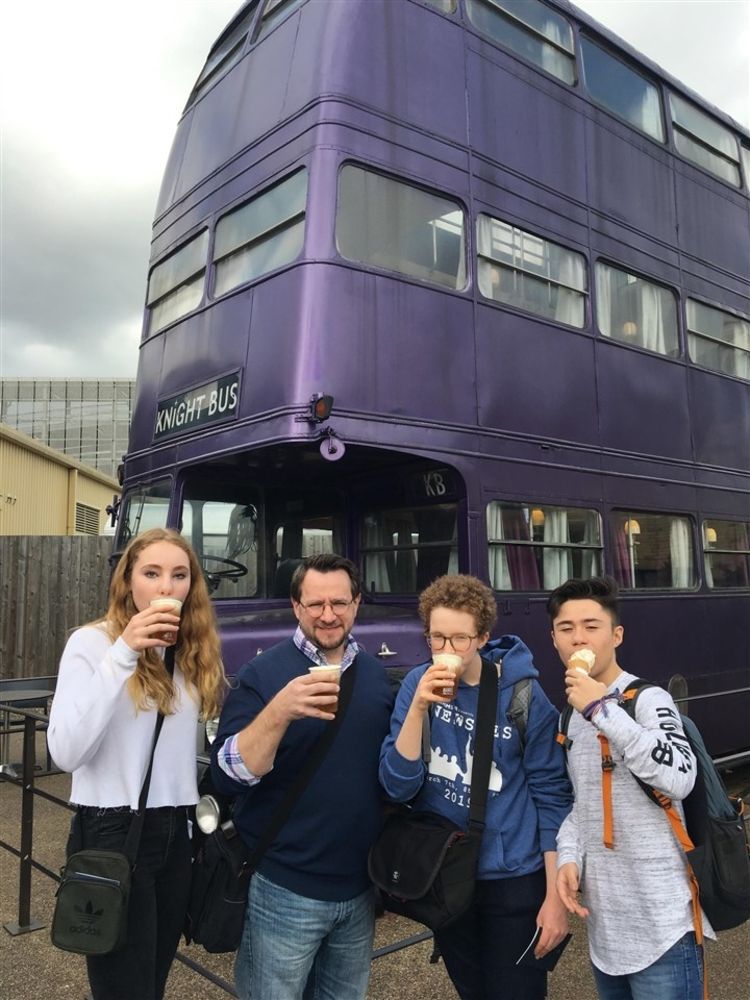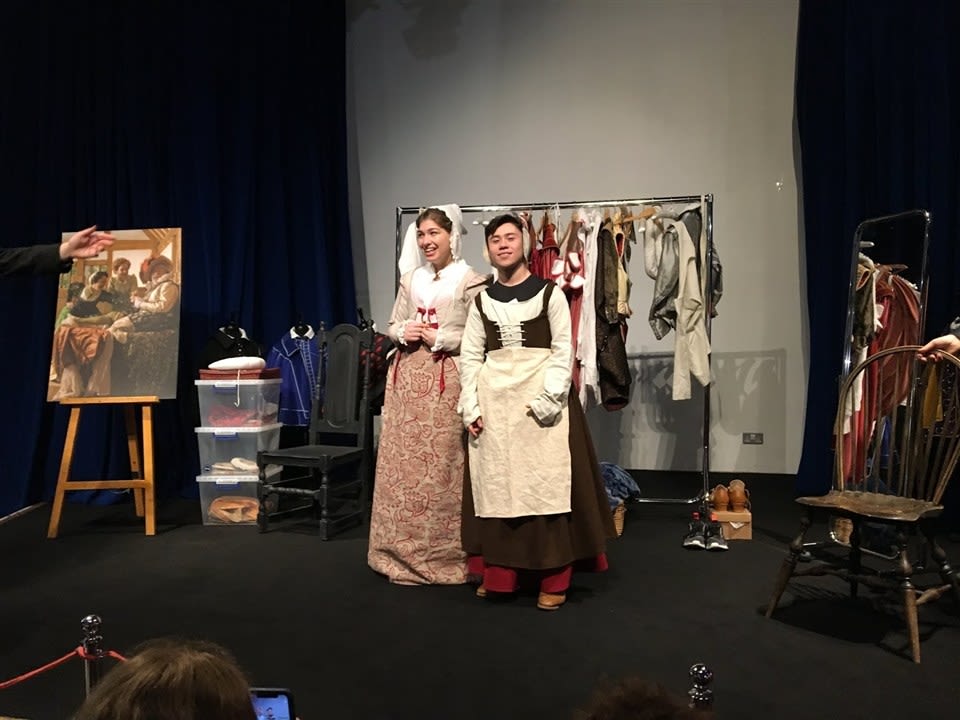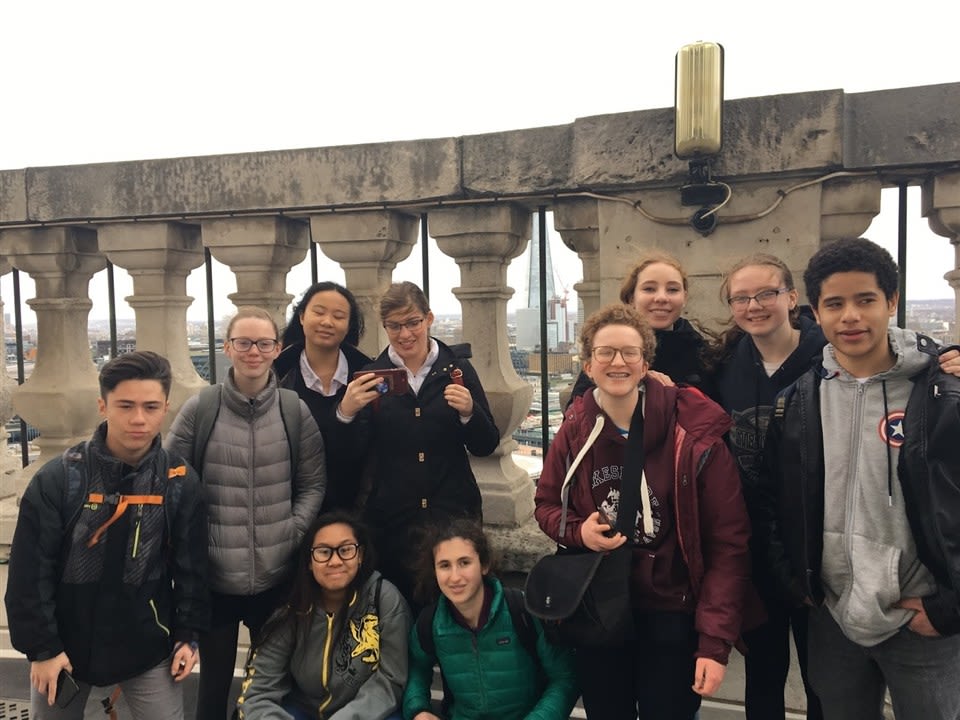 ENGLAND
A dozen students crossed the pond to learn about England's rich history. Highlights included a trip to the world-famous Globe Theatre, riding the tube, visiting museums, and getting to visit exciting historical sites.
Lead Chaperone Paul Murray kept a blog about the trip, which The Gator includes below with photos, courtesy of the group.
Day One: Recap and Goodnight from London
After clearing security at Heathrow, we met our Tour Director, Liz. Liz is a Blue Badge guide who has lived all over the UK, spent some time in Mexico, the American South, et al. Long story short, Liz is a talented, experienced guide who led us all on a great orientation tour of the city.
Carousel Tours requested early check-in at the hotel, so we were able to refresh ourselves after a morning tour. Liz then walked us to Covent Garden where the students got their first taste (literal and metaphorical) of free time in London. We then made our way to Trafalgar Square to visit the National Gallery, eventually winding our way back to the hotel via Chinatown and Soho Square.
All of the little places we visited only whetted the students' appetites to explore the city, and they will have plenty of opportunities later this week! We all need a good night's sleep to recharge for our full day in Stratford tomorrow.
Britain's Son
A couple of years ago on another trip to London, our guide made the rather dry observation that the true British experience is sitting on one's Swedish furniture while eating Indian take-away and watching Friends.
The obvious subtext being that, at its core, British culture is a borrowed culture (much like American culture, at that). This isn't necessarily new... the Romans were notorious for stealing the ideas from other cultures (primarily the Greeks) and passing them off as their own. Britain wrestles with this idea even today. One of the primary "reasons" that the Brexiteers argued for their ill-fated plan was that Britain was in danger of losing its identity because of the diverse marketplace of ideas, traditions, cuisines, etc. that other cultures bring to Great Britain.
The underlying xenophobia was conveniently masked by the inauthentic imperative to "protect" British heritage. (At the risk of sounding too political, we will avoid comparisons to a recent American election cycle).  Thankfully we experienced today a more positive and productive method with which Britain has chosen to honor one of the most vital and obvious aspects of its culture... an aspect of British culture that has touched the souls of countless humans for centuries all around the world.
The Shakespeare Trust was established in the late 18th/ early 19th century in order to ensure that the work and history of William Shakespeare would be studied and honored for generations to come. Our trip to Stratford-Upon-Avon today gave the students their first connection to the work of the Trust and Britain's efforts to keep the Bard alive. 
We started the day with our first tube ride. Liz assigned Simon to lead the group on our two-train trip from Tottenham Court Road to Marylebone where we boarded our National Rail train to Stratford. Simon ably guided us through the numerous tunnels, escalators, and platforms as if he were a native Londoner.
Once in Stratford, Liz led us on an informative (if not soggy) trip around Shakespeare's hometown. We saw his school, two of the homes he lived in, his daughter's adult home, and ultimately his grave at Holy Trinity Church. At the church, the students asked wonderful questions and started a lively discussion about his life and works right in front of his tomb. Liz then led us up along the Avon River to the National Shakespeare Theatre and into town where we had an interactive tour at Shakespeare's Birthplace.  
After the tour, we broke for free time, and the students immediately went to one of Stratford's other claims to fame (and another wonderful aspect of British culture): afternoon tea. The town is peppered with adorable tea rooms in authentic Tudor buildings, including some structures that still have thatch roofs. Once they were done with tea, the students had some time for shopping before heading back to the National Shakespeare Theatre for dinner at Susie's Cafe.  
In all, despite a walking rain, it was a wonderful day in a small, traditional British market town. We will spend the day tomorrow exploring Royal London with trips to Westminster Abbey, Buckingham Palace, and the Royal Mews. We finish the day tomorrow with our first show, School of Rock.
No Time to Wax Philosophical
Today is quite the busy day. I am currently writing this post from a park bench in Leicester Square as the students enjoy a little bit of free time before dinner and tonight's performance of School of Rock.
It is easy to forget that, in addition to the history, culture, and overall vibrancy of London as a city, it is a functional national capital and one of the primary residences of a world-famous family.
Today the students learned a little bit of the royal history of London. The day started with a walk through St. James's Park towards Buckingham Palace to see the Changing of the Guard. On the way, the students were treated to a little extra pomp and circumstance as there was a ceremony honoring a member of the Indian Navy at the Royal Horseguards.
These are celebrations that just do not exist in American culture, and the students were awed with the reverence and pride with which the events were carried. We then headed over to Westminster Abbey where Liz gave a thoroughly comprehensive tour of the millennium of British history that the structure represents.
The students asked wonderful questions and were more often than not able to answer questions that Liz posed to the group. Liz's Blue Badge training shone through, and she nimbly blended humor into the tour. It was a wonderful morning. After visiting the abbey, we walked to Victoria Station and the numerous eateries and shops in that area. Following lunch, we headed to the Royal Mews for an afternoon tour. I had never been to the Mews before, and it was a pretty cool experience.
The building holds all the Queen's official ground transports: limos and coaches. The Mews are also the primary stables for the Queen's horses. The students had a self-guided audio tour and had the opportunity to try on some of the livery of the stable workers and chauffeurs.
Tomorrow is the big day: our Harry Potter Studios tour!
Yer a Wizard, Harry...
Whatever criticism that the cynical and joyless have levied on Rowling's literary worthiness, it cannot be denied that her work has touched millions of young people and made reading cool again.
It was evident today in the countless British schoolchildren in their Hermione robes, brandishing their wands and cuddling their Crookshanks; it was also evident in the boundless joy and excitement our Brimmer students had today exploring the movie sets and displays of props and costumes at the Warner Brothers Harry Potter Studios Tour.  
Warner Brothers has crafted a wonderful exhibit honoring both the work of Rowling and the incalculable number of film artists who created the movies and the magic of moviemaking in general. Students got up close and personal with actual set pieces and props, engaging with slick interactive displays showing how stories translate to a visual medium. 
And this was all after a nice visit to the British Museum this morning. Displaying their trademark Brimmer curiosity, the students made an immediate beeline to the Rosetta Stone and wandering through the panoply of artifacts from the far reaches of the globe. Many students enjoyed the Egyptian exhibits, and the Brimmer "lifers" fondly remembered their 3rd grade Egypt projects. Throughout the morning, we talked about the ethical quandary that such a museum presents to visitors.
While the students appreciated the historical significance of the artifacts, they were also appropriately critical of the policies that would empower Britain to feel like these items belonged to the Empire.  In all, it has been a remarkably full day. We are on our way to dinner and then back to our hotel. Tomorrow is another busy day. We will visit the South Bank, have our workshop at the Globe, see the Museum of London, and attend a performance of The Woman in Black. So much to do... we could certainly use Hermione's Time Turner.
Shakespeare Part II
The South Bank in London has always gotten a bad rap. In Shakespeare's days, it was the part of the city where the local government relegated the least savory aspects of society. As the theatre arts were considered immoral and impure, the theatre buildings were exiled to the South Bank and its encircling borough of Southwark. Despite its exile, the allure of a Shakespeare (or Marlowe or Jonson, for that matter) performance at the Globe Theatre was so great that the denizens of the City of London came across London Bridge in droves.
The South Bank was the entertainment capital of the Elizabethan city of London.The South Bank remained the undesirable section of London through World War II. In fact, it was bombed to ruin at that time. Once again, the theatre arts revitalized the area and served as the cornerstone of the massive development that continues even today.
After the war, the National Theatre built their flagship complex on the South Bank, and it remains today (despite its Brutalist facade) one of the most important buildings south of the city. The South Bank development continued when a young American actor/director came to London and could not believe that the only remnant of Shakespeare's Globe was a plaque somewhat near the original location of the theatre. Sam Wanamaker made it his life's work to recreate the theatre using the original building materials and techniques.
In fact, it was the first wooden structure built in London since the Great Fire of 1666. Sadly, Wanamaker did not live to see its completion, but the Globe Theatre stands today as an example of the enduring power of theatre and the arts in general. Today the students had a personalized tour and text/acting workshop and had an absolutely wonderful time.
The day started with Hannah leading us on a tube journey to the South Bank where Liz gave us a great tour of the area, eventually landing us at Borough Market. There has been a market on this location since the 1200s, and Shakespeare himself probably ate here often as he worked right next door. The students were taken aback by the fact that in a way, they were sharing lunch with Shakespeare.
After lunch, we had our tour of the theatre and workshop with Mark, a Scottish actor who has performed all over the world, including Shakespeare's Globe. Mark led the students on a clever exploration of Act III, scene v of Romeo and Juliet. The students did me proud as they displayed a great grasp of the material and impressed Mark with their energy and knowledge. After the workshop, the students toured the exhibition attached to the theatre, and we got a bonus workshop on Elizabethan costuming.
Two of the Globe costumers were holding court in the exhibition hall and brought Michelle and Brian up to show how costuming high and low born ladies would work in Shakespeare's time. It was quite a special bonus. After our remarkable time at the Globe, we walked up through the City and spent some time at the Museum of London, a beautifully designed walk back through the 2000 year history of the city. We are now enjoying a short stint of free time before dinner and our performance of The Woman in Black.
It has been another full and fulfilling day. The students keep asking thoughtful questions and learning so much from everything we are doing. We could not be more proud of them.
The City
Well, somehow we have come to our last day, and this will be the first day we are actually in the city of London. The City of London proper is only a square mile; all of the rest of the Metropolitan area are boroughs that are mashed together to make up the massive urban complex of Greater London.
The City of London is practically a ghost town on Saturdays as the City is primarily comprised of banks and financial centers. In fact, the joke around town is that no one actually lives in the City of London. The empty streets this morning showed the kernel of truth behind the joke.
All of the restaurants, shops, etc. were closed in the morning, and many of them won't even open today. Nonetheless, the City is home to two of London's (if not the entire world's) most famous iconic buildings: St. Paul's Cathedral and the Tower of London.
The students spent the day exploring these landmarks, and the visits were a wonderful way to finish up our trip. We are heading into Covent Garden for our farewell dinner.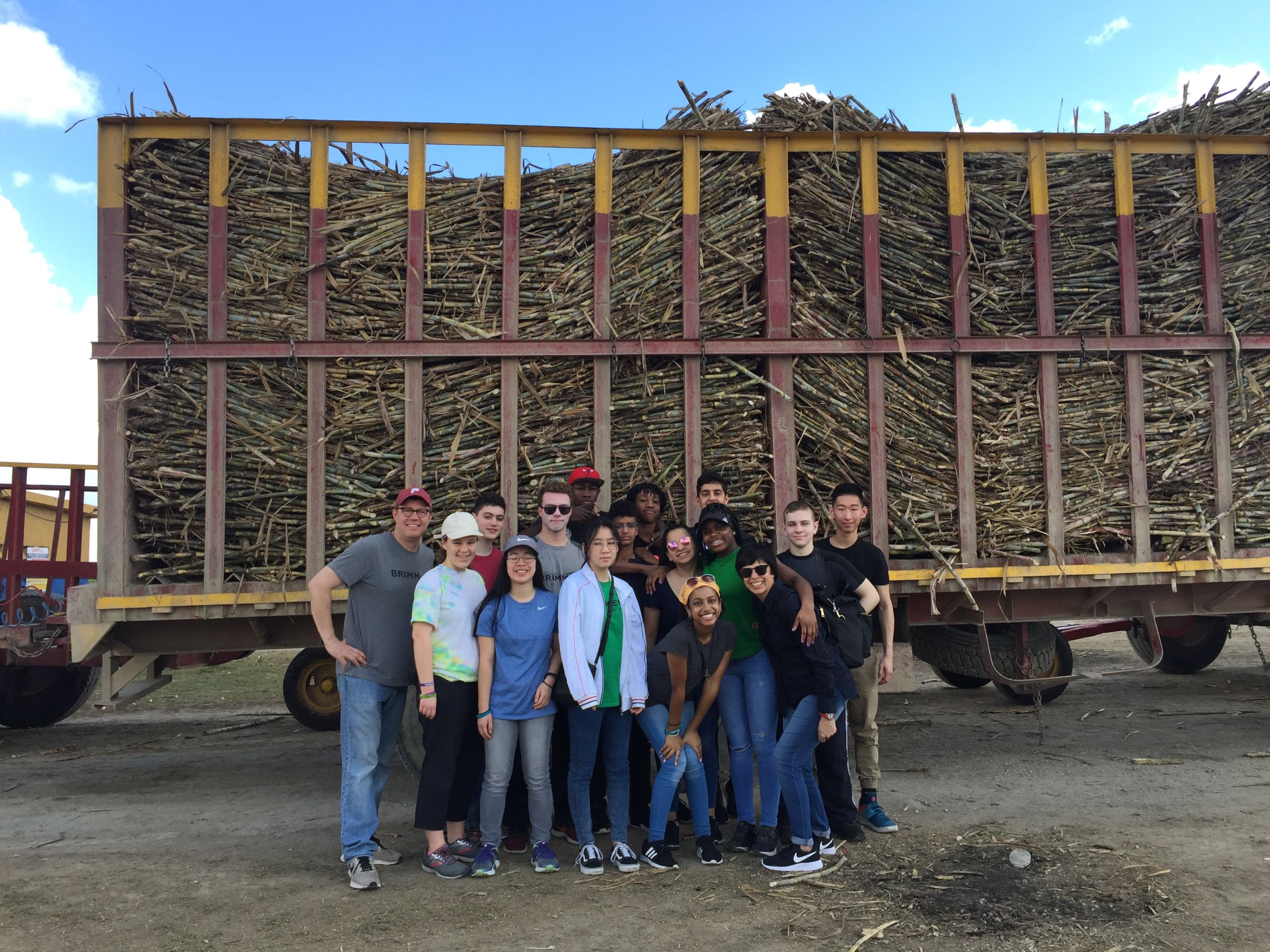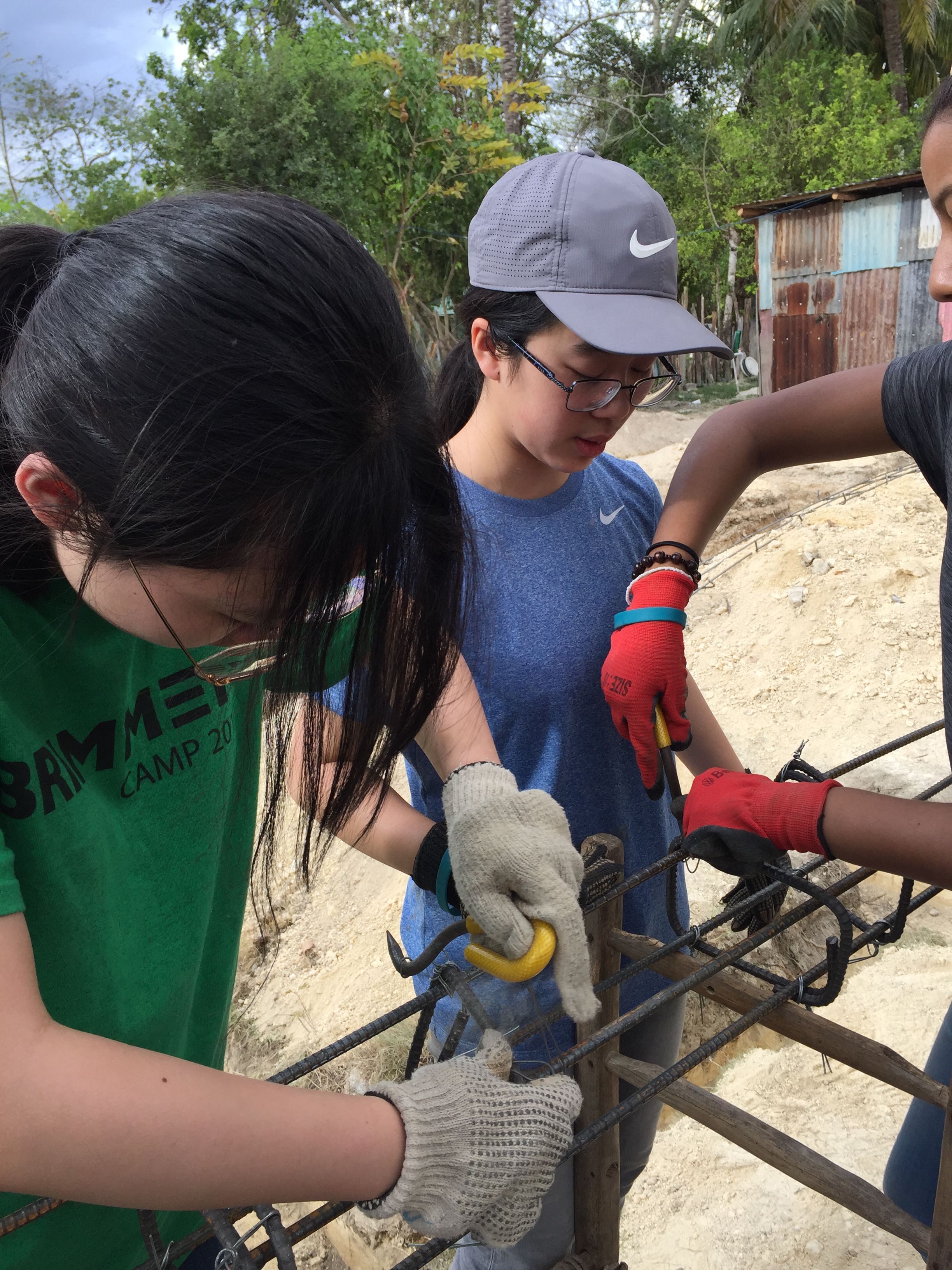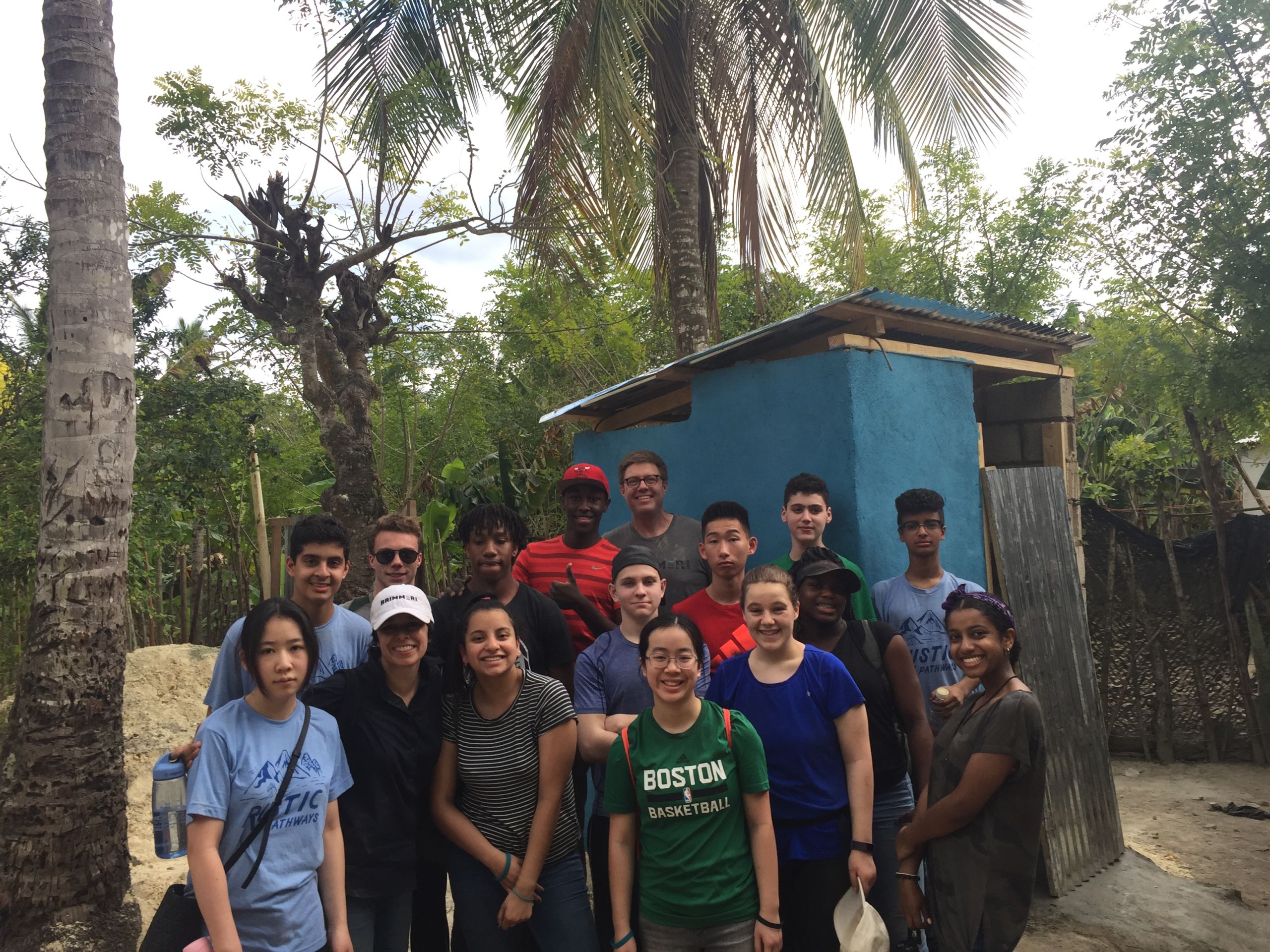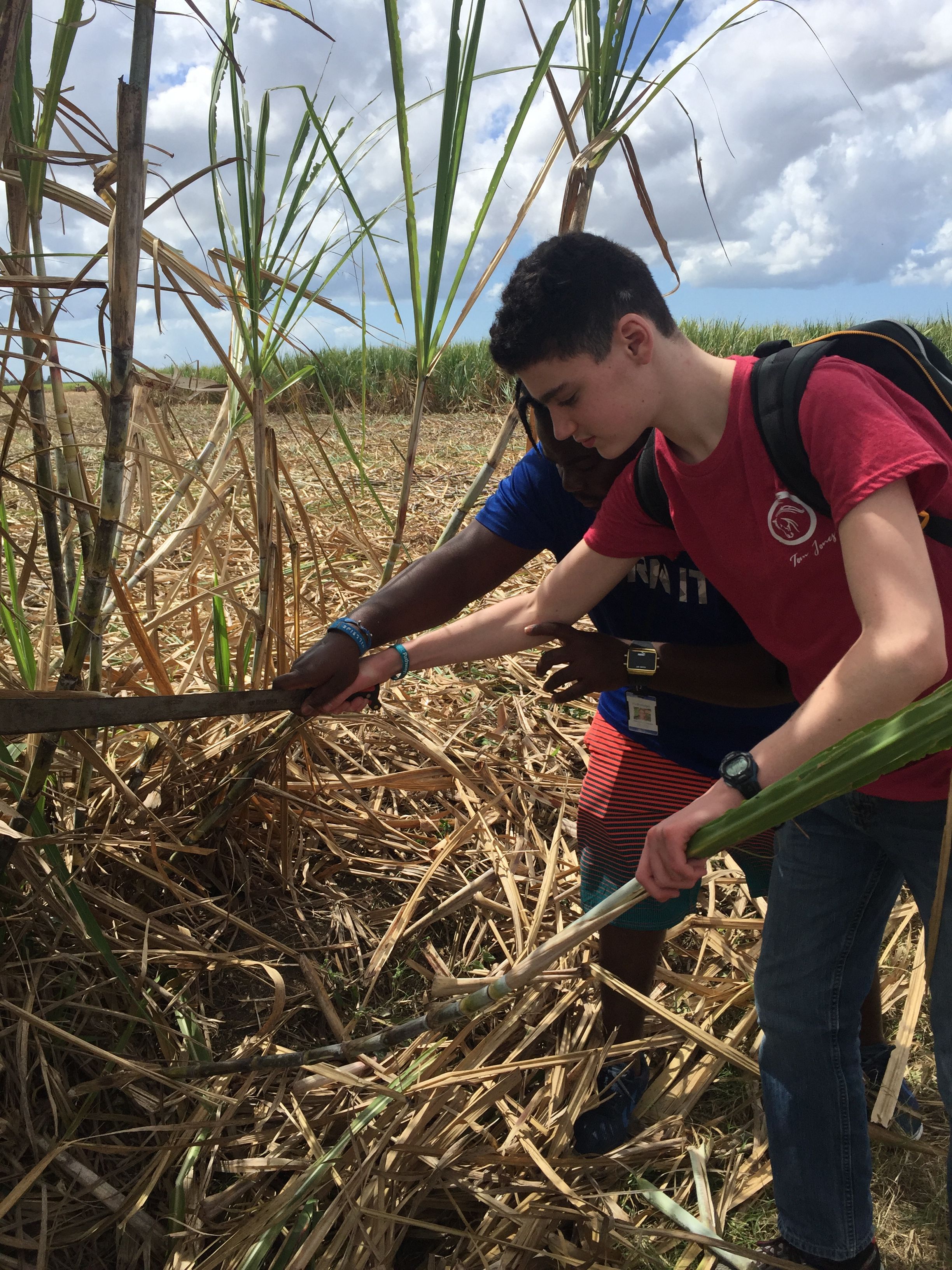 The Dominican Republic
A group of students and faculty went to the Dominican Republic for six days, five of which were spent doing community service, building homes. The last day was spent relaxing on the beach and exploring the city.
Chaperones Sharin Russel and Ted Barker-Hook wrote a blog, which we include below with photos, courtesty of the group.
Good Morning from Monte Coca
4:45 a.m. is very early in the morning, but almost all of our kids made that meeting time at Logan Airport. Our crew gathered in the lobby of Terminal B evincing a mix of excited sleepiness, all of them eager for the trip to begin but unsure of what our week in the Dominican Republic was going to bring.
Happily, both of our flights left on time, and after a moderately bumpy ride heading south out of Newark Liberty International Airport, we arrived in Santo Domingo about 25 minutes ahead of schedule. We filled out our immigration and customs cards, shuffled through a couple of lines, got a few things stamped, and then we met our Rustic Pathways contacts: Carlos, Laura, and Andres, who asked us to call him "Roro."
We ate lots of pizza in the airport lobby, then boarded our little bus and headed east. At about 5 p.m. we were at our home for the next several days, a typically Dominican concrete, low-frills building that houses ASCALA, a group dedicated to helping the immigrant communities in the Dominican. Here we got our first real introduction to our project, got an overview of the ground rules for staying at ASCALA and working in the Batey Monte Coco, and enjoyed each other's company over dinner and conversation.
We are living dormitory style with all of the boys sharing one room, the girls and a friendly—although they'd call it terrifying—lizard sharing another, and the chaperones in their own spaces. Meals are all about community, with all of us sitting around one table sharing stories and reflections, and the mood is completely laid back.
On Tuesday we'll be introduced to leaders of the Monte Coca community, get an overview of the challenges that sugarcane growers face, and finally, after months of preparation, get our hands dirty.
Day One: Monte Coca
Good morning from the DR! We are just getting ready for a quick breakfast and then we will head out to Monte Coca to continue work building a home and toilet for a community of sugarcane workers. Amazing, hardworking trip and students are bonding well!
First, a wifi update: it's very spotty, and when it works, it is very slow. Obviously, since you're reading this now, we are back in touch, but service is so sluggish. With that said…We spent the first half of Tuesday beginning to understand the sugarcane industry in the Dominican Republic, both the nuts-and-bolts of growing, harvesting, and processing as well as the economic and political realities of sugar. Sugarcane cutters, all of whom are Haitian or of Haitian descent, begin their workdays by 4:00 a.m. and usually work well over twelve hours.
They return to their homes after dark for a dinner consisting only of a pound of beans, then rise again the next day by 4:00 a.m., and this cycle continues seven days a week. The cutters we met and talked to--they didn't mind taking a break and talking because one of our guides was formerly a cutter in the very fields we were looking at—explained that they work in pairs, and for their efforts they get paid $3 each for 1000 pounds of cut cane.
If they don't finish 1000 pounds in a single day, they get paid nothing. One of the men we met said everything, even the clothing on his back, was taken from him when he entered the Dominican, and he had to find a way to pull together the essentials for cutting in order to get a job: a machete, rubber boots, gloves, long pants, long sleeved clothing, and a hat.
Another cutter said he left Haiti looking for a better life, higher wages, and more opportunities, and those hopes landed him in a foreign-owned sugar cane field in the daytime, and in a 12′ x 12′ room with nine other workers at night. The politics of sugar is complex, but it boils down to this: cane cutting is brutal work and for a century Dominicans have been unwilling to do the job.
Plantation owners began bringing in Haitians for their labor force, promising money and a chance to move up the economic ladder. The reality was very different, however. Haitians were stripped of their documents, loaded into trucks and driven through the darkness to plantations that were guarded by armed men whose job was to keep workers in. Without rights, money, or a voice, they were brutally worked to the verge of death.
For the most part, this same system exists today: the workers usually lack any documentation and many are legally neither Dominican or Haitian; they are a people without a country and, therefore, without legal rights or protections. They are ineligible for even the meager public health care that is available in the DR, their children may not enroll in Dominican schools, and they have absolutely no voice in governmental or legal decisions.
Although most of the armed guards are gone now, and while some workers are able to move from one batey to another, and though even a select few are able to visit family back in Haiti, most of the day-to-day existence of sugar plantation workers hasn't changed in decades. These realities seemed to really hit home with everybody in our group, and after lunch back at ASCALA, we began our service work in Batey Monte Coca. (A batey—pronounced buh-TAY—is a community of Haitian sugar cane workers.) Two-thirds of our group went to work on a foundation of a new home, digging trenches, cutting rebar, and wiring supports for cement floors and concrete block walls.
The other third picked up where an earlier Rustic Pathways group left off, building walls for an outdoor latrine behind a group of homes constructed of stray bits of wood, corrugated tin, and other random scavenged materials. In short order kids, chaperones, and community members were working together mixing and spreading cement, hoisting cinderblocks, and cutting through steel bars.
Tired but feeling good about our work, we returned to our home away from home for a dinner of rice, chicken, and fresh fruits and vegetables. After a watching a powerful documentary about the work of Father Christopher Hartley in the bateyes near San Jose de Los Llanos, a city about an hour from where we are working and staying, students spent a little time reflecting in their journals before showering, catching up on whatever their phones could tell them, and turning in for the night.
Tomorrow: back to work in Batey Monte Coca!
Day Two: Batey Monte Coca
Pretty much everybody reported sleeping better the second night at ASCALA than they did the first. Some of that is the tiredness that our first day of work brought, some of that is getting used to a new bed in new surroundings, and it seems the lizard in the girls' room has decided to find a new and more welcoming home.
We rose to a breakfast of cereal, hard boiled eggs, fresh fruit, juice, and coffee, then put on our work clothes and headed out for our second day of service. At the latrine, a roof had been added to the walls we built yesterday, and a door frame was in place. A new crew of four students who were at the house site the day before set to work mixing a smoother, finer soup of concrete for "plastering" the outside walls while others threw shovelfuls of dirt to build up the level of the ground around the walls.
With a coat of "plaster" applied by Kelvin, a community member who was leading this job, we used sponges cut from a salvaged foam padding to smooth the surface of the walls in preparation for a coat of paint. Meanwhile, at the house, the crew continued to cut and assemble rebar supports for the flooring and walls.
Although most enjoyed the work, it often felt that bending wire around metal rods for hours brought nobody closer to a new home. Meanwhile, unlike at the latrine where trees provide a fair amount of shade, the sun beat down heavily on everybody for a solid three hours.After lunch, we returned to the sites—again a new group of four at the latrine—and really began to see the fruits of our labors. In the hours that we were away Kelvin cemented the floor and installed the rudimentary concrete toilet, and PVC pipes snaked out the back wall.
The walls that were "plastered" in the morning got a coat of bright blue paint, and a door was built out of wood and corrugated tin with the help of Liam, who has become the Master of the Saw. A quarter of a mile away, the constructed rebar towers were raised in place in their trenches giving at long last the impression of walls that are soon to come, and all was made ready for the next day's pouring of gallons and gallons of concrete.
Within that group, perhaps the biggest success came with Zakkai finding that he had a real skill in bending steel rods into the shapes needed for a new home.After another excellent dinner prepared entirely from local ingredients, Fofo and Laura led our group in an activity designed to help students understand the difficulties that face the different groups that make up the Dominican Republic, including the Haitian sugar workers.
The central message was that nobody has the power to choose where they are born or what privileges are granted or denied from circumstances beyond our control. It was a powerful exercise, and many of the kids opened up in honest ways that we hadn't heard so far on our trip. Abdulaziz reflected on the struggles that come with being an immigrant for Saudi Arabia, and Ana talked a bit about her own circumstances and her trips to Central America.
A couple of kids mentioned family members who had vacationed at Dominican resorts and voiced their wonder at the dramatically different images that those travelers got compared to what we are seeing. But rather than summarizing their words and thoughts—and probably doing so poorly—allow us to share a few reflections from students' journal entries.
For this first round, we collected only the girls' journals; we'll hear from the boys in a couple of days.
"I have never seen such harsh conditions for people to have to live in; maybe animals, but not people….The conditions these people work in are inhumane. The machetes are really dangerous, the sugar cane leaves can cut a worker at any moment, and the sun is beating on them all through the day."
"I had thought about impoverished people, but never actually realized how bad it really was. Yet whenever I see them, they are friendly and happy. They have terrible conditions too, like heat and not a lot of pay; $3 is barely enough for a pen, and some people have to survive on that."
"We had a talk beforehand to discuss the culture shock we would face, which I did. Entering the town there was so much trash, kids not in school, animals running around, this all surprised me."
"It was [at the house site] that I first met Mickey. He was one of the men working there, and he looked to be about 20. He knew very little English, and my Spanish is not the best. Despite this, we were still able to communicate. Throughout the day we communicated using both languages mixed with signals and pointing. I felt excited to teach him some words in English and could not hold in the smile when he joyously pronounced the English words over and over again. He also taught me some words in Spanish, and by the end of the day we were communicating in full sentences. As work continued in the afternoon many of the other men learned my name. All of them wanted to help me out, and I felt so much support as I connected metal rods with wire, which was something I had never done before."
We had a great discussion of people talking about their experiences and what we've seen so far in the bateyes. Just in general it had me thinking about how I am a privileged person to have an education and to have parents with good and steady incomes. It just made me wish it was like that for everyone."
Day One: Batey Las Juegas
We woke to our third day of sunshine and warm breezes, and a number of the students took in the early morning mist-shrouded views of distant trees and, further away, the line of hills that rises to the north.
To us happily munching our breakfasts of cereal, sausage, an amazing Dominican bread called yaniqueque (it is like mini fried dough; Wikipedia says it is the Dominican version of Johnnycake), watermelon, cantaloupe, pineapple, and the regular assortment of milk, juices, and coffee, it was another day in paradise.
A half hour bus ride away, the world looked less fantastic. Today we shifted to a different batey community, Batey Las Jaguas. We again broke into two groups and set to work mixing enormous quantities of concrete. The task was to provide cement floors to two families who lived in homes constructed of spare boards for walls, corrugated tin for roofs, and the bare earth below their feet. One floor was for the matriarch of the community, and it consisted of two rooms, one about 8' x 15' and the other maybe 7' x 9'. The second floor was being poured for a 8' x 10' room that was separated from the rest of the home by rickety walls and a bed sheet. Our local friends from the previous two days' work moved with us to this new batey to do the jobs that required the most skill while also guiding us through our various tasks. The work was difficult, the heat rose steadily toward the early afternoon, and we left for lunch feeling physically exhausted.
The second shift—more concrete, more floor to cover to finish the two projects—involved the same taxing labor, but the constant presence of smiling young kids brought an entirely different feel to the worksite. Samantha very quickly got a few boys and girls to fall in love with her, and Zakkai happy loaned his baseball cap and sunglasses to a boy we named "Señor Tranquilo," which roughly translates to "Mr. Cool."
Later, Liam and Jayden were hoisting kids on their shoulders and offering "horse rides" to whoever asked. Meanwhile, others were playing tag and goofing around with these children of the bateyes. And still, despite the lure of dropping everything and just playing with kids, both jobs got done ahead of schedule. Our afternoon finished with the matriarch and other community leaders thanking us for our work with prayers, words of gratitude, juice, sweetened coffee, and cookies. We left just as the heavens opened up, bringing the southern part of the island much needed rain.
We drove back to ASCALA through the deluge, eager for showers, dinner, and more games of UNO. As a special bonus, Daniel Reyes, who knew several of our students from his days working at Brimmer and May, joined us for dinner and shared his gratitude to us coming down to his country to provide support for the people of the Dominican Republic, especially those who are stuck in political, economic, and social limbo in the bateyes.And now a chance to hear from the boys on the trip.
Each quote below comes from their journals:
"We drove past a field where sugar cane extended as far as the clouds. Half of this enormous field seemed to be plowed and…I looked around the area to see if I could see any of the plows. I waited and waited until I realized that none were coming. That's when a rustling noise inched closer to us. Out popped a head [of a cane cutter] and then it hit me: these fields were plowed by people. I thought about it all day, during dinner, while I was showering, even when I was on my phone. I am now going to bed with a heavy heart and hope that what I'm doing impacts this impoverished community for the better."
"We watched a documentary about a priest who worked under life-threatening conditions [to help the laborers in the sugar industry.] There were guns and riots around him. He was a very inspiring man, and he inspired me to really try and help these people. I am not sure how I can help besides what we are doing here, but I will explore options."
"I saw Kelvin [who I worked with yesterday and who was leading my crew today], and he was very happy to see me and gave me a high five. That felt really good to make a connection like that with him. [Later] I practiced my Spanish with Kelvin by asking him questions about the work."
"The evening activity was very eye-opening. It's really hard to comprehend the difference in realities between [being born in] the U.S. and the D.R." —Amir "The sun was roasting us like a barbecue. I shoveled dirt and pushed wheelbarrows as well as tied metal rods together to construct a house….The wheelbarrow work took a lot of hard work and concentration. It felt good to use my body to create something….It felt refreshing and rewarding to work for a bigger cause and give to the community." —Leo
Day Two: Batey Las Juegas
Our primary goal today was to finish the work we began yesterday. We were bumping our way through the center of Consuelo by 8:10 in the morning, focused on achieving the goal Fofo set for us: finish the floor before lunch, and a surprise will come our way.
Our crew of 14 kids, two Brimmer chaperones, and two Rustic Pathways leaders pulled into Batey Las Juegas eager to earn Fofo's prize. We immediately set to work making the biggest batch of concrete we had mixed yet, and then established a remarkably smooth operating bucket brigade which sent pail after pail of thick grey ooze into the house while also shuttling empty pails back to the cement bog we created.
In short order, it was time to mix an even bigger batch. Over the last four days, our kids have learned that mixing concrete--especially in batches that include 15 or more wheelbarrows full of sand—is not a job for the weak or lazy. Constantly shoveling, stirring, blending, and overturning the muck while bringing more water or more sand to the mix to get just the right consistency leads to aches, pains, sweat stains, and blisters, but our crew got amazingly good at this in just four days. Our last batch included 19 wheelbarrows of sand, six bags of concrete mix, and something like 30 gallons of water, and our kids had it all ready for pouring in about fifteen minutes. We started another bucket brigade, this time with little kids from the batey jumping in line with us, and in no time at all, the floor was finished.
Before leaving, many of the Brimmer students got another chance to play with the boys and girls of Batey Las Juegas. Señor Tranquilo, Erica, and the rest of the urchins got piggyback rides, played thumb wars, had foot races, and generally fooled around with the big kids from the United States.
At lunch, Fofo shared with us his surprise: having accomplished everything that Rustic Pathways had planned for us, we were given the afternoon off, and an unexpected trip to the beach awaited us. While some of our kids were happy just to lounge under palm trees within range of reliable wifi and plates of hot french fries, others spent plenty of time in the warm Caribbean surf.
Just as an afternoon rain shower began to fall, we boarded our bus to head back for dinner. Fofo and Laura led our group in a thoughtful reflection of our time in the bateyes, and the students were wonderfully reflective and introspective when looking back on the last four days. Here, for the last time, are some excerpts from their journals:
"The best part was that the little kids joined in as well. That gave me a whole new perspective because it really brought the word 'community' to a whole new light for me."—Behare"[In our] 'fireman's line' we had many struggles that ranged from dropped buckets to bruised fingers…but the crew and I got it together to form the most brilliant 'fireman's line' I've ever seen….Nobody predicted we could accomplish so much in so short an amount of time….This has been a great experience for me, and I do hope to come back again in the near future."
"It was amazing to work with [the batey community members] and see everybody helping out. They have it so much harder than us, yet they're still gracious in giving to us."
"It was so hard to leave the community which had given so much to me, not in physical objects but in other ways. They showed me so much kindness and support, and I could not help feeling happy when I was there….Despite me coming to the Dominican Republic to do community service for others, I also feel like I was a recipient of community service myself. Despite having almost nothing, the families living in that community gave something back to me which I will cherish forever. They broadened my perspective of the world, and they showed me how to be happy no matter what circumstance I am in."
"[Tomorrow] we are going to the catamaran. This made me sad and happy. Sad, because I will not get to see people from the batey again, but happy because the catamaran tour sounds very cool….I learned so much on this trip so far. I should be more grateful and happy for what I have, regardless of if it is things or qualities. Also that giving back is very important."
"Looking back on the last few days…I realized how much work we did and how much we helped. We were able to help 4 families in 4 days, and I think that's amazing. I had a great time doing the work even though I was tired." —Liam"After this trip, I'll keep in mind that whenever I have opportunities to, I'll support communities, whether they're anything like this one or not, by doing community service because it is truly rewarding."
"I think the most important purpose [of service learning] isn't helping the local community, but to help us…know about a different reality that exists, and make us remember this reality. So in the future, when we have the ability, we will still remember…and do more to support the people who are struggling."
The Final Days in The Dominican Republic
After one week of service in the Batey community of the Dominican Republic, our Winterim Group in the Dominican Republic enjoyed a catamaran ride to Isla Saona where they learned about the sea turtle conservation project and then enjoyed snorkeling at what seemed the edge of paradise. They spent their final day of the program touring the historical district of Santo Domingo!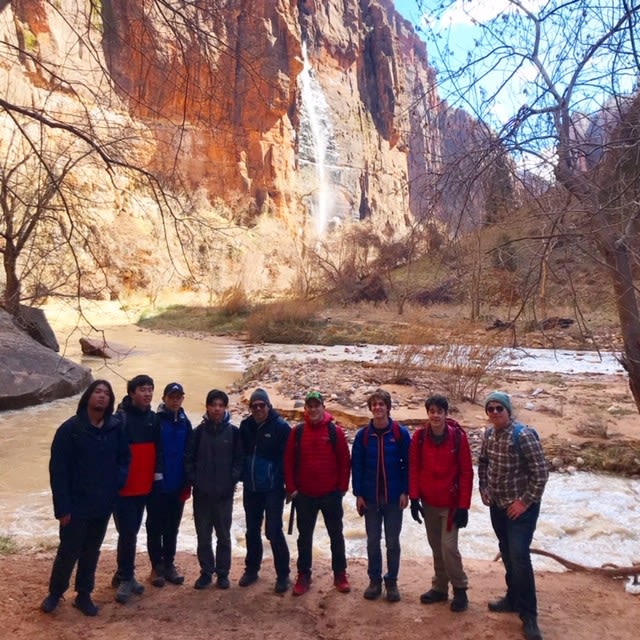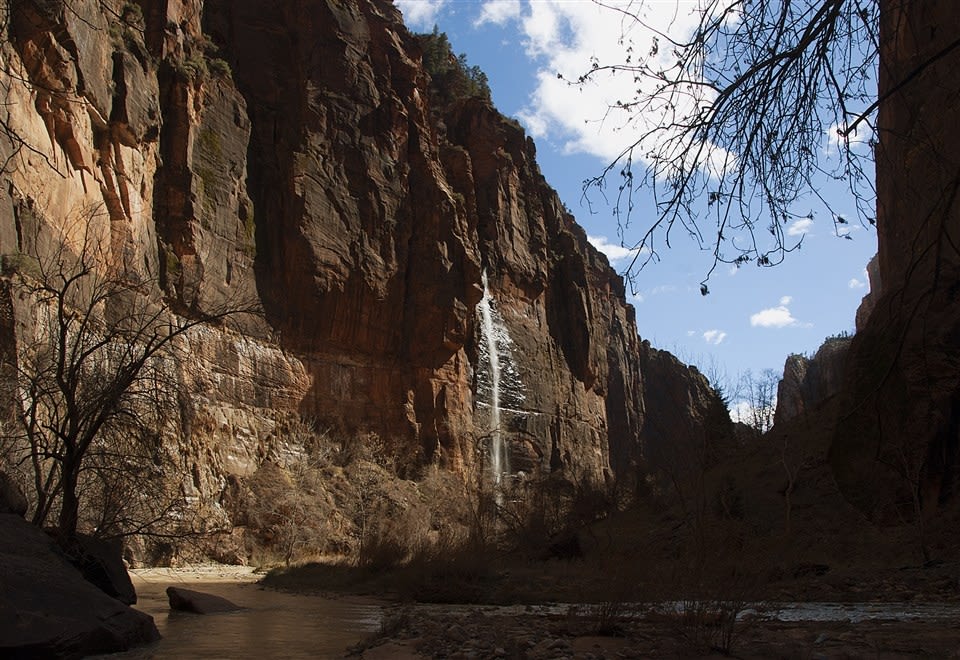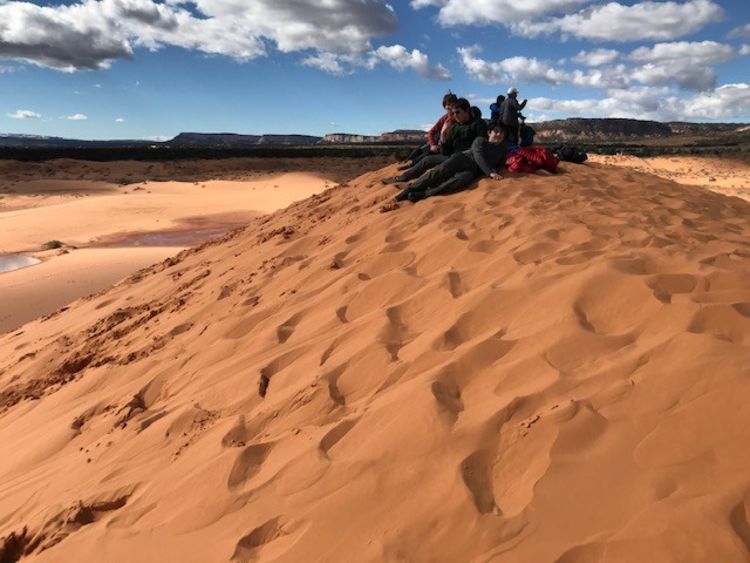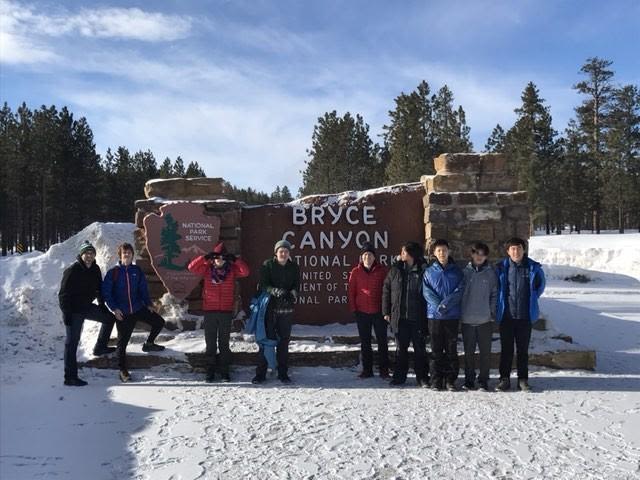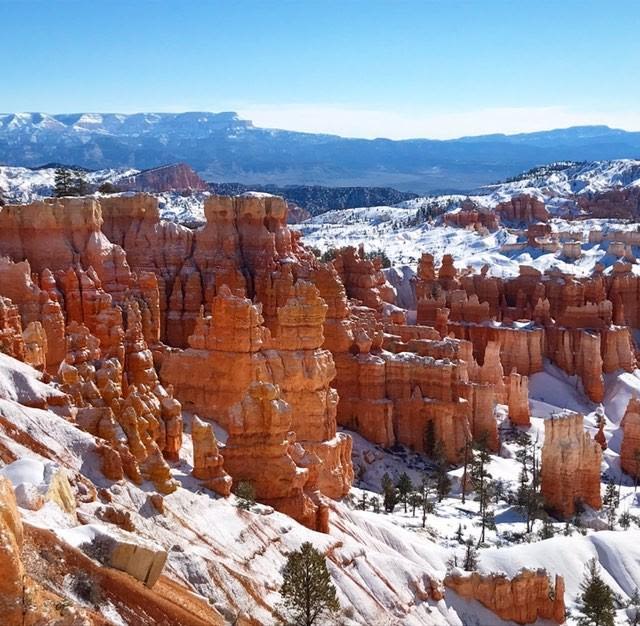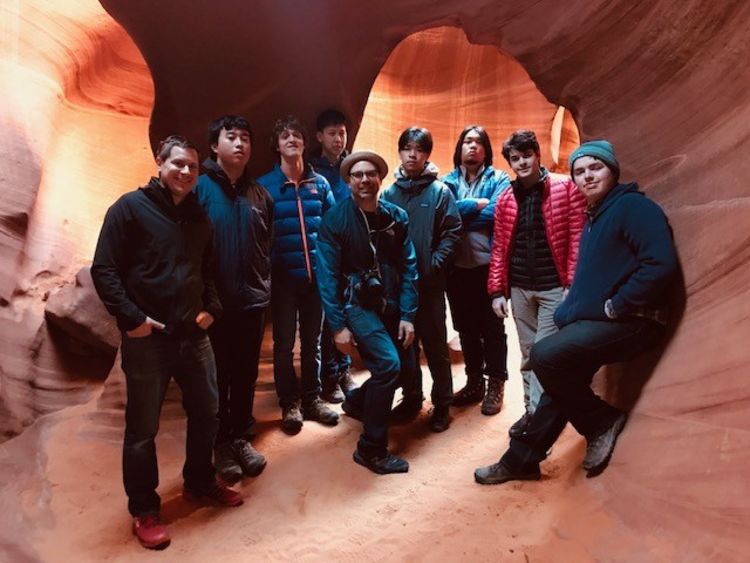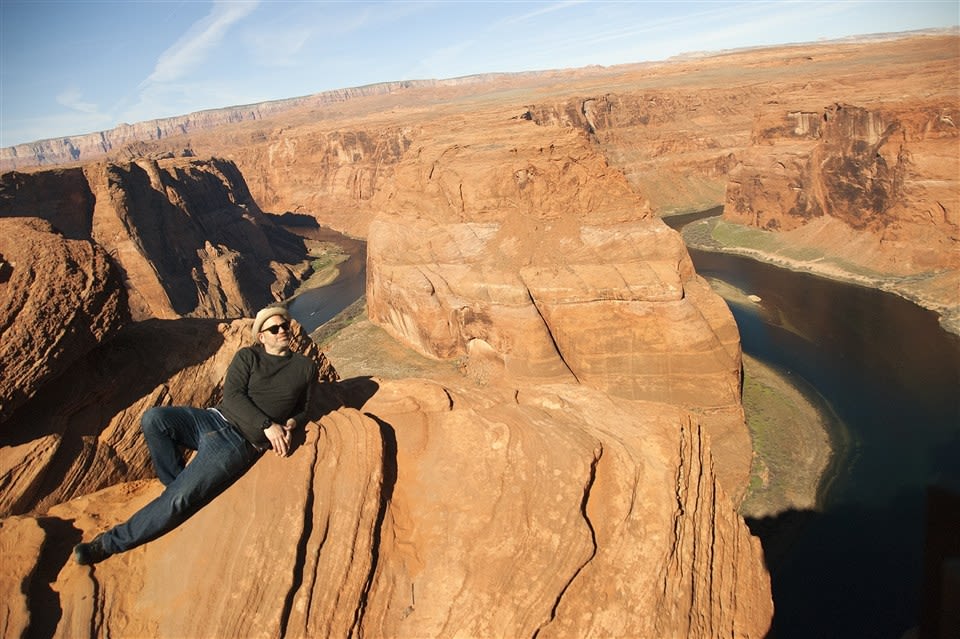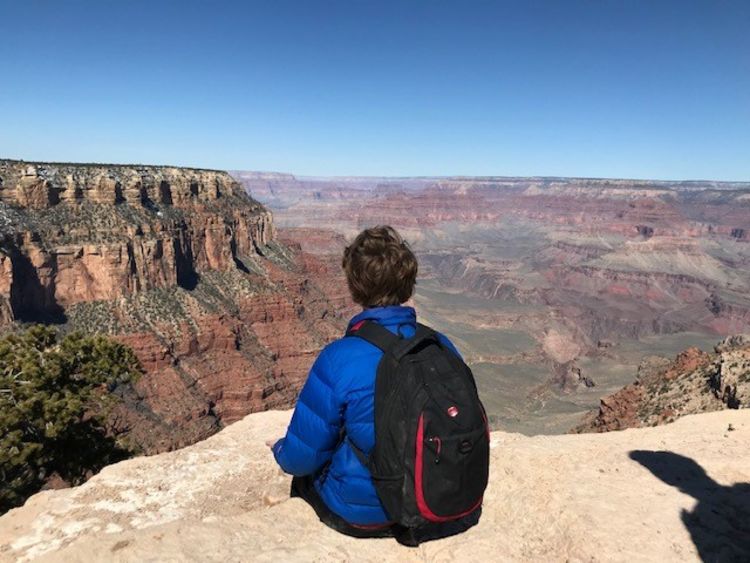 AMERICAN SOUTHWEST
Students explored the Grand Canyon and other national sites in the midwest. Chaperone Brian Beale blogged about the trip, which The Gator includes below with photos, courtesy of the group.
Vegas to Zion to Bryce Canyon
We had a great first day on the road. We went for a short hike this morning in Valley of Fire State Park, which is about an hour northeast of Las Vegas. We then drove up to Zion National Park where we spent the afternoon. We just got to our hotel in Bryce Canyon City a little while ago after a long day on the road and in the parks. We will head into Bryce Canyon tomorrow where we will encounter snow and winter weather, which will be a stark contrast from today's lower elevations.
Bryce Canyon to Kodachrome Basin State Park and Coral Pink Sand Dunes
We are writing from Page, Arizona where we are staying for the evening. We woke up to a fresh blanket of snow in Bryce this morning and went for chilly and windy hike along the rim of the canyon. After a short hike and stop at the Visitors' Center, we made our way down to lower elevation for some more comfortable weather. We then went for a beautiful three-mile circuit hike in Kodachrome Basin State Park and finished the day in Coral Pink Sand Dunes State Park. 
After dinner in Kanab Utah, we drove the hour to Page and stopped at the top of the Glen Canyon Dam to understand the history of Lake Powell and the Glenn Canyon Recreation Area. We have an early start tomorrow and will make our way over to Lower Antelope Canyon to explore a bit and will then spend the afternoon doing a service project on the Hopi reservation.
Greetings from Cameron, Arizona
Greetings from Cameron, AZ! We arrived here in Cameron, Arizona a few hours ago after a full day in Northeast Arizona. This morning, we had a wonderful tour of Lower Antelope Canyon and took a short hike out to Horseshoe Bend to see the Colorado River from a pretty incredible vantage point. From the Glenn Canyon area, we drove east a couple of hours to the Hopi Reservation. 
We visited with a wonderful family and learned about traditional Hopi dry farming techniques and Cucina doll carving.  We were also treated to a traditional meal from our hosts and enjoyed learning more about Hopi culture and history. Tomorrow we will get an early start and head west to the Grand Canyon and our last day of hiking on the trip. We plan to spend a full day exploring the South Rim of the canyon and will get to hike a few miles as a group. From the Canyon, we head to Flagstaff for our final stage of the trip.
The Grand Canyon
We arrived in Flagstaff, Arizona an hour ago and just finished an informal pizza dinner here at the hotel. We had a wonderful day exploring the Grand Canyon. We hiked a section of the South Kabab Trail in the morning with a local geologist who lives in the Park and spent the afternoon exploring Grand Canyon Village including the historic lodges and landmarks. 
We had another gorgeous walk along the rim after some free time and then watched the sunset as a group before taking the shuttle back to the parking areas. The guys loved the Canyon and were incredibly impressed with the size and scope of the area. Sunday will be our last full day of the trip.  We will be doing some off-roading with Pink Jeep Tours in the morning followed by some time down time in Sedona in the afternoon.  We will then travel down to Phoenix in the late afternoon and depart in the evening.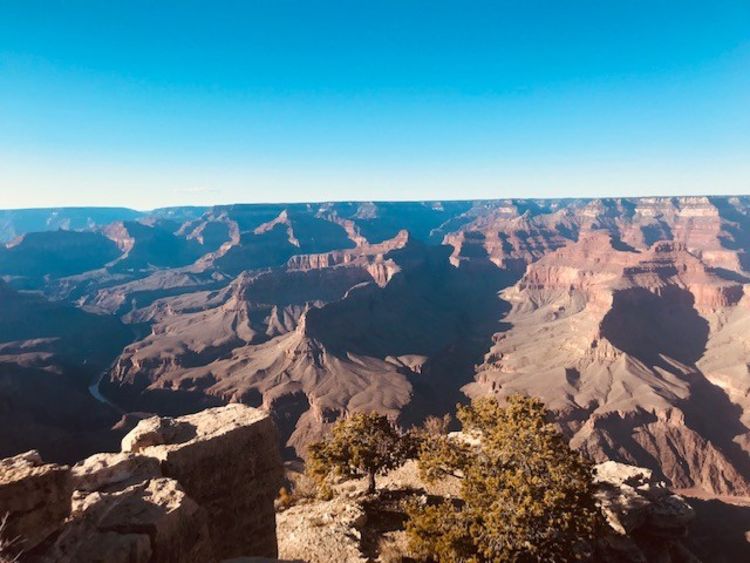 The view from atop of The Grand Canyon
The view from atop of The Grand Canyon
France and Italy
Students pose at the Pont du Gard, an ancient Roman aqueduct that crosses the Gardon River near the town of Vers-Pont-du-Gard in southern France.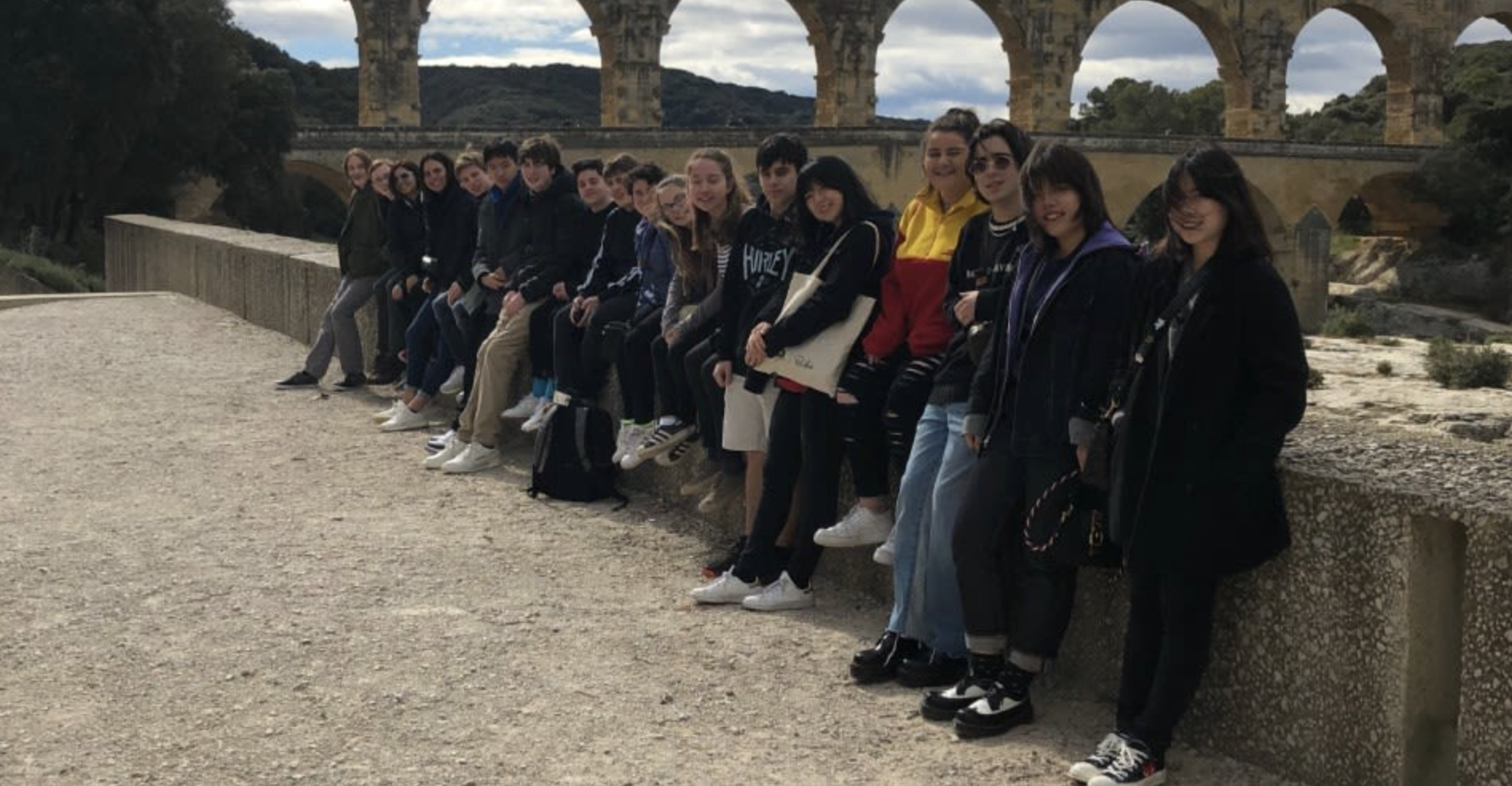 Boston Trip
Kai Wen '22 poses alongside a statue of Samuel Adams, revolutionary leader of the Sons of Liberty, at the Boston Tea Party Museam..
Photos by David Cutler