A Year for the History Books
A new chapter for 2017-2018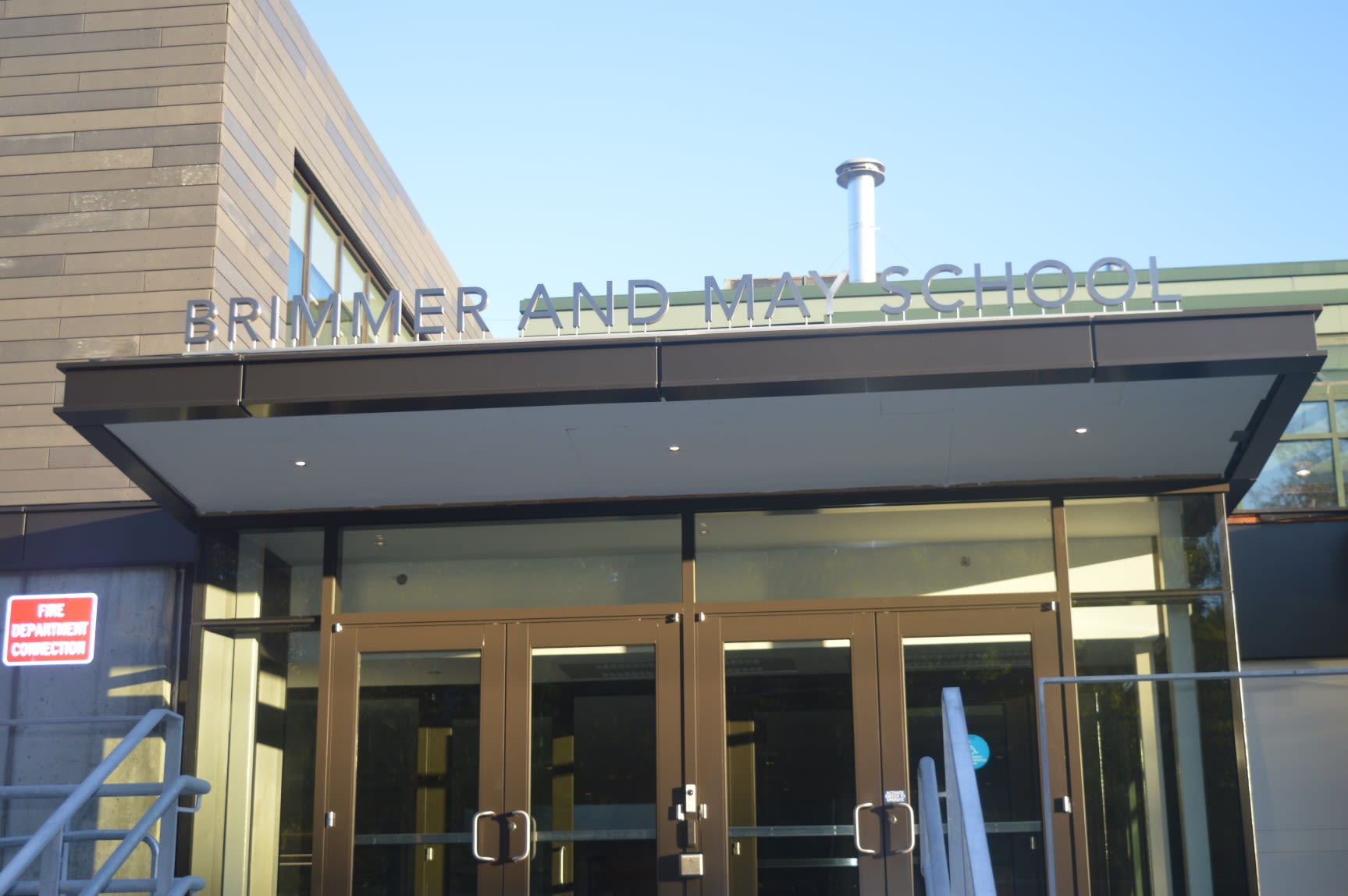 Back in the Habit
With the opening of the Hastings Center just around the corner, the first days back were filled with excitement and energy.
The $8.1 million addition features an enlarged dining facility, a new college counseling office, STEAM Lab, Innovation Center, Maker Studio, and Media Lab. 
But students experienced a shortened time at camp before the first full week of classes, following a controversial administrative decision last spring.
Freshman, sophomores and juniors departed Thursday for the normal Friday afternoon return, with just one overnight at Camp Windgate Kirkland in Yarmouth, Massachusetts. Seniors departed a day earlier, as per usual, but still returned to campus with the rest of the grades. Typically, the graduating class experiences three nights away.
Even with less time at camp, students assumed more leadership roles by coordinating various activities, including Brimmer Go, a play on Pokémon Go in which teams searched for teachers around the property to complete challenges and earn points.
Students also orchestrated the annual water balloon toss, won by Michael Donahue '19 and Justin Ewing '19. For an evening activity, Geo Echebiri '18 and Michelle Levinger '19 called out items students hopefully had gathered from their lodges to earn points toward bags of candy.
"We had great participation, even from students who don't typically assume leadership roles," says Echebiri, who lead the camp organization. "I feel fine about camp being shortened, especially since students had more flexibility with their free time."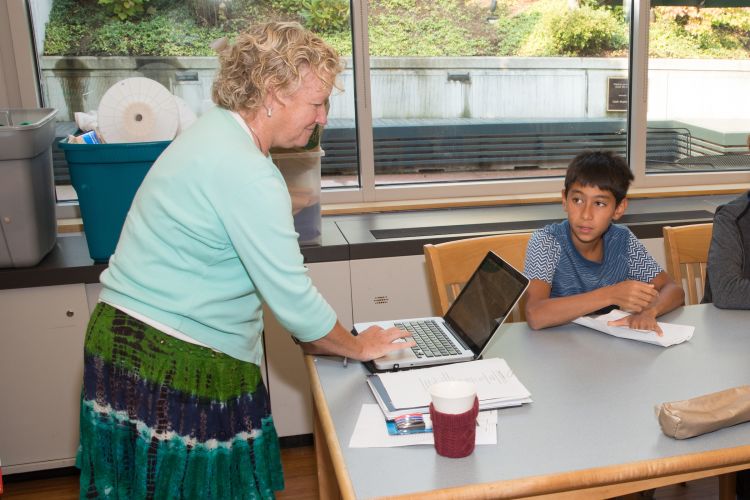 Nancy Bradley teaches Middle School math. Photo by David Barron.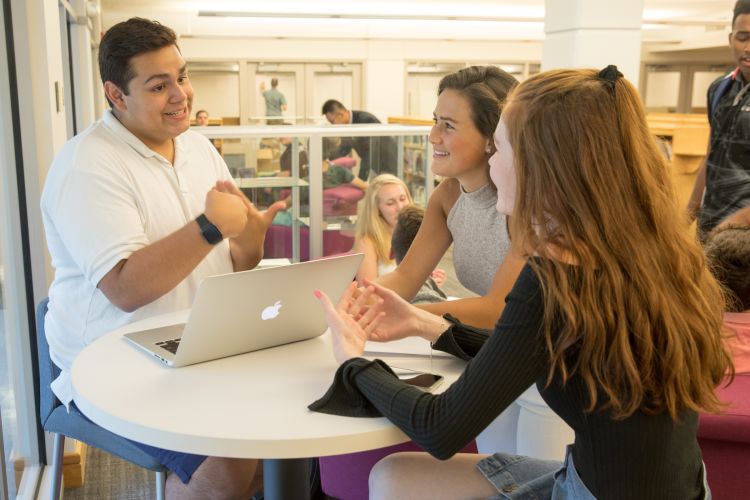 Students enjoy the new learning commons. Photo by David Barron.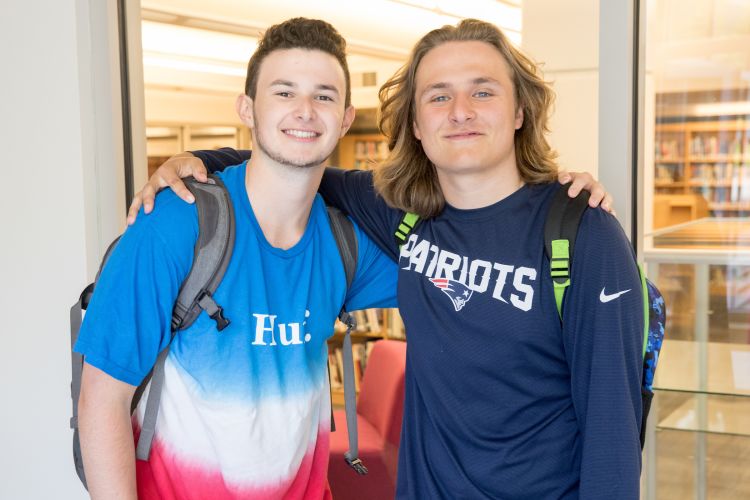 Seniors Jack Donnelly and Dylan Rigol ready for their first day. Photo by David Barron.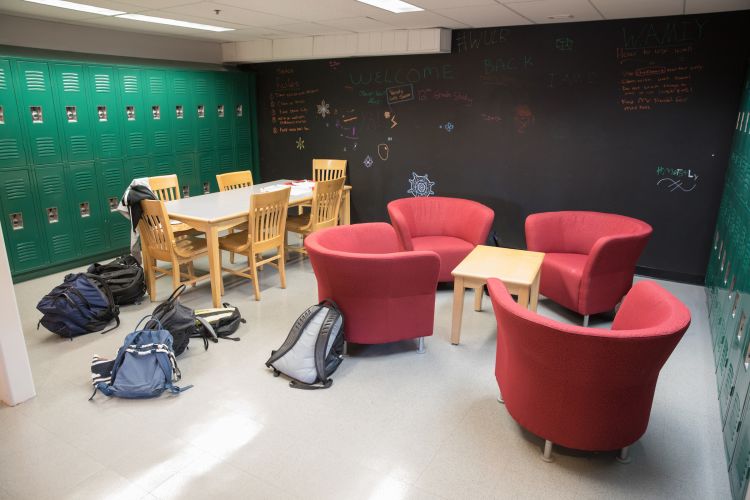 Seniors get their first look at their new hangout space. Photo by David Barron.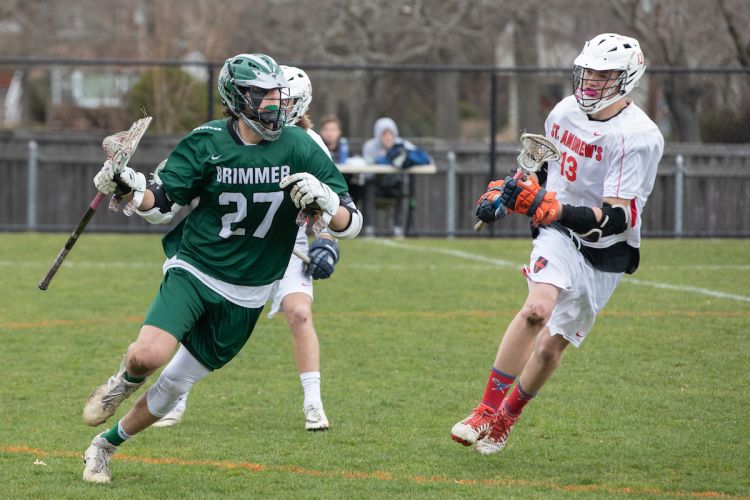 Jared Heller '18 taking on a defender. Photo by David Barron.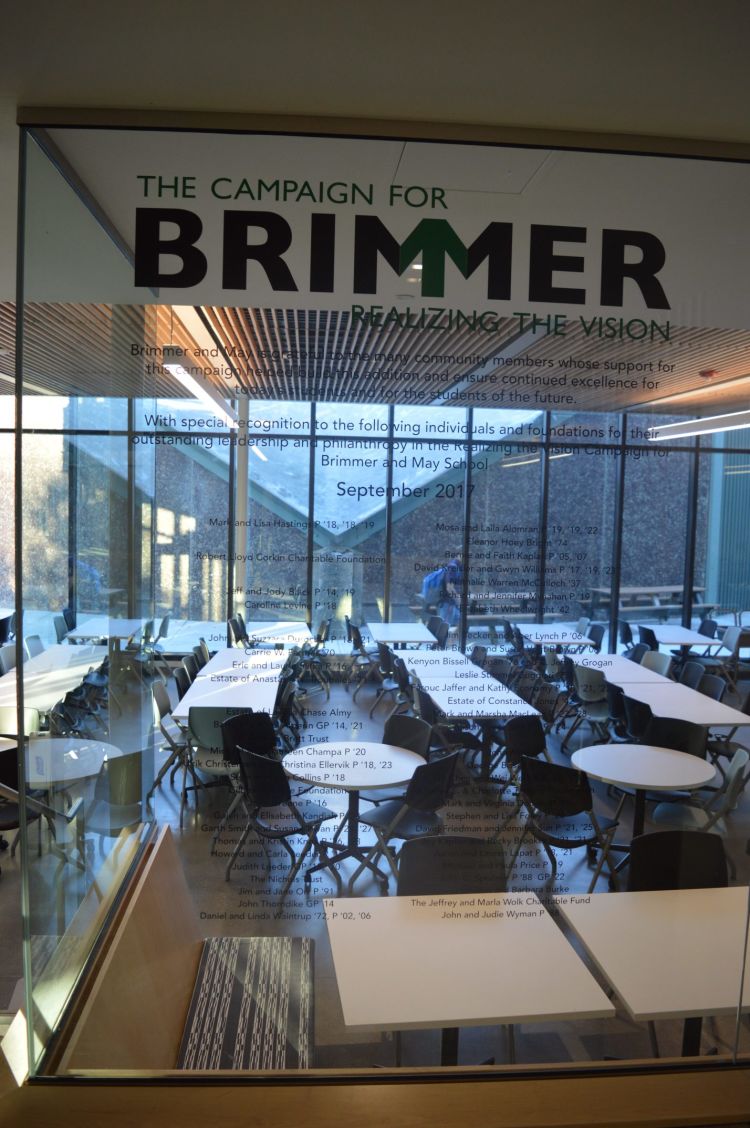 Donor wall by the new dining commons. Photo by Caroline Ellervik '18.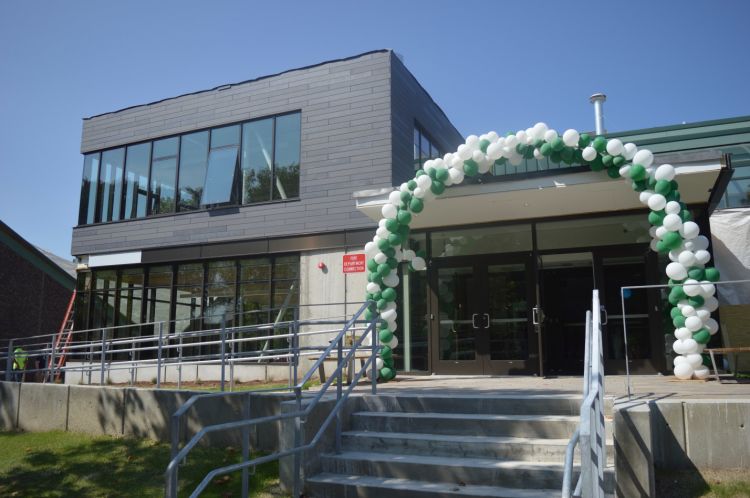 The Hastings Center. Photo by Caroline Ellervik '18.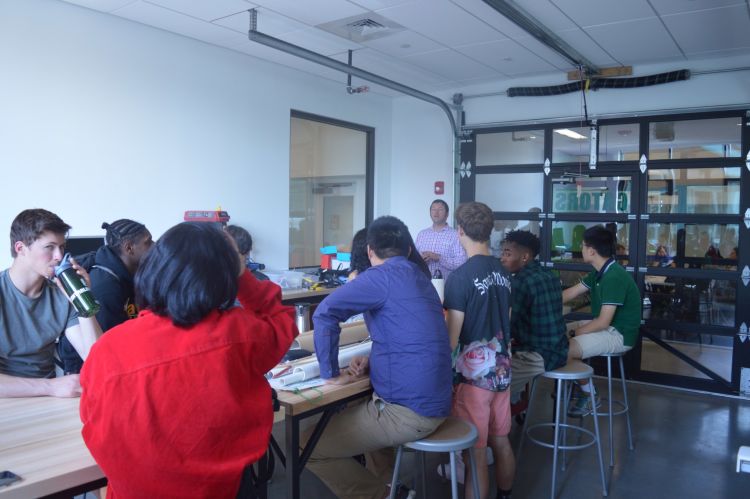 The new STEAM Lab. Photo by Caroline Ellervik '18.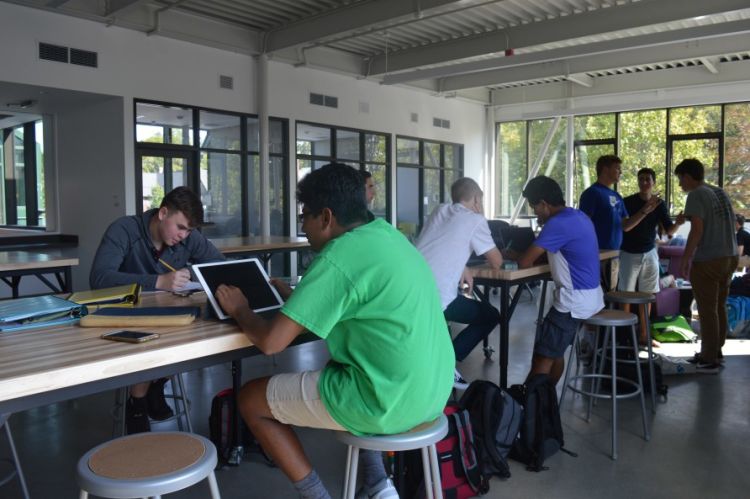 Students in the Innovation Space. Photo by Caroline Ellervik '18.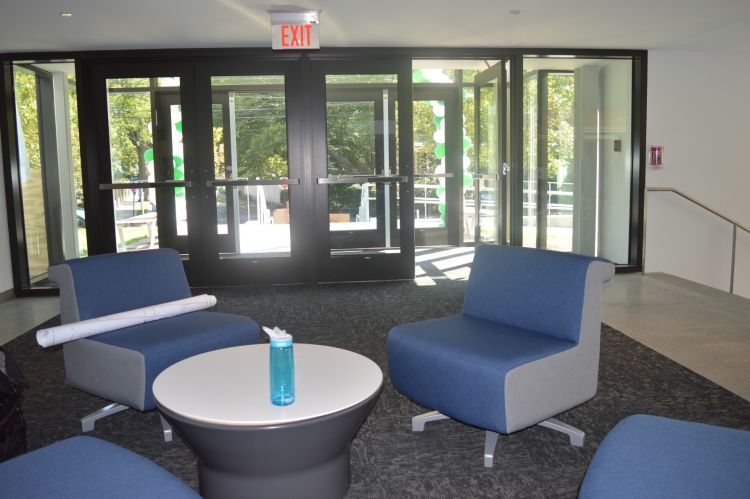 The new reception area. Photo by Caroline Ellervik '18.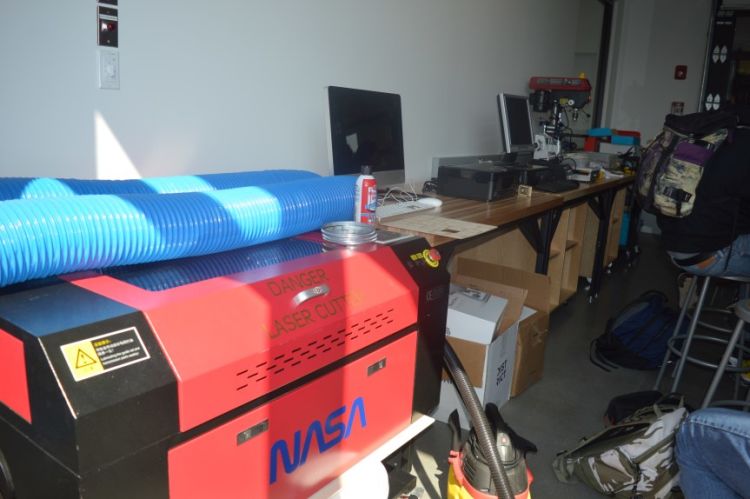 The new Steam Lab. Photo by Caroline Ellervik '18.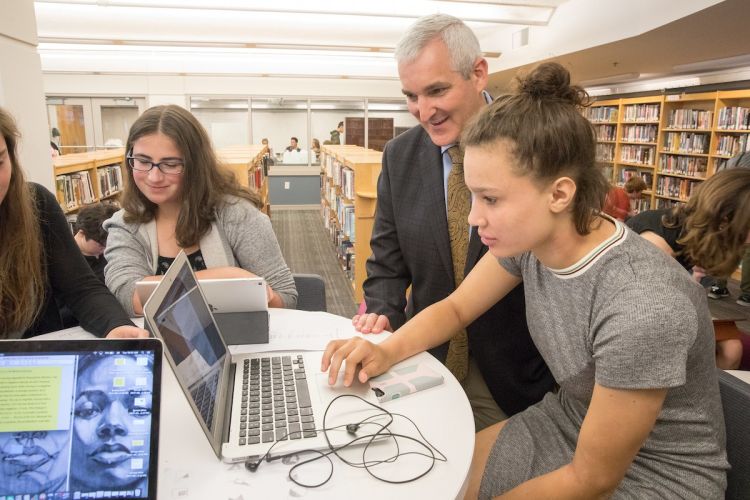 Upper School Head Joshua Neudel works with students in the Writing Center. Photo by David Barron.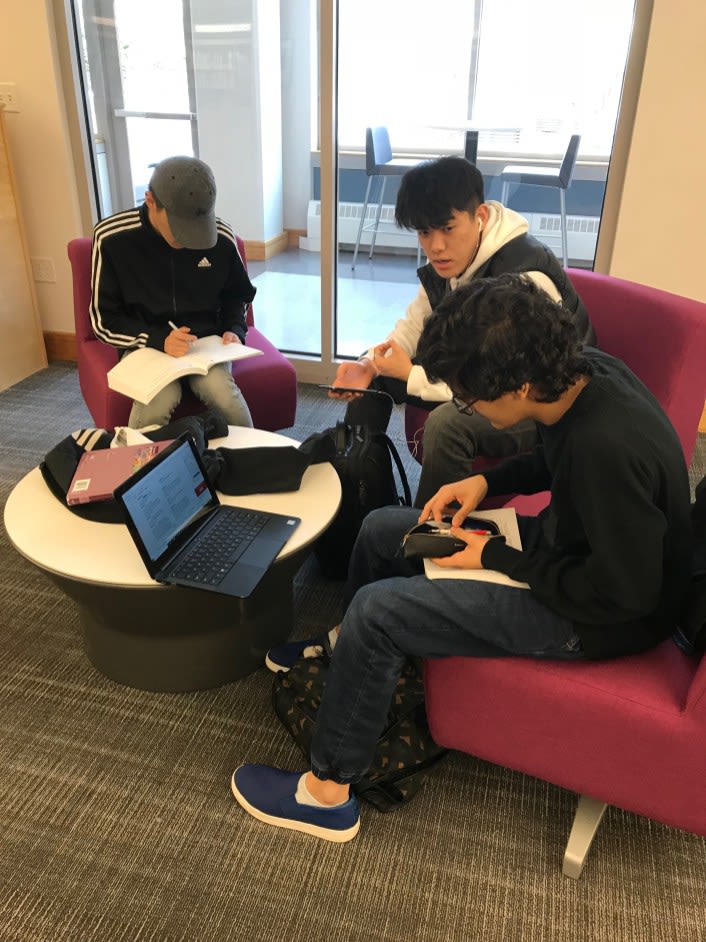 Juniors work in the new Learning Commons. Photo by Caroline Ellervik '18.
Hastings Center Officially Opens
The community gathered on the field before first period Oct. 2 to celebrate the official opening of the Hastings Center, which was marked by a ribbon cutting ceremony. 
"The Hastings Center represents the start of a new era for Brimmer," Head of School Judith Guild said, kicking off the event.  "It will result in the fulfillment of the strategic priorities for 2013 and beyond. . . and keep innovation at the forefront of a Brimmer and May education—now and into the future." 
Board of Trustees Chairman David Kreisler also spoke, thanking the Campaign Steering Committee and the Board of Trustees.
"We knew that we had to do something ambitious and bold for the School, and now I think we've come to the position where we've actually accomplished that," Kreisler said, before also acknowledging last year's graduating class. "They were a group that had to live the construction without getting to live through the benefit of the building, but they are were really focused on knowing that this was the best thing for the School."
With over 150 gifts from April 13 to May 31, Brimmer raised $400,0000 to unlock a matching donation from the Hastings family, whose three children attend the School.
For its first editorial of the academic year, Saying Thanks for The Hastings Center, the newsroom offered much deserved praise.
Brimmer has cemented itself as a top independent school that cares deeply for student-centered learning and innovation. The possibilities that this new space provides are endless. We expect that the highly popular STEAM diploma program will continue to grow, as teachers in other departments think of creative ways to also make effective use of the space.
The Gator reported how teachers across disciplines planned to make effective use of the Learning Space, which initially came with some growing pains. Some students were using the room to engage in non-academic behavior during free blocks, according to a Dec. 7, 2017 article, Adjusting to Free Time in Innovation Space.
Still, students adjusted to new space while also making wise and creative use of the STEAM and Media Labs, the latter of which, coupled with 20 new and fully-loaded McBook Pro's, also allowed The Gator to launch its broadcast program.
In the fall, the School also unveiled a centralized location for students to receive academic support, and it's getting positive reviews from just about everyone
In the past, Upper School academic support services occurred in different locations around campus, causing confusion. To address this concern, the Math Lab and the Writing Center are now centrally located in the new learning commons.
Just over two months into the school year, Head Librarian Megan Dolan, who oversees use of the new space, noticed positive changes.
"Last year, when the Writing Center was stationed in the corner room of the library, and when the Math Lab was set up in different locations around campus, it was understandably confusing for students," said Dolan. "It was also intimidating for some to enter a small space to seek help from someone they don't know as well. Now that support is out in the open, students seem to be more open to the idea of receiving extra help when they feel the need for it. "
Fall Sports Firsts
For the first time in School history, the four-time Massachusetts Bay Independent League champion cross country team hosted a home meet at Larz Anderson Park last Wednesday. 
After several years of searching for a venue, Head Coach Ted Barker-Hook located a course that could manage over 100 runners.
"Larz Anderson Park was the answer, as it had enough space for the entire league, and, as a bonus, it is a well-known varsity course in the Boston area," Barker-Hook said. "For Brimmer and May runners hoping to compete at the next level, getting a chance to have times to compare to public school runners from the area is invaluable in the college recruiting and application process."
Athletics Director Jeff Gates said that Barker-Hook did a "fantastic job" of organizing the event, and that he received positive responses from all of the competing teams. 
"We hope to be able to host again next year, maybe even twice," Gates said.
Continuing his season-long dominance, in a field of 128 runners, Co-Captain Connor Reif '19 won the individual title in the Massachusetts Independent League (MBIL) Championship.
His time of 17:56 easily bested the second place finisher by 35 seconds, and he became only the second runner in league history to go under 18:00 on Chapel Hill-Chauncy Hall's challenging course.
On Friday, Oct. 13, for the first time in three seasons, the field hockey team competed in an official match up against Montrose. 
The Gators let in just two goals in the first half, before experiencing a more challenging run after the huddle. Still, the loss didn't prevent players from enjoying the competition.
"It was my first field hockey game ever," says Co-Captain Emily Onderdonk '18. "It was definitely something new, but it was also really exciting. I just picked up the sport last year, I really love it, and I'm glad that the program is taking off."
Though neither varsity soccer teams won Massachusetts Bay Independent League (MBIL) championships this season, the boys and girls teams earned coveted Class D NEPSAC bids.
In the spring of 2017, Shani Breiman '18 committed to Connecticut College to play for the women's soccer team.
In addition to varsity soccer, Breiman also played for the  FC Boston Scorpions, an elite club team, year-round.
She has earned numerous awards for her athletic achievements, including outstanding athlete, scholar-athlete, three-time most valuable player, three-time all-league player, and three-time all-league all-star.
For three consecutive years, The Boston Globe has also awarded her all-league all-star status.
At the end of her final soccer season here, Breiman was recognized for the 149 goals she scored as a Gator—the most in School history.
"I am so blessed to have been supported by my family and club coaches, as they have developed me into the player I am. I am so excited to continue playing soccer at Connecticut College where I feel I can excel both academically and on the soccer field," said Breiman.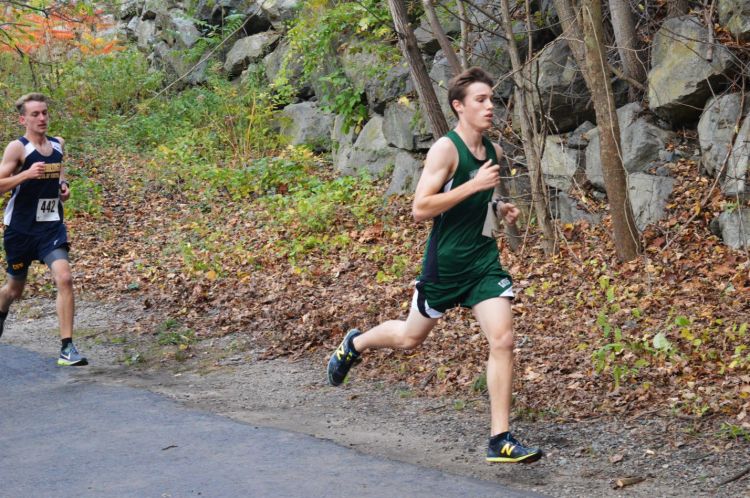 Connor Reif '19 picks up the pace, passing runners to take the lead. Photo by David Cutler '02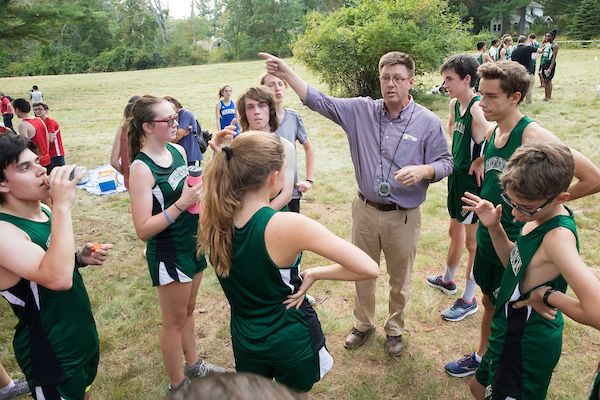 Head Coach Ted Barker-Hook talks strategy. Photo by David Barron.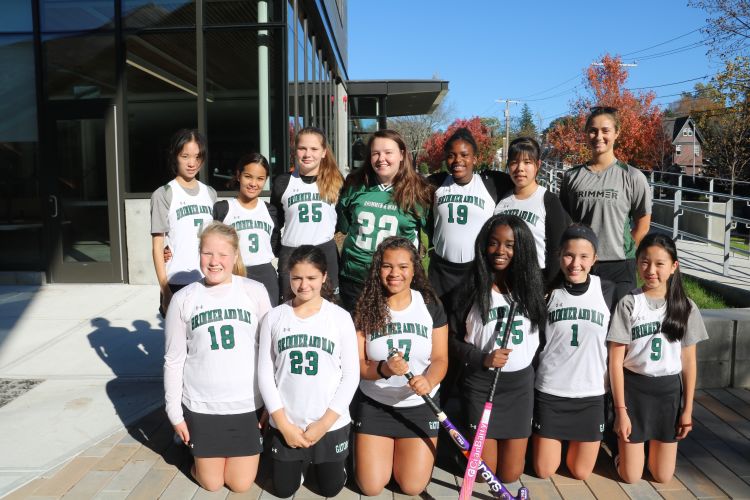 Field hockey team. Gator file photo.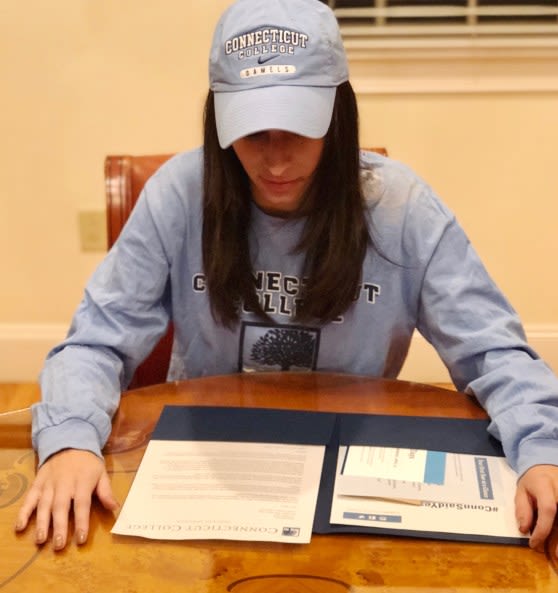 Shani Breiman' 18 gets ready to sign her letter of intent. Photo courtesy of Tal Breiman '21.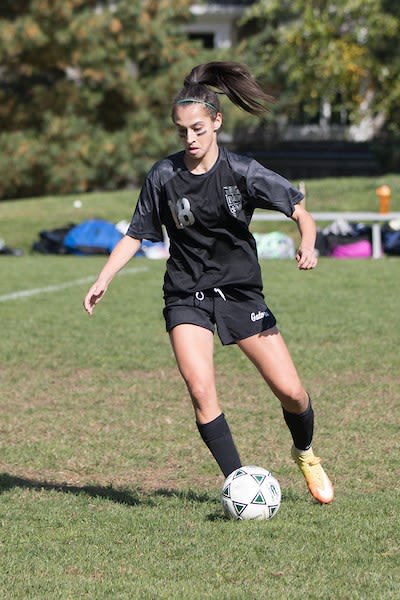 Shani Breiman '18 in action. Photo by David Barron.
Alice in Wonderland
The fall play took audiences down the rabbit hole
Directed by Bill Jacob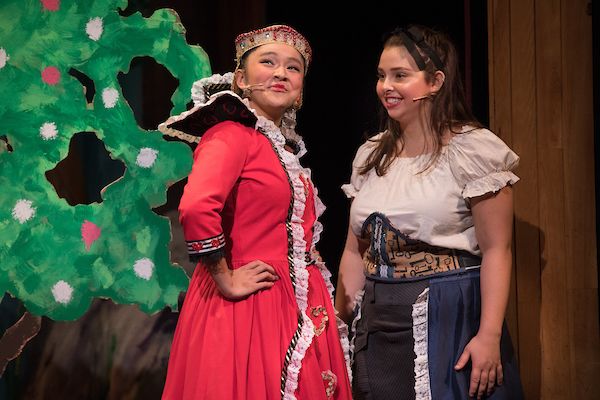 Alice in Wonderland. Photo by David Barron.
Alice in Wonderland. Photo by David Barron.
Tackling Fake News
In January, revered Boston-based journalist Emily Rooney kicked off the 14th Annual Bissell Grogan Humanities Symposium, titled, "The Future and Function of News," speaking in front of a packed theater.
"As you all know, you can't turn on your radio, your television, or look at a newspaper and hear the term 'fake news,'" Rooney said, explaining that the term has been popularized by President Donald Trump.
The celebrated   Beast the Press host also touched upon Trump's promise to release "fake news awards," and she predicted that CNN would come in first place.
Rooney also spoke about the harm caused by fake news about Barrack Obama's place of birth, 9/11 being an inside job, and "the hideous lies and rumors that the Newtown, Connecticut shooting that killed 20 kindergarteners and five adults was staged."
Rooney called out a debunked conspiracy, spread by social media and conservative radio hosts, that during the 2016 United States Presidential election cycle, Hillary Clinton ran a pedophile ring out of a pizza parlor in the nation's capital.
"It caught so much traction that somebody actually took a gun and went to that pizza parlor with the intent of finding people who were running that pedophile ring," Rooney said, before offering harsh words for Alex Jones, who operates the controversial site InfoWars.
"He relentlessly spreads these kinds of rumors," Rooney said. "President Trump has quoted him on numerous occasions."
Rooney said that she does not believe Trump's denials about his use of profanity to describe certain African nations.
"He's calling CNN and other news organization fake for saying that he said that," Rooney said. "There were ear witnesses to that, and the news media has pretty well vetted that. He can say it's not true, but there is a big difference between something being not true and something being fake."
Arts and Journalism Awards Galore
In January, students had a tremendous showing in the 2018 Boston Globe Scholastic Art Awards, winning 23 awards in various categories.
Also in January, on the eve of the 13th Annual Kenyon Bissell Grogan Humanities Symposium, titled, "The Future and Function of News," The Gator received a coveted 2017 "First Class" distinction from the National Scholastic Press Association (NSPA)—one of the most prestigious award bodies in high school journalism.
This marked the highest honor yet bestowed on the newsroom, under the leadership of Editor-in-Chief Shani Breiman '18.
The Gator has previously earned two "Second Class" ratings from NSPA.
Gator Associate Editor Michael Donahue '19 also received an award today from the  New England Scholastic Press Association. His article,  Community Responds to DACA's Uncertain Fate, was recognized for excellence in localizing regional, national or international news.
"It's a terrific honor to be recognized for the article," Donahue said. "It's an important topic, and I'm glad that it resonated with the judges."
Responding to an appeal from The Gator, in March, the Columbia Scholastic Press Association (CSPA) changed its previous ruling and awarded the online publication a Gold Medal ranking.
According to the CSPA website, "Gold Medalists are given four total scores from 800 to 1,000 points; Silver Medalists, from 600 through 799 points; and Bronze Medalists, 599 points and below."
In November, CSPA had awarded The Gator a Silver Medal with 720 total points, but the publication appealed for a higher score, citing that it was unfairly marked down for not covering football, which the School does not offer.
Greenline performed April 13 at the Heritage Festival in New York City, a national competition that attracts choirs from around North America, taking home home a gold ranking—the highest honor at the event—for the fourth consecutive year.
The Upper School choir earned a median score of 94 out of 100 from three nationally recognized adjudicators, the highest in School history.
Additionally, choir members Zoe Kaplan '21 and Sonya Ewing '20 earned individual recognition.
"I was incredibly proud of Greenline's performance," Choir Director Frank Van Atta said. "Within our division at the festival, we competed with schools that have double or triple the number of students of Brimmer. Despite that, the ensemble pulled together in the hours before our performance and sang beautifully to earn the highest score the School has ever received at the festival."
In April, for the first time, the School hosted the SISAL art awards, showcasing the best artwork from students at small, independent New England schools.  
SISAL, the Small Independent School Art League, sponsors a yearly exhibition and ceremony. 
From the 16 competing schools, 600 pieces of artwork were displayed throughout the Innovation Space and the halls of the Chase Building. Each piece received a name tag and an award of first place, second place, third place, or honorable mention. 
Eleven Middle and Upper School students won awards.
To have received many awards is very validating to the creativity, hard work, commitment, and dedication our students give to their passions and talents. I don't know if this is something we will host again for awhile, probably not for another 10 years or so. Our entire community will now know what it means to be a SISAL award winner. The honor of winning the award will now be in context for the rest of the community.
The Addams Family
The winter musical was a ghoulishly fun time
Directed By Bill Jacob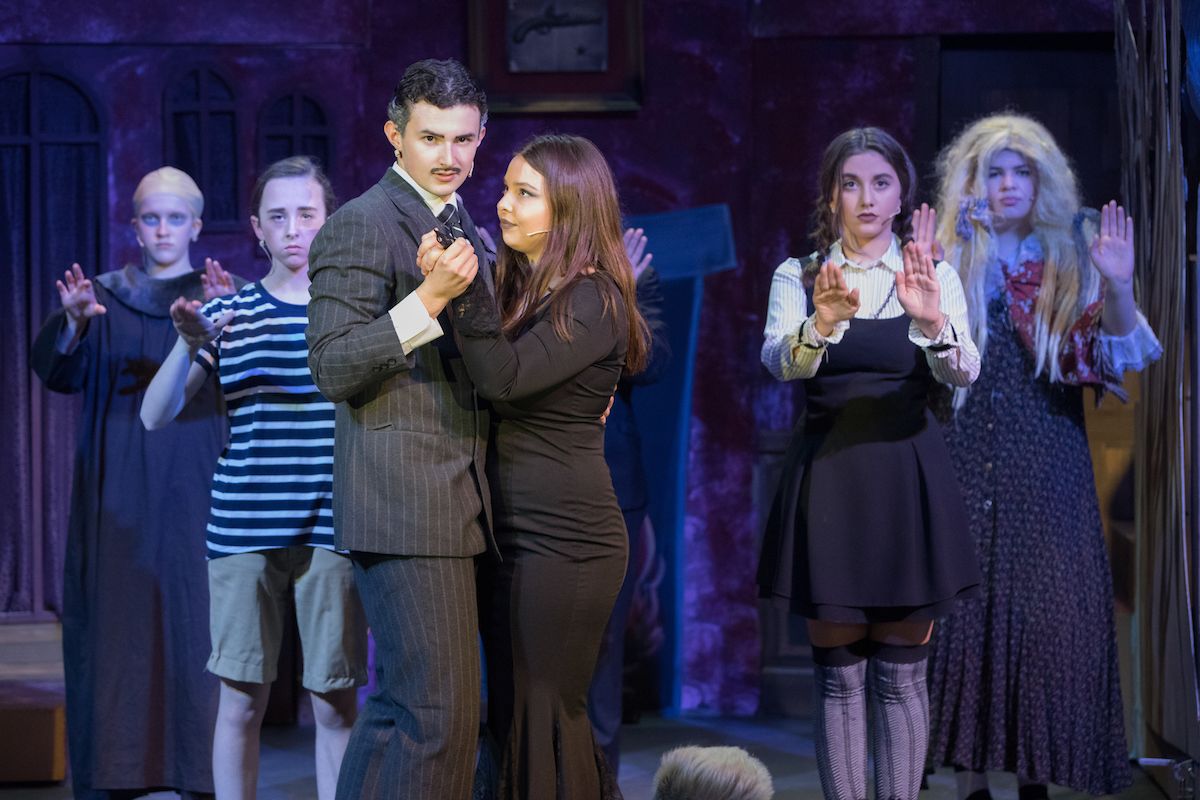 The Addams Family. Photos by David Barron.
The Addams Family. Photos by David Barron.
Racial Concerns Spark Protest 
To peacefully protest racially insensitive behavior and use of derogatory language, approximately 16 students of color and several allies walked out during the Feb. 26 morning assembly.
During the morning meeting, Head of School Judith Guild spoke for approximately 20 minutes about measures to increase school security in response to the recent shooting at Marjory Stoneman Douglas High School in Parkland, Florida, which claimed the lives of 17 people.
Guild also addressed the importance of "leading with kindness," while also referencing the need to avoid insensitive speech. At the conclusion of the talk, student protesters quietly exited the theater.
According to Amy Nwachukwu '18, she and members of an affinity group for students who identify as Black or Latino had expected Head of School Judith Guild to delve deeper into issues of race and ethnicity.
"We felt that she didn't," Nwachukwu said. "This prompted the walk out."
Following morning meeting, concerned members of the community congregated in the Dining Commons for the first two periods of the day. Protesters facilitated a discussion with Guild and members of the administration to address their concerns, also regarding religion, sexuality and socioeconomic status.
After morning classes and break, which proceeded normally, faculty directed Upper School students into the theater for an impromptu assembly. Guild addressed the Upper School, but the gathering focused primarily on allowing a small number of the student protesters to address their peers and share their concerns.
As part of its efforts to help the community heal, April 10, the administration organized a "justice and equity" program.
Director of Diversity Jessica Christian, who organized the event, addressed students about the importance of "moving forward while promoting healthy dialogue."
Afterward, students were separated into eight groups for a discussion-based activity that was facilitated by faculty and staff.
Using sticky-notes, students and teachers silently and anonymously responded to three questions:
What words can you think of to describe any positive changes you've seen since the walk-out?
What, if anything, has prevented you from reporting or acting on an injustice(s) you have witnessed in your time at Brimmer?
What actions can you take/changes you can make in yourself to help the community move forward?
Participants posted their responses on whiteboards and were given the opportunity to silently read and reflect on others' responses. The questions were then discussed aloud in a moderated "debrief" session.
To honor the private nature of the sessions, The Gator did not to quote from or show images of the statements.
In May, The Gator posted a story about the progress that the School has made since the walk-out, and what has changed.
Winter Sports
Basketball and Curling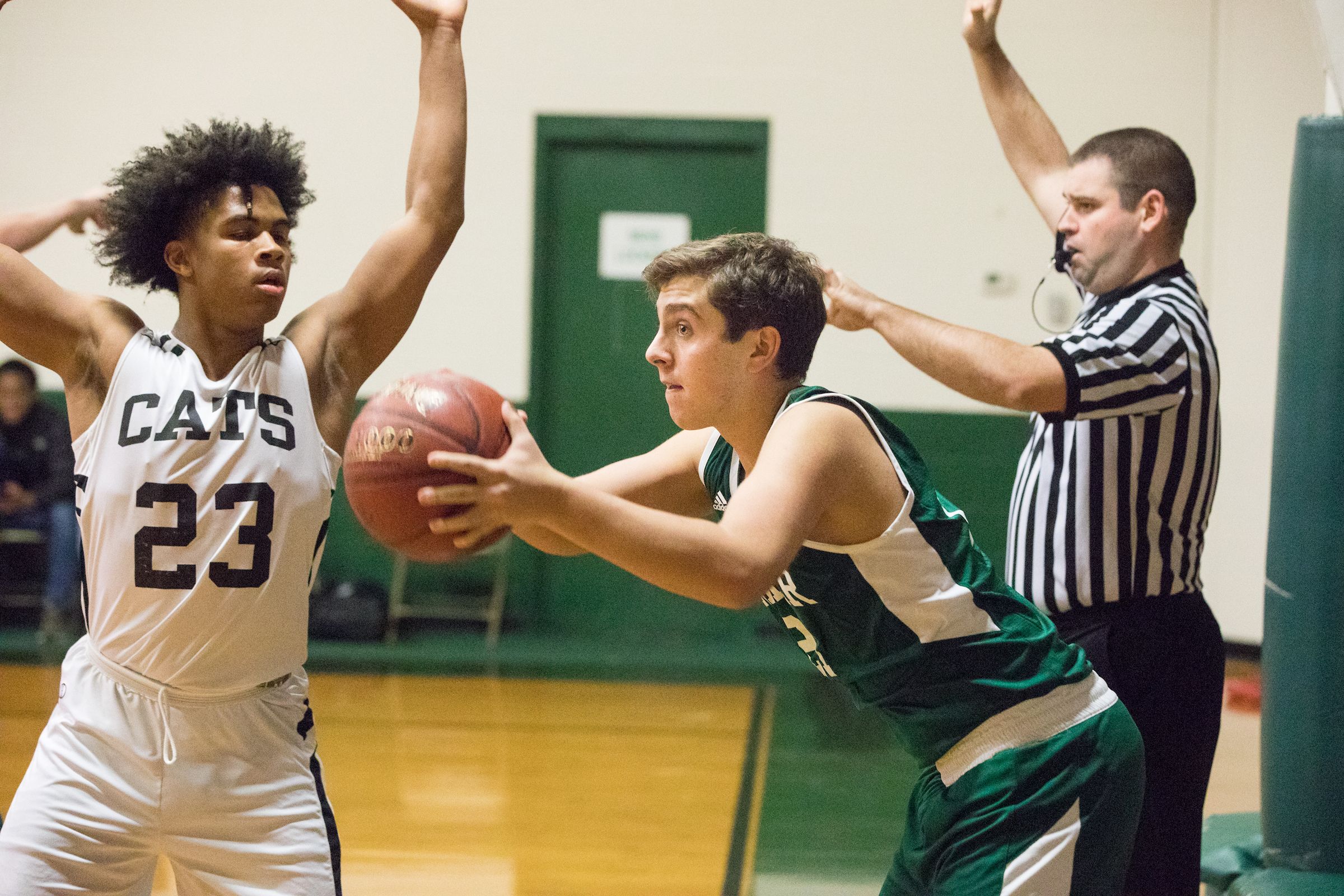 Another Successful Season
In front of the Middle and Upper Schools, Nov. 12, AJ Reeves '18 signed his letter of intent with Providence College to play D-1 basketball as a Friar.
Reeves is ranked as the 42nd best high school player in the nation, as well as the 6th best shooting guard.
"It feels great to be signed with Providence," said Reeves. "I've been working hard all of my life to do this, to go to a D-1 school. I just want thank my parents, Brimmer and May, and Coach Tom Nelson for guiding me to be where I am today. I also want to thank my parents for always being openminded and helping me through this process."
Varsity 1 Basketball Head Coach Tom Nelson spoke highly of Reeves and his accomplishments, noting that the star recruit has worked extremely hard, both on and off the court, to attain his dream of playing in the Big East.
"Because of Brimmer and May, he is prepared to handle Providence College from an academic standpoint," Nelson said, also noting that Reeves is an honor roll student. "He is truly one the better players that I've ever coached, and I've coached some good ones. More than that, he's a better person than he is a basketball player, and that's a lot to say because he's a really good basketball player."
James Yfantopulos '18 also announced his long awaited commitment to play D-1 basketball at Colgate University.
Immediately after transferring to the School as a junior, Yfantopulos made his presence on the court known, scoring 25 points in his first game at the School. Last basketball season, he received a AA NEPSAC Honorable Mention—a prestigious award in one of the most competitive leagues in the country. In addition to basketball, he plays Varsity Baseball, having won MBIL All-League in his first season on the team.
Yfantopulos said, "I am psyched to commit to Colgate University, it has always been my dream to play Division 1 basketball and go to a rigorous academic school. Colgate checks off both categories in that regard."
He feels that the School has challenged him and prepared him well, in regards to both basketball and academics.
"I love Brimmer and can't wait to translate the skills I have learned here to Colgate," he said.
The school also had success on the ice. For the final curling bonspiel, senior Genevieve Collins' team won the D-match against Winsor, 6-3, keeping up the team's winning streak—and earning another banner in the gym.
Walk-Out for 'Radical Compassion'
More than half of the Upper School chose to participate in an April 20, 9:30 a.m. walk-out, which, as event co-organizer Chloe Berlin '20 told those who attended, was aimed to "help perpetuate the shared standard of radical compassion."
Students filed out of classes and down Middlesex Road, nearing the edge of the post office. They stood in silent solidarity for the victims of gun violence for 19-minutes, while Berlin and fellow event co-orgenizer Maya Bousek '19  read speeches (which are available at the end of this article).
High schoolers were accompanied by several teachers and administrators, including Head of School Judith Guild, who stood side-by-side with young people to commemorate the 19th anniversary of the shooting at Columbine High School.
By name, Bousek read aloud schools that have been impacted by gun violence before and after Columbine. She also encouraged students to register to vote, calling it the "best way to honor all of the victims of gun violence."
For her part, Berlin spoke about the reason for the event.
"Our focus was to create an opportunity for participants to think for themselves about the current cultural climate on guns and gun violence."
Local  ABC and  CBS-affiliated television station conducted interviews with Berlin, Stone McLaren '18 and Steven Ramsden '19, who also helped organize the walk-out. Guild and Upper School Head Joshua Neudel were also featured.
Spring Sports Crushes It
Photos By David Barron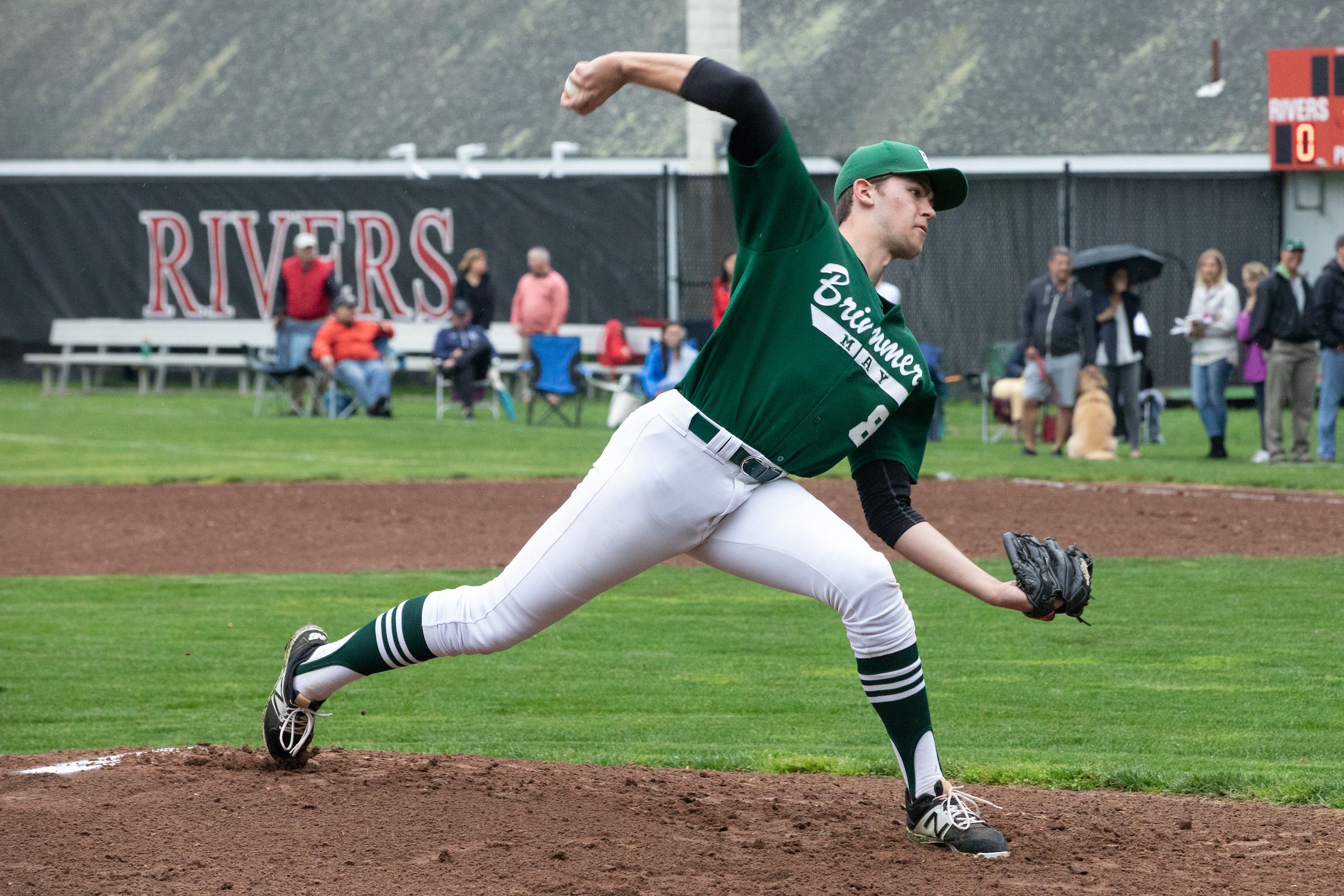 Grant Iuliano '18 throws against out-of-league Rivers. Photo by David Barron.
Grant Iuliano '18 throws against out-of-league Rivers. Photo by David Barron.
V. Girls Tennis Goes Undefeated
Girl's Varsity Tennis rounded out its season with a 5-0 win against Gann Academy on May 17, remaining undefeated and clinching the Independent Girls Conference title.
Both are a first in the team's history.
"I could not be more proud of the team and their well deserved IGC championship and undefeated season. It has been an absolute pleasure coaching these exceptional athletes," said Head Coach Jennifer Miller.
Caroline Champa '20 and Marianne Alagos '22 won their singles match 8-0, while Donna Colombo '19 and Co-Captain Monica Morales '18 finished their final doubles match 8-1.
At number two doubles, Michelle Levinger '19 and Elizabeth Foley '20 won 8-0.
Michelle Levinger '19 attributed much of the team's success to Miller.
"Last year, we had a strong season, but this year, the combination of strong returning group of players and an amazing new coach helped us win a championship," Levinger said.
New to the team, Camille Cherney '20 reflected on the welcoming and cooperative atmosphere.
"We had great team spirit and supported each other during every match. I am thrilled to bring a tennis trophy to the gym," Cherney said.
Already looking forward to next season, Foley said, "I think our hard work really paid off, as our season turned out better than any of us expected. It's great to be undefeated, and I think that this championship win pushes us to challenge ourselves to try and win again next year."
V. Girls Lacrosse Goes Undefeated
Varsity girls lacrosse earned a 17-6 win against Newman May 17, finishing the season with a 9-0 undefeated record and winning an Independent Girls Conference championship.
"It feels great to be the best in the league," Kaitlyn Anderson '20 said. "The team is very excited to be the first Brimmer lacrosse team in history to finish a season undefeated and win a championship."
Facing Newman, Sophia Gomez '19 led with four goals, followed with three apiece by Sophie Lapat '18 and Sade Latinwo '20. Ava Bruening '20 also scored twice, with Molly McHugh '21, Hannah Ahearn '19, Angeline Nur Dervisevic '21, Kaitlyn Anderson '20, and sixth-grader Elle DeLorey each contributing a goal.
Hannah Ahearn '20 reflected on the successful last game of the season, saying, "We worked really hard to make sure every player had opportunities to score. Players were able to try new positions, and had a lot of assists, which was great to see."
On Wednesday, the team defeated Chapel Hill-Chauncey Hall 19-4. The defense, led by Rebecca Calhoun '19, Kaitlyn Anderson '20, and Angeline Nur Dervisevic '21, communicated effectively and slowed down the ball, allowing only 4 goals. Sophia Gomez '19 scored 8 goals.
Rebecca Calhoun '19 said that her first season as a co-captain "exceeded all expectations," and that she is already looking forward to next year.
"Throughout my years on the team, we have certainly grown and improved as players. I am very proud of my team for ending the season on such a high note," Calhoun said.
Lapat, the team's lone senior, enjoyed watching the team's progress this year.
"It was really special to watch the team go undefeated during my senior year," Lapat said. "Scoring three goals was the perfect way to end my Brimmer athletics career."
New to the team, Molly McHugh '21 attributed the successful season to superior teamwork. Angeline Nur Dervisevic '21 also thought that this season was the best one yet, and she is looking forward to next year, too.
"The team worked incredibly hard, and I am very proud of all they have achieved this year," said Head Coach Kayla Graves. "It was a lot of fun to coach them this season, and they should feel very proud about the well-deserved accomplishments."
V. Baseball Wins Back-to-Back Titles
Varsity baseball competed in its sixth consecutive Massachusetts Bay Independent League championship title May 17 at Babson, taking home the hardware for the second straight year.
The win extends a very successful season for the squad, which holds a 9-4 record. Monday, the team has its last game against Rivers, an out-of-league match-up.
"It was a great feeling to win a championship my senior year," Outfielder Matthew Hastings '18 said. "We all dedicated the game to  Safi, so it was that much sweeter. It really capped up a great experience playing baseball at Brimmer, and I hope it gives the younger guys motivation to win again next year."
Hastings, a six-year starter, along with his brother Michael, have been instrumental in helping the program grow under Head Coach Joe Iuliano.
"Michael had a huge two run double that basically sealed the game for us in the fifth inning," said Iuliano. "This allowed us to close out the game and win the championship."
Pitcher Grant Iuliano '18 also threw a one-hit game.
"It was an amazing experience to win the championship for the fourth time in my career," Iuliano said. "I was able win a title with both of my brothers. It was also special to have my dad as our coach, and it was really amazing to be able to accomplish so much with my teammates."
Building off this recent success is going to be of paramount importance, as the group graduates a majority of its starting players.
"It was fun to play with the same players that I have been playing with for last three years and win again," said Gabe Bryan '19. "Next year is going to be a struggle with only one returning starter, and graduating eight seniors."
Heller '18 Breaks Records for Lacrosse
Jared Heller '18 reached a milestone this season in lacrosse, breaking 100 goals and 50 assists in his five years on the team.
"I was really excited to reach the milestone, and I would like to thank all of my teammates who assisted me," Heller said. "It's really a team effort. "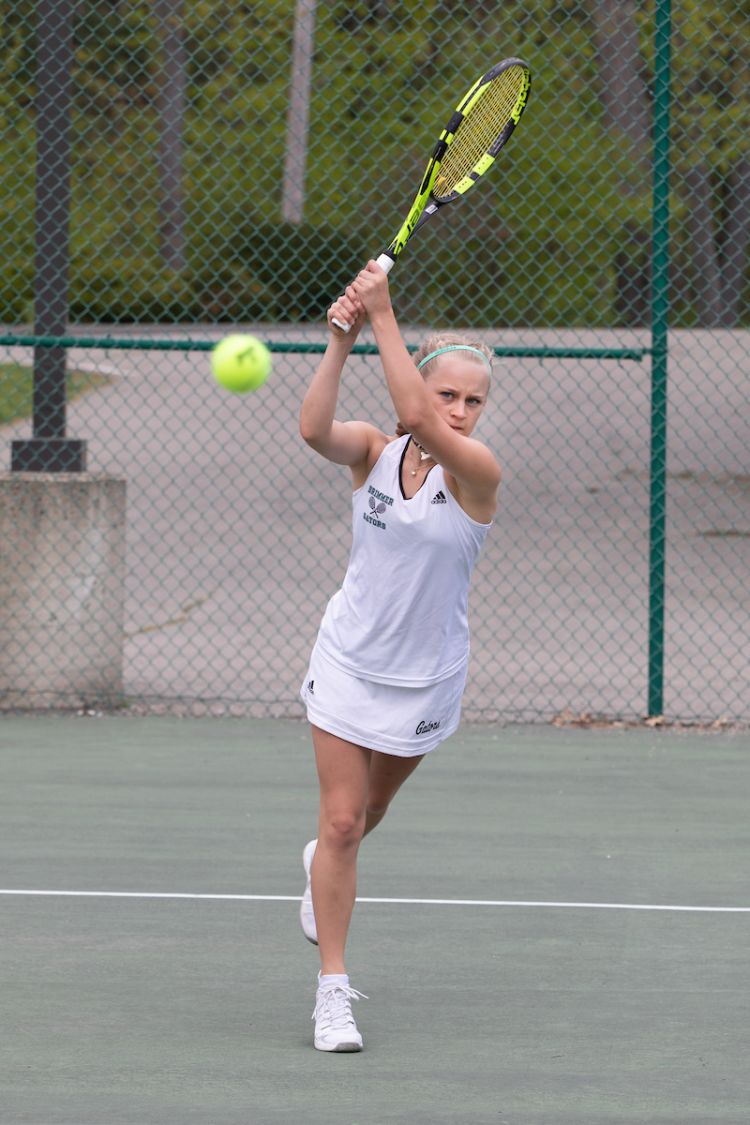 Caroline Ellervik with a powerful return. Photo by David Barron.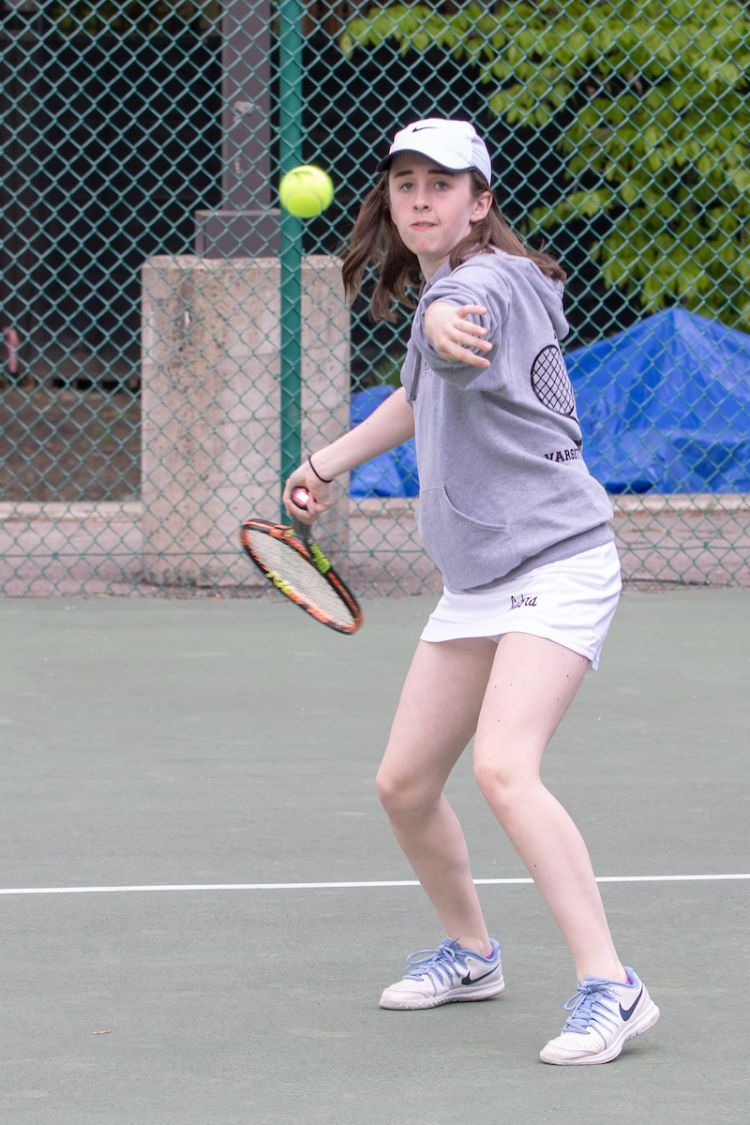 Libby Foley '20 lines up her return. Photo by David Barron.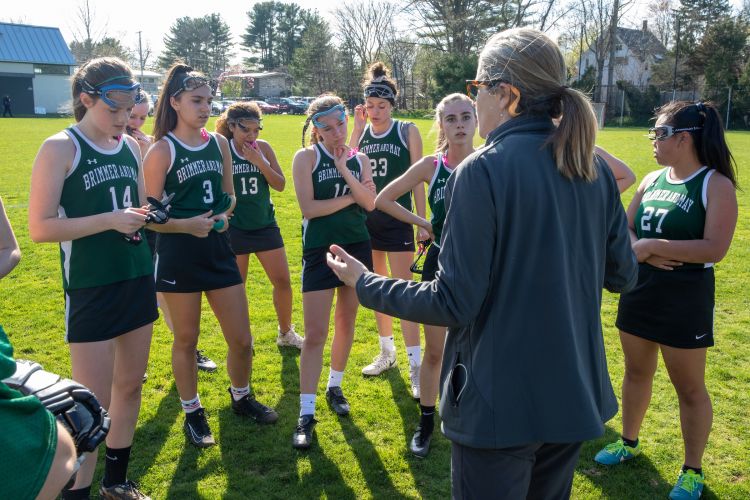 Head Coach Kyla Graves strategizes with her team. Photo by David Barron.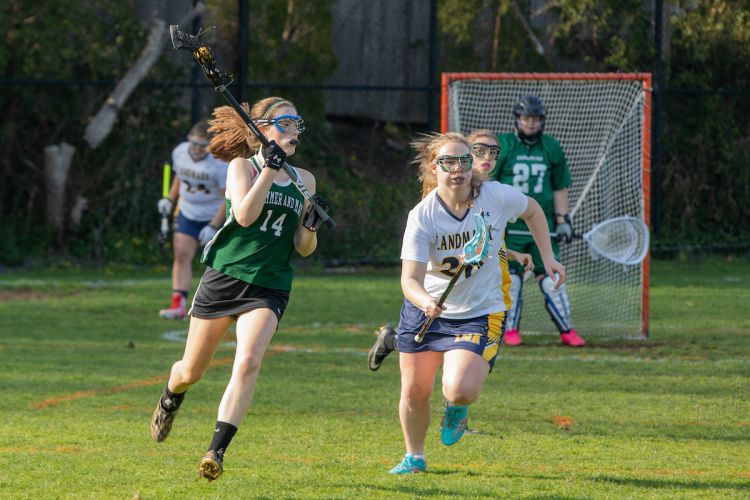 Rebecca Calhoun '19 sets the play. Photo by David Barron.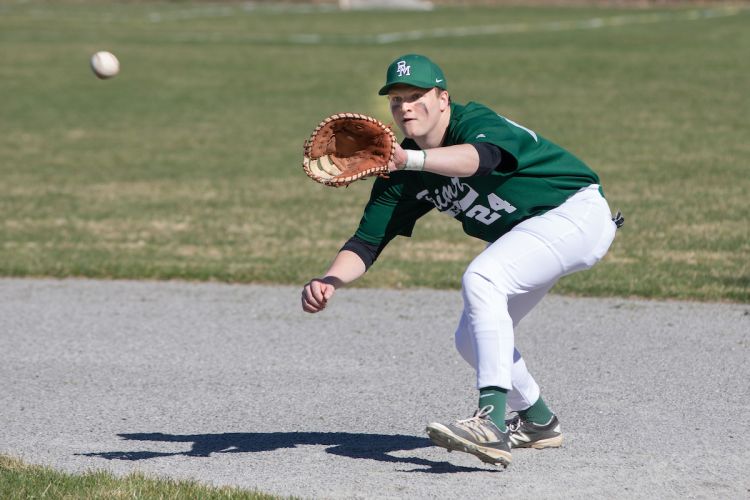 Michael Hastings '18 with the out. Photo by David Barron.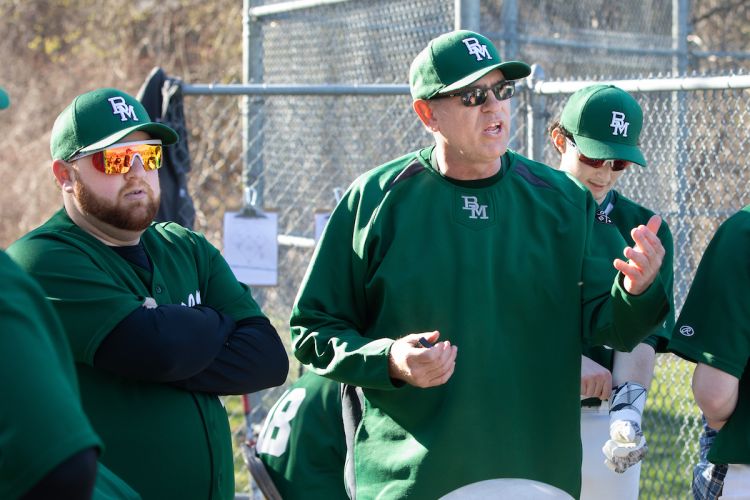 Head Coach Joe Iuliano in action. Photo by David Barron.
Best of Luck, Class of 2018
Don't forget to visit.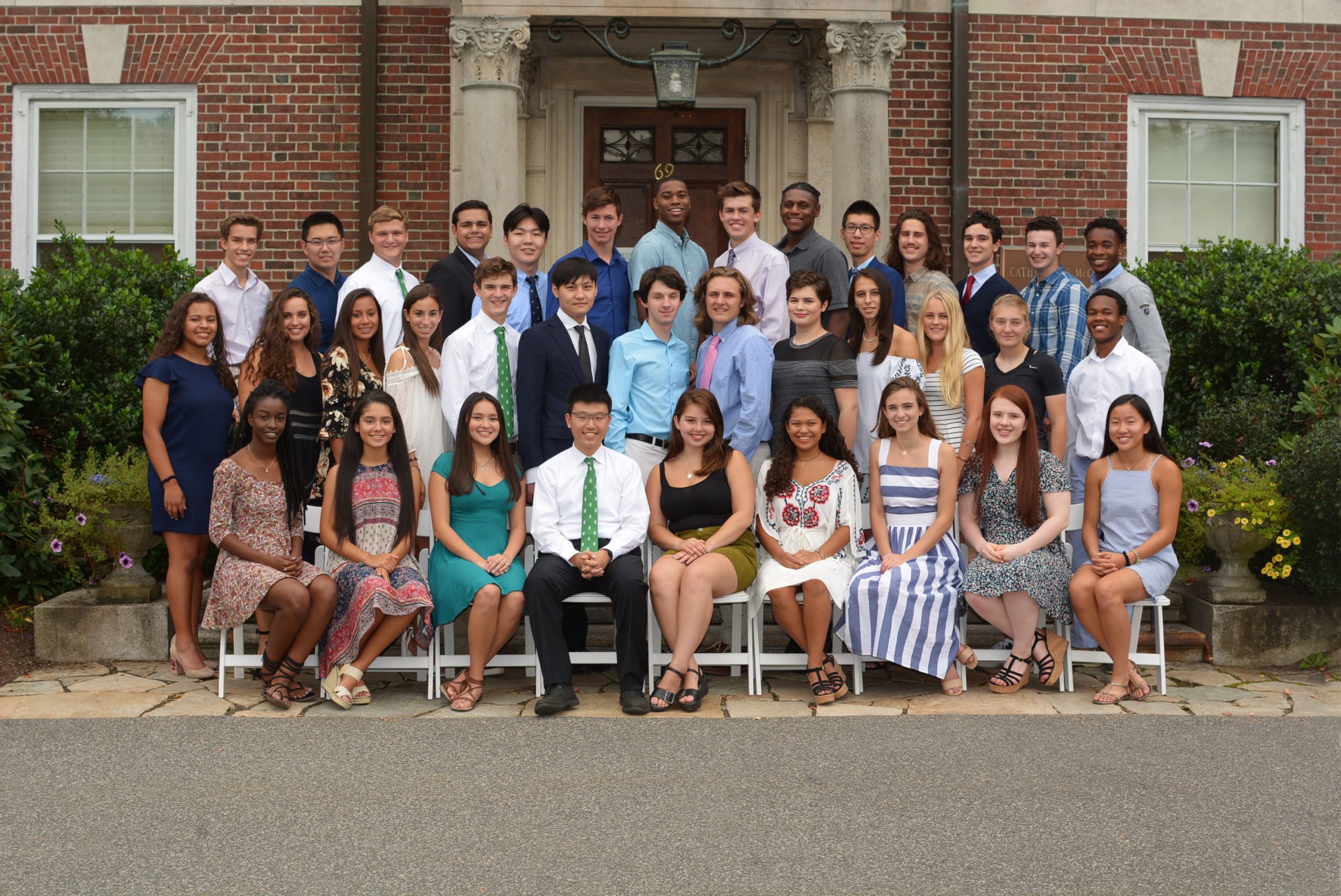 Class of 2018. Photo by David Barron.
Class of 2018. Photo by David Barron.